As a keyboard enthusiast, you must want to get the best keyboard for your computer setup. If you're not a fan of mechanical keyboards, then you've got two other choices – chiclet keyboards and membrane keyboards, which are both very commonly used nowadays.
At this point, you must be wondering, which one is the better choice out of chiclet keyboard vs membrane keyboards and why? If that's what you're looking for, then you're surely in the right place because that's precisely what I'm here to tell you in this article.
In this article, I will talk about chiclet keyboards, their pros and cons, membrane keyboards, their benefits and demerits, and finally compare the keyboards' differences to decide which one is better. I'll also be giving suggestions for the top keyboards picks for each keyboard style so you can easily pick out your next keyboard. So, make sure you read this article till the end.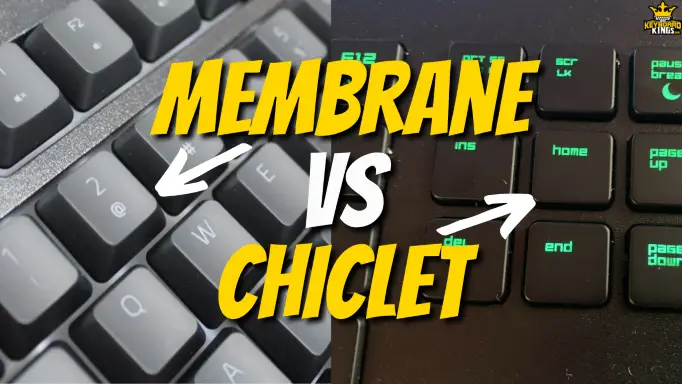 Membrane Keyboards
Membrane keyboards are one of the earliest keyboards to exist. These keyboards basically contain a plate or membrane of electrical switches instead of individual key switches on them.
The keys on a membrane keyboard are pressed and registered when these electrical switches contact the key top as the user presses them. These keyboards have different shapes and layouts, but the most common layout is the QWERTY layout.
These keyboards have little to no tactile feedback in the keypresses simply because there is a mechanism to produce that opposition force. That's why membrane keyboards are preferred by people who're less into tactility and feedback bumps. However, these keyboards are still pretty amazing if you want to buy them for your setup.
Chiclet Keyboards
A keyboard that comes with a membrane-styled layout with a single plate underneath the keycaps with an additional layer of feedback material that provides super tactile feedback due to the buckling mechanism is known as a chiclet keyboard.
Chiclet keyboards are not as old as membrane keyboards, but they've been around for a while as well. These keyboards are much popular in simplistic and minimalistic keyboard designs.
The shape of a chiclet keyboard is usually flat, lozenge-styled and rectangular. A lot of Mac keyboards are chiclet-style, and they're loved throughout the world. So, if you're not a fan of mechanical keyboards, these keyboards would also be a great buy if you want to get them.
Pros and Cons of Membrane Keyboards
Now that we know what membrane keyboards are and how the structure of these keyboards works, let's take a look at the pros and cons of membrane keyboards so we can better compare them with chiclet keyboards. 
Let's take a look at some of these pros and cons.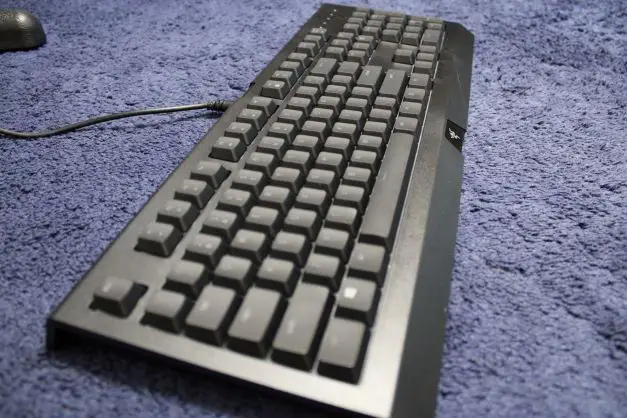 | Pros | Cons |
| --- | --- |
| Affordability – Since membrane keyboards are usually made of plastic components and those too with easily available ones, they're much more affordable than other types of keyboards, which is great for a budget gamer. | The membrane can wear out – Even though the keycaps might last for years to come, it is possible and common that the membrane of the keyboards will wear out after a while, which is a problematic thing. |
| Simple Design – If what you're looking for is a simple and elegant keyboard design, then that's what you're going to get in a membrane keyboard because there aren't usually a lot of excessive design elements in most membrane keyboards. | Lowest Tactile Feedback – Another not fan-favorite thing about mechanical keyboards is the lowest tactile feedback. In fact, we can safely say that there is no tactile bump at all, which makes this keyboard not for everyone nowadays. |
| No Excessive Noise – Membrane keyboards do not produce tactile feedback, and thus, they emit little to no noise even though you might be typing very fast and the keys will be registering at an excellent response rate. | |
| Light in Weight – Due to their frame and keycaps being made of plastic, membrane keyboards are much lighter in weight and easier to move around than other keyboards like mechanical ones because of their thicker aluminum surfaces and heavier weights. | |
Pros and Cons of Chiclet Keyboards
Having understood the structural specs of a chiclet-style keyboard, if you want to buy one, I'd suggest looking at the pros and cons that it is going to come with. Here are the benefits and disadvantages of a chiclet-styled keyboard.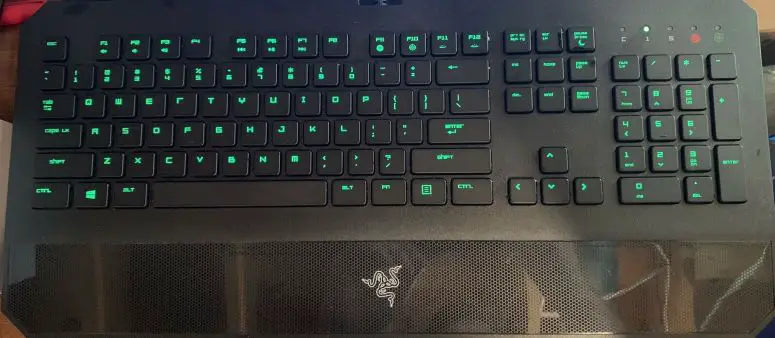 | Pros | Cons |
| --- | --- |
| Decent Price – Even though there are a lot of very expensive chiclet-style keyboards available in the market, they still tend to be lesser in price compared to most mechanical keyboards from AAA companies. | Noisy Clicks – Due to the high tactile-feedback capability of a chiclet-styled keyboard, it is widespread that you're going to hear a lot of clicking noise in these keyboards. |
| High Tactile Feedback – Tactile feedback gives you a nice bumpy feel whenever you press a key, so you know you're actually using a keyboard. It is a great feature, and it is found in abundance in chiclet-style keyboards, which is amazing. | Not Niche-Specific – In comparison to other types of keyboards, chiclet-styled keyboards are not very niche-specific, which means that they're good for general use. Still, in terms of professional typing or moderate gaming, they're not a very proficient peripheral solution, in my opinion. |
| Sleek Design – Due to their short keycap style, chiclet keyboards tend to be very small, minuscule, and sleek compared to other hefty big-boy gaming keyboards, both mechanical and membrane. | |
| Responsiveness – Another great thing about chiclet-style keyboards is that the keypresses are quite responsive compared to some of the other keyboard styles. | |
Difference Between Chiclet and Membrane Keyboards
So, you're thinking of buying one or the other, but you can't decide what the differences between chiclet and membrane keyboards are; Lucky for you, I've made a list of differences that both these kinds of keyboards have you can easily differentiate them. So, let's take a look.
Visual Look
The first avenue when chiclet and membrane keyboards differ quite a lot is the visual look. The chiclet and membrane keyboard structure and the mechanics may be similar, but there is a lot of difference in how they look.
Visually, chiclet keyboards have very low-profile short, lozenge-styled keycaps. Still, when it comes to membrane keycaps, they're bigger, burlier, and quite similar to that mechanical keyboards in comparison, which is the biggest difference between these keyboards.
Compactness
Another difference comes when we talk about the compactness of a keyboard which isn't necessarily good for everyone because some people prefer to have larger keyboards in their computer setups.
In comparison, chiclet keyboards are more compact, sleek, and smaller than other keyboards, whereas membrane keyboards are larger and thicker. Still, both are usually smaller in size than full-sized mechanical keyboards due to their raised keycap design.
Tactility
Tactility, as we talked about it, is also a big difference between chiclet and membrane keyboards. In chiclet keyboards, there is an extra layer of material that provides grounds for superb tactile feedback.
However, in membrane keyboards, we don't have this kind of flexibility, and there's usually no tactility at all due to their simplistic design. This is a major performance difference between the two kinds of keyboards.
Affordability
The price point is not much different, but it still exists between chiclet and membrane keyboards. Typically, you can get membrane keyboards of good quality for a minimal price, but if you want to buy a chiclet keyboard, you're going to raise the budget a bit and get a moderately priced keyboard with good quality.
Typing and Gaming
Typing and gaming are two of the most important applications of keyboards. When using a membrane keyboard, you can get decent typing done and even moderately game using it.
But when you're using a chiclet-styled keyboard, it is more delicate in comparison, which is why it is better for generic use and not great for especially typing or gaming with them, so beware of that as well.
Top 3 Chiclet Keyboards
If you're thinking of buying a chiclet keyboard, there are a lot of options out there. But finding the right one can be difficult. So here are the top 3 chiclet keyboards that you can find in the market right now.
1. Dell KM117 Wireless Keyboard
Arguably the best chiclet-style keyboard in this list is the Dell KM117 wireless keyboard. It is a full-sized keyboard with low-profile keys, hotkeys and multimedia options, a long-lasting battery, and a great level of compatibility with both macOS and Windows, which is pretty great. The price is also quite reasonable, and the value is amazing as well.
2. Razer Deathstalker RGB Keyboard
The Razer Deathstalker RGB keyboard is a fully programmable RGB keyboard that comes with a comfortable ergonomic wrist pad as well as the ability of Razer Hypershift and customizable RGB using the Razer Synapse software. The keyboard is amazingly designed, and the look is perfect as well. The overall value of this keyboard is great.
3. Apple MB110LL/A Keyboard
One of the best inclusions in this list and a member of the few original chiclet-style keyboards is the Apple Aluminum Chiclet keyboard. The MB110LL/A is a newer variation of this keyboard that comes with an extended Numpad, low-profile keys, and a proper anodized aluminum frame that is sturdy and provides the keyboard durability. The price is high, but the keyboard is amazingly worth it.
Top 3 Membrane Keyboards
Membrane keyboards might be cheaper, but the main goal is to make sure that you got the right quality and features for a reasonable price. That's why I listed the best below. But, first, let's look at the top 3 picks of membrane keyboards available in the market up for grabs as of now.
1. Redragon K512 Shiva Keyboard
The Redragon K512 Shiva comes with 6 customizable macro keys and many media keys that make multitasking quite easy. There's also 26 key rollover which is amazing, and along with that, there are RGB customization options as well. In addition, it supports over 100 million actuations and also sports a wrist rest that can be detached whenever the user wants. All of these inclusions make it a great overall keyboard.
One of the few keyboards that feature a radiant lightbar and RGB lighting is the HyperX Alloy Core keyboard. It is not only a great keyboard in terms of design; it features anti-ghosting, multiple multimedia buttons along with a pretty impressive spill-resistant design that offers durability as well. It is a pretty impressive keyboard that features great value.
The Logitech G213 Keyboard is a membrane keyboard that comes with a decent amount of tactile feedback, which is great. In addition, it has fully customizable RGB lighting with Lightsync ability. There is also an ergonomic wrist rest, and along with that, there's also the spill-resistant durable frame that allows for high-quality gaming and typing without any worries so that you can play all the time.
Chiclet keyboard vs Membrane Keyboards: Which One is Better?
The final question is, which keyboard is better; Well, it depends on the kind of computer usage you're going for. If you want to use a keyboard for general usage and no specific professional purpose, going for a chiclet keyboard would be a better option for you.
But if your goal is to be professional or play video games and you don't prefer a mechanical keyboard, using a membrane keyboard of high quality would be the way to go. Of course, both of these keyboards are great, but in my opinion, membrane keyboards have evolved more than chiclet keyboards.
Conclusion
Chiclet keyboards and membrane keyboards are actually similar to some extent, but there are some very vivid differences that cannot be missed. These differences are aptly mentioned above. I hope you learned a lot from this guide and that you're going to utilize this knowledge when you go out to buy a new membrane or chiclet keyboard for your computer setup. Have a great keyboarding experience!