Whether you're a professional working in an office environment or you're a gaming enthusiast, using computers and laptops for more than 5 hours a day is a norm for everyone nowadays.
In order to keep a comfortable posture and reduce long-term muscle disorders, making ergonomic changes to keyboard utilization is very important. That's where split keyboards are so useful.
In this article, we're going to tell you everything about split keyboards including how they work, comparison between split keyboards and regular mechanical keyboards, and the benefits that come with it so you know exactly why you should use a split keyboard.
We're also going to talk about some of the best split keyboards in the market for your ease so, sit back, relax, and read this article till the end.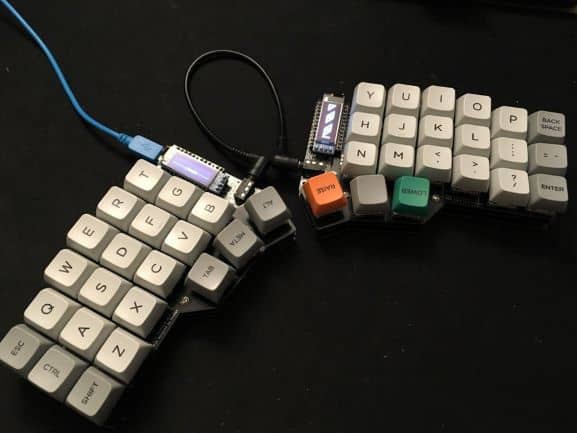 What are Split Keyboards?
Split keyboards are a type of ergonomic keyboard that can be split into two parts hosting two keyboard modules with different keys. There are different kinds of split keyboards but the most common type of split keyboards are mechanical split keyboards.
Such keyboards can be used in a single form as a whole as well as be split into two parts which work wonders for the ergonomic requirements of the user's wrists, hands, and body posture.
Keys that are used by the left hand are split on the left side of the keyboard and the keys which are commonly utilized by the right hand are separated onto the right side.
These keyboards are actually helpful for a lot of reasons. They help you keep your posture straight especially when you're going to be sitting in front of the computer typing for hours on repeat every single day. That's why split keyboards are becoming the hot topic of computer ergonomics nowadays.
How to Use them
Now, if you're new to using split keyboards, understanding how to use them is very important. To address this, we're going to provide you a guide to using split keyboards in general.
Split keyboards can be separated into two halves for better wrist and hand positioning. Firstly split the halves from the middle.
Secondly, there will most likely be a USB type-c cable that connects both the halves together for a latency-free typing experience.
Now, you're going to connect the power cable which will allow you to input keys and characters to the output screen.
You can separate the halves to fit your shoulder position and keep typing in a comfortable position.
There is also a possibility of angling the keyboard slightly in order to reduce the uncomfortable wrist and hand tilting as well, which allows for a better and less-straining muscle movement.
Utilize both halves while keeping your posture straight will reduce long-term posture or muscle strain problems.
This is how you can use a split keyboard. It's fairly simple but making sure that you tilt and move the halves according to what feels comfortable and ideal for your sitting position is really necessary for a good experience.
Split Keyboards vs Regular Keyboards
You might be thinking, how does a split keyboard compare to regular mechanical keyboards? Well, that's a great question. Let's talk about the differences between both these types of keyboards so we can get a better idea of why split keyboards are ideal for long period usage.
Wrist Positioning
When we use a standard mechanical keyboard or a laptop keyboard, one thing that is unnatural and uncomfortable is the wrist positioning. How so? Well, angling your arms inwards to cover the keyboard and then tilting the wrists in order to press the keys of the single unit keyboard is the reason for this.
In a split keyboard, this isn't an issue. Since it can be split into two halves, the wrist can be straightened so that the typing and pressing of the keys become comfortable and the user can avoid long-term muscle injuries, wrist disorders, and other issues.
Shoulder Positioning
Using standard keyboards can be problematic for another reason. If you're broad-shouldered and you're working or playing on a computer, it might be challenging to sit straight without bending or lowering your shoulders. This is a significant issue in using regular keyboards
However, using a split keyboard, you can split both halves and place them at a distance where you can sit straight, and keep using the keyboard with a distance of a shoulder's width between the halves. This makes split keyboards different and better than regular keyboards.
Finger Extension
The thing about using standard keyboards is that the fingers need to be extended beyond natural capability sometimes in order to get to the keys that you desire to move your fingers to. This can lead to problems that can actually cause fatigue and injuries to the fingers in the long run.
By using a split keyboard, you will only be allowed to press keys that are within your reach with each half. This will take a little bit of time getting used to but ultimately helps a lot in dealing with finger extension problems and issues concerning finger fatigue and injuries.
Benefits of Using Split Keyboards
We know that using a split keyboard helps with ergonomics and overall keyboard usage ease, but what exactly does a split keyboard help in doing? That's what we're going to cover in the following benefits of using split keyboards.
Reducing Ulnar Deviation
Ulnar deviation is a finger deformation that is caused by unnatural angling and tilting of fingers for long periods of time throughout your life. This can be avoided by inclining the halves of the split keyboard so that the fingers can easily press each button without having to twist or bend.
Reducing Long-term RSIs
RSIs are known as repetitive strain injuries that are caused by long-term muscle straining and fatigue. These injuries include carpal tunnel syndrome, myositis, and cubital tunnel syndrome among others. By reducing unnatural tilts and muscle movements, you can reduce the RSI risk and increase muscle health and stability long term.
Providing a Straight and Comfy Posture
Maintaining a good posture is absolutely necessary for people who're using computers and typing for more than a few hours every single working day. The thing about split keyboards is that they can be placed at a distance which allows you to keep your posture straight and not tilted or uncomfortable, allowing you to reduce future posture issues and concerns.
Things to Consider in a Split Keyboard
If you're thinking about getting a great split keyboard to deal with long-term risks and for typing and gaming ease and comfort, here are some of the things that you need to consider in the ideal split keyboard.
Key-spacing 
In order to reduce finger fatigue, it is important if the split keyboard is a mechanical keyboard, the key spacing is no more than 3 or 4mm between each of the keys so that you don't have to extend or stretch the fingers too much.
Connecting Cable Length
This is very important as well. As you might want to place the halves far apart depending upon your liking or comfort requirements, the connecting cable needs to be long in the ideal split keyboard.
Key switches
The key switches in the mechanical split keyboard need to sound good and also feel very comfortable when you press them. They should also have mechanisms of pre-press activation for dealing with bottoming out, which basically means not pressing a key completely.
Top 5 Best Split Keyboards
Price comparison chart for all 5 keyboards:
| Keyboard | Price Comparison |
| --- | --- |
| Goldtouch GTS-0077 ErgoSecure | $ |
| KINESIS Gaming Freestyle Edge RGB Split Mechanical Keyboard | $$$$$ |
| KINESIS Freestyle Edge Split Mechanical Keyboard | $$$$ |
| Cloud Nine C989M Ergonomic Mechanical Keyboard | $$$ |
| CORE MECHANICS Split Mechanical Keyboard | $$ |
Per Amazon rules, I can't disclose exact prices. This is a visual representation of the price compared to each other. The more "$" means a higher price comparatively.
Taking into consideration the features that an ideal split keyboard has, here are 5 of the best split keyboards in the market as of now that you can get your hands on.
1. Goldtouch GTS-0077 ErgoSecure
If you're just getting into the use of a split keyboard, then the Goldtouch GTS-0077 ErgoSecure might be your best option because it comes at a decent price and offers great ergonomic adjustability.
Features
Horizontal Splay – This split keyboard provides 0 to 30-degree horizontal splay availability to adjust according to your wrist position and movement comfort.
Vertical Tenting – 0 to 30 degree vertical tenting also available in order to help align your posture and arms at the right angle with the keyboard.
Tactile Feedback – It features full-size tactile feedback keys for increased comfort.
Different Work modes ­– The keyboard works both in synchronous and asynchronous working modes.
If you'd like to learn more or read more reviews, check it out on Amazon.
---
2. KINESIS Gaming Freestyle Edge RGB Split Mechanical Keyboard
Stepping up from the normal split keyboard scene, KINESIS brings you into the world of RGB lighting and Cherry MX mechanical switches with their Gaming Freestyle Edge split mechanical keyboard. Although a little expensive, it is a great one-time investment if you're a gamer looking for an ergonomic setup.
Features
Cherry MX Switches – If you're looking for the perfect smooth and sweet-sounding mechanical keys, this is the best split keyboard for it featuring Cherry MX switches.
Fully Gaming Optimized Layout ­– There are 95 fully functional keys on this keyboard which are all optimized highly for one true purpose – that is gaming.
Multiple RGB lighting modes – There are multiple RGB lighting modes in this keyboard which you can alter depending upon your love for RGB.
Good range of splitting – The length of the cable is pretty long which is great for people who're looking to straighten their posture while gaming.
If you'd like to learn more or read more reviews, check it out on Amazon.
---
3. KINESIS Freestyle Edge Split Mechanical Keyboard
If you're looking for all the features of the KINESIS freestyle without any of the gaming RGB works, this Freestyle Edge split keyboard is the best for you at a lower price range for work environments.
Features
Detachable Palm Support – If you're looking to keep the palm of your hands in a rested position, there is detachable palm support available in this keyboard.
Long Cable Length – To maintain a good posture with a comfortable arm, wrist, and shoulder position, the long cable length works wonders.
Ergonomic Design – The keys setup and the overall design of the keyboard ensures ergonomics and complete comfort of the user.
If you'd like to learn more or read more reviews, check it out on Amazon.
---
4. Cloud Nine C989M Ergonomic Mechanical Keyboard
Another great split keyboard option that comes with an ergonomic design is the Cloud Nine C989M which comes for a slightly higher price than some of the other options in this list, but it has features to back the price up as well.
Features
Eliminates Muscle Strain – By providing a fully ergonomic design, this keyboard ensures that any unnatural muscle strain is avoided at all costs.
Tenting and Palm Support – C989M offers built-in tenting and palm support for additional comfort and ease.
Cherry MX Brown Switches – Features incredible swift and amazing Cherry MX brown mechanical switches.
Multipurpose keyboard – The RGB backlit keyboard can be used for work as well as gaming purposes.
If you'd like to learn more or read more reviews, check it out on Amazon.
---
5. CORE MECHANICS Split Mechanical Keyboard
A more simplistic approach to the split mechanical keyboards is provided by CORE MECHANICS Split mechanical keyboard for a considerable price. So, you should definitely keep an eye out for it as well.
Features
Ergonomic Design ­– The keyboard is built for an ergonomic setup. You're going to feel the difference when you use it.
Mechanical Matias Switches – The Matias switches are able to provide less response time and quieter clicks.
Magnetic Palm Rests – This keyboard comes with magnetic palm rests which are incredibly helpful for comfy and strain-free palm support.
Smooth Typing Experience – This split keyboard allows the user to type for long periods of time without any hesitation. The typing experience is incredibly smooth and sweet.
Keycap Durability – The keycaps of the keyboard are built for durability. So, you don't have to worry about keycap tearing either in this amazing keyboard.
If you'd like to learn more or read more reviews, check it out on Amazon.
---
Conclusion
At the end of the day, it is a matter of personal preference but if you want to ensure future comfort and muscle health, you would definitely choose a more appropriate split keyboard solution for typing and gaming needs. No matter which of our suggested keyboards you use, you're going to have a great time with a lot of added ease and comfort.