Finding a great budget mechanical keyboard in this day and age is virtually impossible. That's why when Velocifire claimed having produced one of the best budget mechanical keyboards in the form of Velocifire TKL02, I had to check it out for myself.
This keyboard has a tenkeyless layout, which is a popular form factor in the computer gaming world. Such a keyboard is easy to use and it takes up very little space on the desk. It is also lighter in weight than a regular keyboard. 
Velocifire TKL02 has 87 keys in total and comes with great battery life. But like anything else, this keyboard also comes with a few downsides. For starters, its wireless capabilities are not up to the mark. But there are some other points that you would want to explore before spending money on it.    
So, before you end up buying the keyboard without doing enough research, let's get started with the review.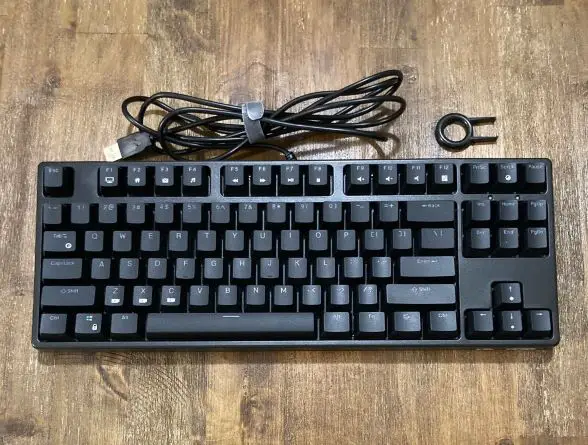 In a hurry? Get the Velocifire TKL02 at amazon.com!
Velocifire TKL02 Keyboard
The Velocifire TKL02 is a wired mechanical keyboard with a ten-key-less design that comes with 87 dedicated keys, backlighting, and a lot of great features for a significantly lower price than what you might see good mechanical keyboards in the market for now.
Velocifire USA is well-known for manufacturing some of the best budget peripherals and technology that are great for the average consumer and computer enthusiast. They've marketed the TKL02 as one of the best budget mechanical keyboards out there, and that's what we're here to test.
Since its launch, the Velocifire TKL02 Mechanical keyboard has made strides in the mechanical keyboard enthusiast industry, and naturally, to check how much hype it truly lives up to, I had to order one for myself as well.
What's in the Box
After ordering one online, I received my box of the Velocifire TKL02 around 3 days after. Upon first look, the box's design didn't seem very appealing to me, but I believe that is to be expected if the costs were to be saved and spent on making a great keyboard.
Upon opening the box, I saw a decent layer of packaging and protection, and along with that, here's what I was able to salvage from the box of the Velocifire TKL02 keyboard:
The Velocifire TKL02 Keyboard
Keycap Puller
Instructional Manual
A surprisingly great thing about the contents of the box was the inclusion of a proper keycap puller. Props to Velocifire for that because even many of the expensive keyboards don't offer that.
Durable Construction and Great Design
Right off the bat, I took a single look at the design of the Velocifire TKL02 and was immediately impressed by how clean it looked. In addition, the design had a natural ergonomic incline to it, as most OEM keyboards do nowadays.
The TKL structure of the keyboard looked visually appealing as well. On the back of the keyboard, we could see 4 rubber feet to hold the keyboard in place while there were 2 kick feet with rubber texture that allowed you to stand the keyboard at a better height to adjust it according to your preferred usage.
If we talk about the keyboard's construction, it is made of durable textured plastic with a black finish. On the front end of the keyboard, we have a Velocifire logo. In my view, the keyboard could've done well even without the large-sized logo in plain sight, but it's still not bad.
There is no flex whatsoever which shows that the keyboard is durable and the material is firm. So, there's no denying that even at such a low price, the keyboard has many great things in it, from design to construction, that will last you quite a long while of usage.
Doubleshot ABS Keycaps with Fade-free Legends
Let's get into the details now, shall we? First, the Velocifire TKL02 are ABS keycaps, which aren't the best compared to PBT plastic keycaps, but they're decent at this price range.
One good thing that the keycaps have is that they're double shot. This basically gives the keycaps a durable feel and a better texture that makes them much more likable than simple ABS keycaps.
If we're talking about the legend imprinting, that's pretty great too. The double shot ABS keycaps on the TKL02 come with fade-free legends which look very crisp and clean.
Overall, if we talk about the keycaps and the legend imprinting together, I'd say that in this price range, Velocifire has done all it could, and the keyboard definitely passes the test in this regard.
White LED Backlighting
Another great thing about this epic budget keyboard was the backlighting. Of course, at this price range, you don't expect these cool little things, but the Velocifire TKL02 comes with a pretty decent-looking White LED backlighting that peeks through the backlit keys.
The White LED light is neutral, holds its own in all kinds of environments, and the great thing is that you can even turn it off if you want to. In addition, many patterns can be switched up and changed depending upon your liking which I believe is very cool.
Great Budget Outemu Brown Mechanical Switches
Mechanical keyboards often skimp out when it comes to the quality of key switches if they're going for a small price of retail. But that didn't stop Velocifire from getting decent MX clones in the shape of Outemu mechanical switches.
This particular keyboard comes with the Outemu Brown Tactile mechanical switches. These switches offer a nice tactile bump on the press but don't have a lot of clicking sound.
They're also heavier than other switches and do a great job of cloning the Cherry MX Browns, which is a pretty amazing thing that I wouldn't say I liked a lot because the Brown switches are the only option in the Velocifire TKL02. There aren't any other clone switches that you can get on this keyboard.
However, if we talk about the quality of the switches, the keypress, and the feedback, the Outemu brown switches do a great job of providing that heavy mechanical feel for a fraction of MX brown's price.
5 feet USB Power Cable
This keyboard is wired, and the power cable cannot be detached from it. However, the feel of the keyboard power cable is nice, and the insulation is pretty heavy, making it quite safe for usage.
When we talk about the length of the cable, it is around 5 feet which is the average for mechanical keyboards. So you won't have to tug on the wire to be comfortable using the keyboard ultimately. 
Exciting Features of the Velocifire TKL02
Now that we've become familiar with this keyboard, let's look at what amazing specs and features the Velocifire TKL02 Mechanical Keyboard offers. 
Mechanical Switches – The Velocifire TKL02 uses pretty decent Outemu Brown Tactile mechanical switches, which are known for being good quality Cherry MX Brown clones and are also quite durable.
Fade-free Legends – Due to the double shot construction of the ABS keycaps, the legend imprinting on the keycaps is quite nice. You can say the legends are completely fade-free and won't get removed after long-term usage.
Lighting Customization – With the help of the Scroll Lock key and the Fn button, you can cycle between a bunch of pre-defined patterns of the LED lighting and you can even turn it off if you want to.
Macro Capability – The great thing about this keyboard is that you can even record macros on it. A lot of popular keyboards that are much more expensive even don't have this feature.
Compatibility – If we talk about compatibility, the Velocifire TKL02 mechanical keyboard is a simple plug-n-play device that can be connected to a bunch of operating systems without a problem.
Pros and Cons
Before you make a final buying decision, let's see what advantages and disadvantages this keyboard will bring to your computer usage experience.
| Pros | Cons |
| --- | --- |
| Durable Construction – The construction of the Velocifire TKL02 is quite durable because of the high-quality strong plastic frame and the decently strong keycaps that come with this keyboard. | Key Jamming – I faced some of the keys, due to poor stabilization, got stuck every once in a while. This is something that needs to be fixed as soon as possible. |
| Great for gaming and typing – The Outemu Brown switches are great for all kinds of usage. Whether you're a gamer or a typist, you're going to have a great experience with them. | Not many switch options – There's also the problem that you can't choose your own key switch. No matter what, the Velocifire TKL02 with the brown switches. |
| Affordable Price – The price of the Velocifire TKL02 mechanical keyboard is pretty decent. It is very affordable in comparison to some of the other less featureful keyboards in the market. | |
Is the Velocifire TKL02 Worth it?
Finally, the most important question of the day is the Velocifire TKL02 Keyboard worth the hype; Well, yes, I believe it definitely lives up to the hype and is a pretty great overall keyboard. It has a range of features, some even better than most high-priced keyboards, and comes for a small price. If you have a small budget, then this keyboard is surely for you. 
Interested? Get the Velocifire TKL02 at amazon.com!
Frequently Asked Questions
As I was researching this keyboard, I saw a lot of comments and questions posted by you guys regarding the Velocifier TKL02. Well, naturally I wanted to make sure I answered some of the most important frequently asked questions. So, here goes nothing:
Is the Velocifire TKL02 compatible with Mac?
Yes, the Velocifire TKL02 seems to work perfectly with almost all operating systems, including multiple versions of Windows, Mac, and even Linux, because of its epic plug-n-play design.
How to record Macros on the Velocifire TKL02?
Velocifire TKL02 allows users to record macros on it. To start the macro recording, all you need to do is press the Fn key plus the left or right arrow, and you'll see the indicator flash three times. Then, after recording, pressing the same combination will stop the recording of the macro. It's as easy as that.
Can I get the Velocifier in Blue or Red switches?
Unfortunately, no. The Velocifier TKL02 only comes in Outemu brown switches which are great but having the ability to pick and choose a switch of your own liking is always something to cherish.
Conclusion
Without a doubt, the Velocifire TKL02 is a great contender for the top budget mechanical keyboard spot nowadays. It has all the qualities of a great keyboard and comes for a solid competitive price. But if you can afford a more expensive specialized keyboard, then that's what you should go for. I hope you learned a lot from this article and that you're going to have a great keyboarding experience. Have a great day ahead.