Whether you're a gamer or an office worker, there is nothing better than a clutter-free, decent, and spacious desk where there are no cables visible for any peripheral and the setup is clean. But getting clean and working desktop computer setup by cable managing effectively isn't as easy as it sounds.
You might be wondering, how do I hide keyboard and mouse cables to get a wire-free desk setup? Don't worry because that's precisely what I'm here to tell you.
In this article, I'm going to talk about the benefits of hiding your keyboard and mouse cables effectively,. I'm going to provide you 10 of the best keyboard and mouse wire clutter removal ideas for a decent, simple, and minimal setup. So, sit back, relax, and read this article till the very end.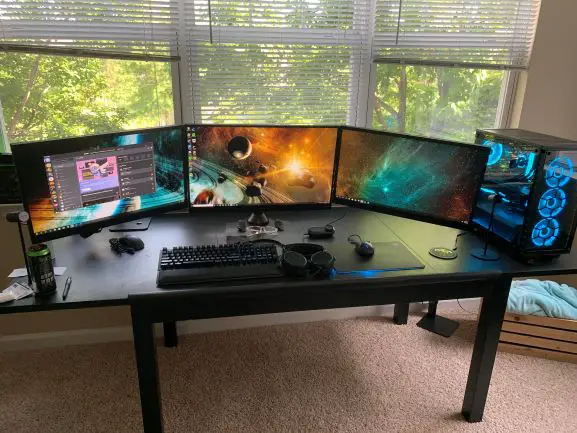 Benefits of Hiding Peripheral Wires and Cables
How does cable management make a difference on your desk computer setup? If that's what you're wondering, you're lucky because I've listed some of the best advantages that would make you want to cable manage as well. Let's take a look at these benefits.
Clean Setup – The most important advantage that comes with hiding keyboard and mouse cables through cable management is the cleanliness of your setup. There's no dust or debris on the wires and desktop. There are no bundles of wires on the desk, and the overall setup looks cleaner and organized to you and the people who visit your setup.
User Safety – Cables aren't the safest to be around. That's because if the insulation of the cable comes off and the wire is exposed, you might not know about it if the desktop is all cluttered and filled with tangled wires. That can be avoided by properly managing cables which will lead to increased user safety and protection.
Less time untangling wires – The benefit of properly cable managing is that you don't have to spend too much time untangling wires all the time. Every wire is properly hidden and well-placed,, allowing you to use the keyboard and mouse easily without spending eternity cleaning the setup up before use.
No noticeable tugging and disconnecting – Another benefit is that you won't have to tug on cables hard to get enough clearance to use them with proper cable management. Without hiding your keyboard and mouse cables, you're going to experience more cable tugging and disconnecting as well.
Excess Space – If you don't hide your cables, you're going to see them everywhere on your desk, and that will limit the desk space however if you're clearing out the cables and hiding them, more space for other peripherals and decorations will appear, and your desk space will look much better.
Top 10 Best Ideas for Hiding Keyboard and Mouse Cables
If you want to achieve all these cable management advantages, here are 10 of the best ideas for hiding keyboard and mouse cables you can adopt to make your desktop setup cleaner and overall better.
1. Using Cable Ties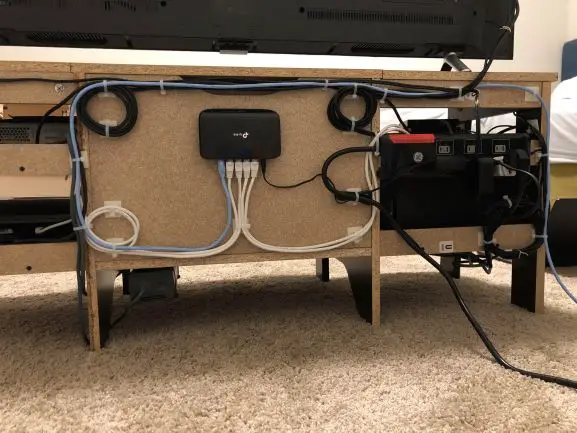 The first and foremost idea that is most commonly used to organize and manage cables to hide them from plain sight is by managing them with cable ties or zip ties.
Cable ties are available in different colors, and you can tie them with the table, with related cables, or hide the cables by placing the tie beneath the desk according to your desk setup. It is one of the cheapest and most efficient ways of managing keyboard and mouse wires while keeping the desktop setup clean and clutter-free.
2. Getting a Customized Table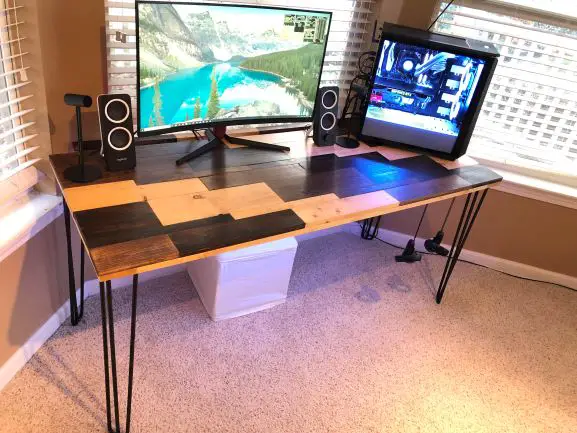 Now, a more fairly expensive approach towards cable management and hiding your keyboard and mouse wires is getting a customized table. You can order one from the internet or design one yourself if you're proficient enough.
How this works is that you'll give the carpenter an idea of where you want the holes and grommets to be, and they'll provide you with the custom table of your choice. You can then easily take care of the outside sitting wires and calmly place them through the customized table's holes.
3. Matching Cable Sleeves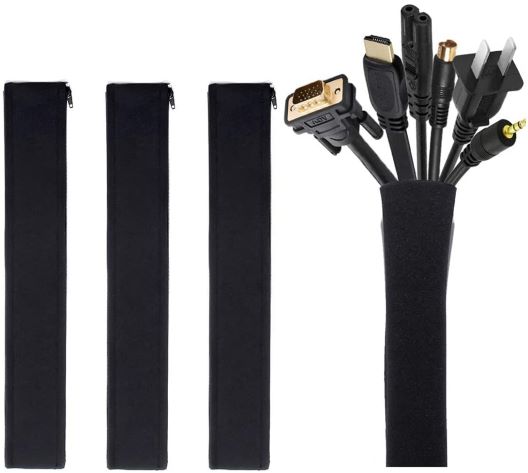 If your main concern isn't just hiding the cables and wires but making the desktop setup look matching and picture-perfect, then getting matching color cable sleeves will be a great option.
All you're going to need to do is get a cable Velcro sleeve that matches the color of your desk, and then you can use that sleeve to cover the wires giving a camouflaged effect where your cables will stay on the desk but will be completely hidden from the naked eye resulting in a clean-looking, perfect desk setup.
4. Drilling a Hole in the Desk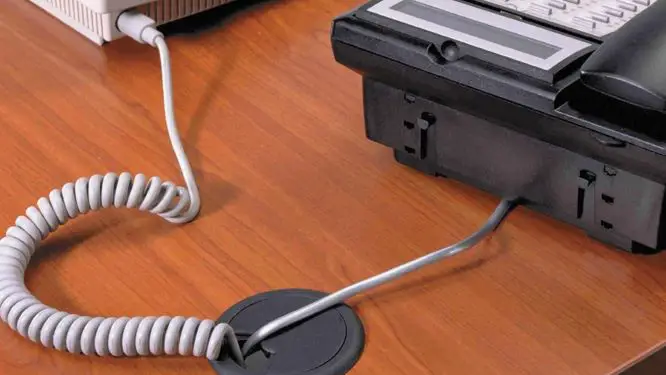 Budget can sometimes be an obstacle if you're a fan of perfection and desktop cleanliness. If you can't afford a new customized table for your cable routing and management, the ideal way of dealing with tangled wires and cable clutter on the desk is to drill a hole in it.
The hole can then be used as a grommet, and you can route all the keyboard and mouse cables through that particular hole. This will take some skill but won't cost as much as getting a custom table at all.
5. Place your Power Socket under the Desk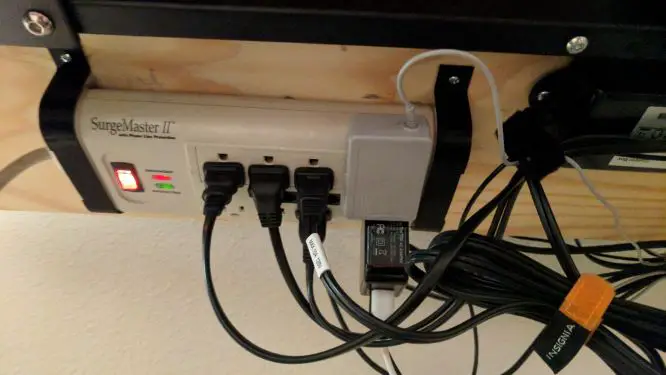 If you're a regular computer user, you must know the importance of a multi-plug power socket near a computer. To power, the monitor, PC, and ultimately the peripherals plugged into the PC like the keyboard, mouse, speakers, and more, you need multiple power sockets.
Managing all these cables can become quite difficult if you don't deal with the socket placement right away. The best place to put the power socket is to glue it or attach it to the bottom of the table where no one can see the cables, and the setup looks cable-free.
6. Tape Cables under the Desk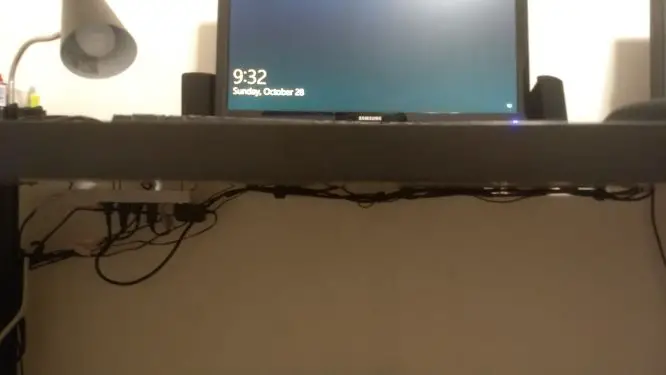 If you're not a fan of cable ties and cable sleeves aren't doing it for you, the easiest and the most cost-effective way of hiding your keyboard and mouse cables from your desk is to tape the excessive length of the cables under the desk and route them in such a way that they are invisible to the user and the viewers.
It isn't as hard as you might think it is. But for this to work, you're going to need keyboards and mice which have quite long cables so you can appropriately tape them under the table.
7. Pair Cables that are Related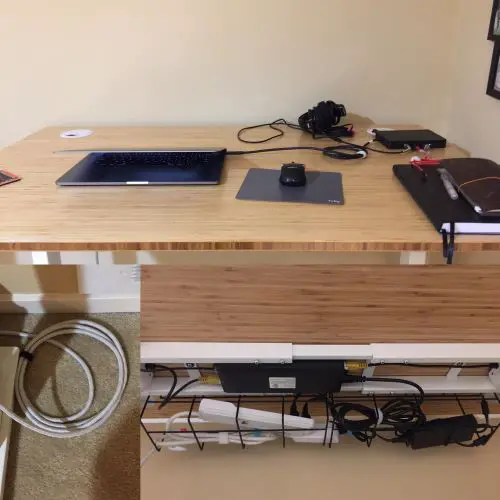 Hiding keyboard and mouse cables is just one part of the whole process of effective cable management. That's why to learn how to hide these cables from plain sight; we need to learn how to cable manage effectively.
One of the best ways of effectively hiding cables from your desk is to pair both the keyboard and mouse cables because they're going to be near each other and put them in the same zip tie or sleeve that you're using. This will make things easier to hide and manage.
8. Using Built-in Cable Routes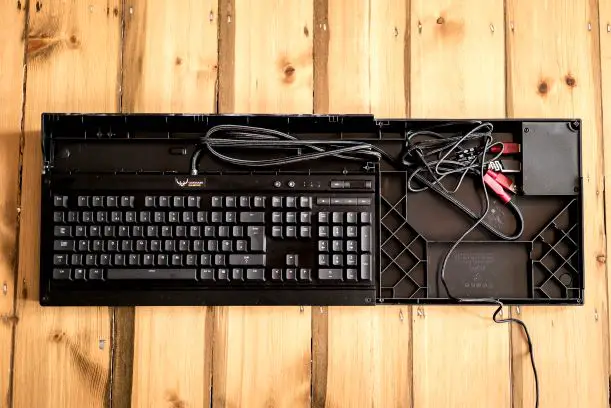 This wasn't a possibility in the past, but now it is widely used by peripheral developers, manufacturers, and designers. Built-in cable routes to help in hiding unnecessary cables are available in modern keyboards.
These routes are usually placed under the keyboards so you can take the cable, place it within the route according to your requirement, and voila! The keyboard cables are now completely hidden away from your desk clearing all the clutter and space hogged by the peripheral cables.              
9. Getting Custom Cables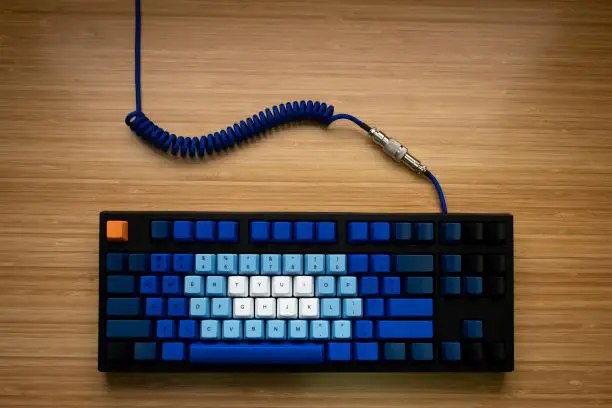 Most of the keyboards and mice that come in the market now have detachable cables and wires for powering them. This opens up the opportunity to get custom cables according to your requirement to remove the need for hiding cables.
Pick the best quality, matching colored, well-insulated cable for your keyboard and mouse, and you're not even going to need to hide it. This is a more expensive way of dealing with keyboard and mouse wire clutter than others.
10. Use Wireless Keyboard and Mouse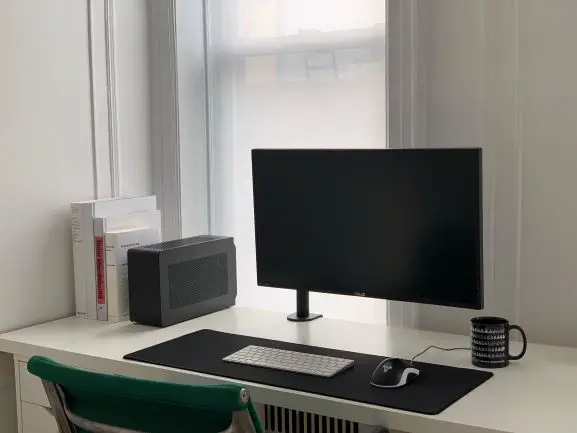 The easiest and most efficient way of hiding keyboard and mouse cables and taking them off your desk is to ditch wired peripherals altogether. Some people may not like this, but they have many options to go for.
The logical way to deal with cable clutter is to use wireless keyboards and wireless mice, with days and weeks-long battery backups, which makes them perfect for a clean and clear desk setup. This is also a great way of dealing with unwanted cables if that's what you want.
Conclusion
Using these keyboard and mouse cable hiding ideas will be great for your productivity and desk cleanliness. All you have to do is put a little one-time effort in, and you're good to go. I hope you have an incredible cable-managed desktop user experience.