Razer has always been popularly known to make some of the best gaming peripherals, but they've truly changed the peripheral game with this particular keyboard. Of course, I'm talking about the Razer Huntsman Elite Mechanical Keyboard.
You might wonder how good the Razer Huntsman Elite is; If that's the case, then you're in the right place. Well, that's precisely what I'm here to let you know.
In this article, I'm going to talk about the Razer Huntsman Elite, the design, the build quality of this keyboard, and the features and specs it comes with. I will be completely reviewing the Razer Huntsman Elite Mechanical Keyboard.
I'm also going to list the pros and cons of this keyboard and address a few frequently asked questions to decide whether it is a good buy or not finally. So, make sure you read this article completely before you buy this keyboard.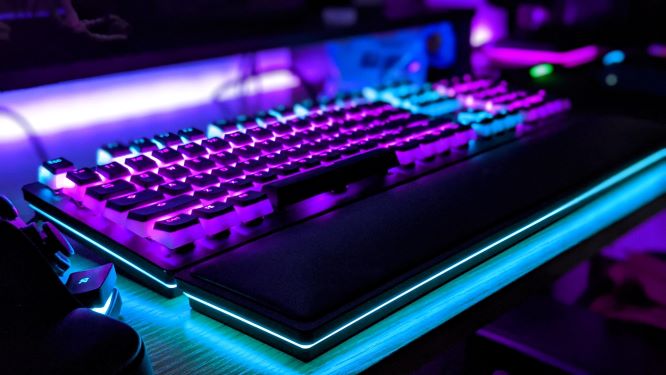 In a hurry? Get the Razer Huntsman Elite at Amazon.com!
Razer Huntsman Elite Mechanical Keyboard 
The Razer Huntsman Elite is a full-sized gaming keyboard with optomechanical switches installed and 104 dedicated keys, along with many multimedia keys and a multifunction digital dial.
It is an incredibly amazing keyboard in terms of design and overall feel and very gaming forward. Due to its multitude of features and cutting-edge key switch technology, it is trendy in the gaming community. So, naturally, I was inclined to order it for myself, and that's exactly what I did. So, let's take a deep dive into this Razer Huntsman Elite review.
What's in the Box? 
When I received the Razer Huntsman Elite keyboard, I was pleasantly surprised by the modern and tough packaging along with the cool design. But I couldn't wait too long, so I opened the box. Here are the components that I found inside the box:
Razer Huntsman Elite Keyboard
Magnetic Wrist Rest
Instructional Manuals
To my surprise, there wasn't any keycap puller, but Razer seldom includes these things in their packages. However, I was still satisfied with the components within the box.
High-quality Design and Superb Build 
First things first, let's talk about the design. This is the very first thing I noticed on the keyboard. It is a large-sized keyboard with a pretty decent overall design.
There's an RGB light strip that goes around all the keyboard edges and looks quite cool. We also have a matte aluminum top plate that provides rigidity to the keyboard itself.
On the back, we have 6 rubber feet and two kick feet that have multi-height adjustment ability. You can set the feet according to the height you feel comfortable using the keyboard.
The build quality of the keyboard is quite nice as well. In fact, there's no flex to it whatsoever. It is durable and will surely last quite a long time which is a good sign since it has quite an expensive price tag. But I'd say, so far, the price tag is justified.
ABS Keycaps and Decent Legend Imprints 
However, when it comes to the keycaps, things could've been a little better, in my opinion. The keycaps that are used in this keyboard are made of ABS plastic.
Premium quality gaming keyboards are known to have PBT plastic keycaps because of their durability, texture, and overall finesse, which can't be said about these keys; however, they still feel smooth compared to regular ABS keycaps, so that's a positive.
Another good thing is the legend imprinting. The Razer Huntsman Elite keycaps have legends printed on them using laser printing techniques. The legends are non-fade, and at the same time, they're quite sophisticated and simple, not too excessive, which is quite tasteful, in my opinion. The Chroma RGB lighting really feels nice and comes out with just the right amount of brightness, and doesn't seem too extra in these clear legends. This isn't easy to achieve, but Razer has done it with this keyboard.
Overall, taking a look at both the ABS keycaps and the legend imprints, I'd say Razer has done a decent job with the Razer Huntsman Elite Mechanical Keyboard.
Razer Linear Optical Mechanical Switches 
One of the biggest selling reasons for the Razer Huntsman Elite Mechanical Keyboard is the optomechanical switches that Razer has designed specifically for this keyboard.
These optical-mechanical switches by Razer come in two variants: Linear Optical and Clicky Optical. The one I ordered came with the Linear Optical Switches because I personally like linear switches.
The Razer Linear Opto-mechanical switches basically use an optical sensor that activates a signal as soon as you press the key, which means the key is actuated, registered, and set back up simultaneously.
The feel of this switch is light and super-instant. It comes with only a little actuation force requirement of 40g and is 16% shorter than most linear switches.
The switch actuates at a distance of 1mm, which is quite high and easy to actuate. Overall, I believe this switch technology and feel right up there with some of the best I've used, so full marks to Razer for this inclusion; definitely worth the hype these switches are.
6 Feet Well-insulated Power Cable 
Now, it is time for us to check out the power cable attached to this keyboard. The Power Cable is well-insulated and is quite thick in comparison to standard keyboard power cables.
In terms of length, it is 6 feet long, which is quite decent, and you're going to be able to use this keyboard comfortably without having to tug on it. Overall, the wire is also quite premium in terms of finish, so we're good in this case as well.
Exceptional Features of the Razer Huntsman Elite
We've looked thoroughly at the design and build quality of the Razer Huntsman Elite Mechanical Keyboard; now it is time to look at the many exceptional features and specs that it comes with. So let's check them out one by one.
Opto-Mechanical Switches – Razer's optical-mechanical switches are incredibly high-quality. They're super light, easy to actuate, very responsive, and available in multiple variants, so you can choose whichever you want according to your requirement.
Magnetic Wrist Rest – One of the best inclusions in the Razer Huntsman Elite Mechanical Keyboard is the comfortable and ergonomic magnetic wrist rest connected to the keyboard and has an RGB sleeve that syncs up with the keyboard upon connection which is super-cool.
RGB Lighting – Razer's Huntsman Elite keyboard uses Chroma RGB lighting with tons of patterns, 60 lighting zones to manipulate, and amazing vibrantly bright colored lights that make your keyboard and overall desktop setup crisp and clean. This makes the keyboard's design very gaming forward.
Ergonomic Design – When it comes to design, the Razer Huntsman Elite keyboard is quite ergonomic. There are 2 kick feet under the keyboard, and these kick feet have multi-level adjustment ability that you can choose between according to your comfort and ease of use.
Long Cable Length – Most keyboards have a short cable that you have to tug on to get to you. But with the 6 feet long cable of the Razer Huntsman Elite, you can use the keyboard pretty calmly without having to tug on the keyboard wire itself continuously.
Onboard Macros and Profiles – Using the F9 key, you can record macros on your Razer Huntsman Elite. You can also save up to 5 profiles on this keyboard because of the amazing Macro recordability.
Multifunction Digital Dial – You have a scroll wheel on the top right-side along with multiple multimedia buttons. The scroll wheel can be assigned different functions using the Synapse software, which is a pretty cool feature.
Programming the Razer Huntsman Elite with Razer Synapse Software
After looking at all the hardware elements and specs of the keyboard, we look at the software tools. Razer Synapse is the software that the Razer Huntsman Elite keyboard uses for many amazing functions, which is pretty cool.
Synapse has a lot of cool features that you can use. You have the ability to change the RGB patterns on the keyboard itself. There are 60 lighting zones you can individually change, and there's also the complete customization ability to change pattern locations, width, length, directions, and everything.
Using the Razer Hypershift feature, you can also assign different functions to different keys, and there is complete customizability when it comes to remapping keys.
The Synapse software also allows you to assign functions to the Multifunction dial. You can assign keyboard keys, mouse functions, commands, macros, multimedia functions, page scroll, and many other functions to the scroll wheel, so the possibilities are endless.
Pros and Cons 
Before we make a final buying decision, we must look at the final takeaways in terms of the pros and cons of the Razer Huntsman Elite keyboard. So, let's get into the good and bad we found in this keyboard.
| Pros | Cons |
| --- | --- |
| Multifunction Dial – The multifunction dial is truly multifunction and doesn't stay limited to multimedia. This is a great inclusion, and it has impacted keyboard usage quite a lot in a positive way. | 10-key Rollover – One problem that I was really bummed out about was the key rollover. This keyboard doesn't come with an N-key rollover. Instead, it comes with only a 10-key rollover. |
| Wrist Rest – The wrist rest is perfectly sized, RGB, and super-ergonomic with the comfortable design and soft leather rest that keeps your wrist in the right place for hours-long sessions. | No USB Passthrough – There's also no USB passthrough in this keyboard, which is also not great. |
| Programmability and Customization – Using Razer Synapse and the different onboard customization options, you can program macros and remap keys according to your needs. | |
Is the Razer Huntsman Elite worth it? 
The ultimate question to answer is, is it worth the price; Well, the price is quite high, but when you look at the different elements, components, and functions that the Razer Huntsman Elite comes with, you can surely say it is worth the price.
Interested? Get the Razer Huntsman Elite at Amazon.com!
Frequently Asked Questions 
The Razer Huntsman Elite is a widely searched keyboard on the internet. And there are a lot of questions that people have unanswered on the internet related to this keyboard. So I'm going to answer some of the major ones.
Is the Razer Huntsman Elite compatible with MAC?
Although the Huntsman Elite works well with macOS, users face one problem: Razer doesn't support Synapse on the macOS, so you won't be able to access the software features.
Is the Razer Huntsman Elite good for typing?
Yes, the Razer Huntsman Elite is just as good for typing as it is for gaming, and you can definitely type amazingly on it.
Should I buy the Razer Huntsman Elite?
I would certainly suggest that you buy the Razer Huntsman Elite if you have the budget for it. It is an expensive keyboard, but it has features that you would love to utilize as a keyboard enthusiast if you have the money.
Conclusion
The Razer Huntsman Elite is a premium keyboard with all the features you could ever want on a mechanical keyboard. High-quality switches and keycaps, RGB, wrist rest, and amazing proprietary software for all your programming needs. Every keyboard enthusiast will want to get their hands on one of these.