When trying to find the right keyboard for you there are going to be a ton of things that you need to consider.
What is the main purpose of your keyboard going to be? Are you primarily a programmer? A gamer? Do you tend to use your keyboard for day to tasks but very little else? Do you perhaps need a keyboard that does all three?
Looks matter! Maybe not as much as function, but it certainly plays its part. If you are looking for a retro-style keyboard that's simple in style but still looks pretty darn cool by most standards chances are there are two keyboards that have cropped up time and time again in your searches.
The IBM Model M and the Unicomp Ultra Classic, are two amazing buckling spring keyboards. The IBM model is the original while the Unicomp is the modern remake. The original has better build quality while the modern version is more comfortable and aesthetically pleasing. Both offer little to no customization options or programmability.
This comprehensive comparison article will look at both of these keyboards in detail. Their pros and cons, their stats and figures, and some breakdowns of common customer reviews. This way, you get a clear idea about how both of these keyboards perform.
Then, we will see how these two keyboards stack up against each other in various ways such as functionality and cost. Finally, you'll get my recommendation for which keyboard is best but, of course, the final choice is yours.
The IBM Model M
The IBM Model M is a pretty good keyboard all things considered. But, you really should get the idea that this keyboard can compete with modern models out of your head. It can't. It's a good keyboard but it's very basic.
That being said, here's what you do need to know about this keyboard. The IBM is a typist keyboard, it has decent spring switches that are quite reliable and hardly stick.
Those same switches are reasonably comfortable to use considering how old they are but there is a fair bit of buckling. If that's something that is going to bother you then perhaps this keyboard isn't for you. However, you can install O rings which can help tremendously with both buckle and volume.
---
Related article: What is a buckling spring keyboard?
---
Which leads us on to volume. This keyboard is LOUD. These switches are about as far from those sweet sweet Cherry Mx Silent reds that you had been previously using. This keyboard doesn't allow you to make any custom macros and has no programmable functions. It's old, what do you expect?
This keyboard does not have any modern features or functions. You can't program it, you can't run any kind of software on it, you can't use it wirelessly, and it doesn't have a backlight.
None of these features are necessary to be able to use a keyboard for any of the mentioned purposes but it certainly helps. When it comes to the IBM Model M you are buying it for its retro looks. It looks exactly how you would expect a keyboard this old to look.
Simple layout, plain and clear, with no flashy extras. It's a very simple aesthetic, gradients of grey and white, nothing special. Except, it kind of is. It looks cool, it definitely stands out from your standard office keyboard even if it may look as if you have gone backward in time somewhat.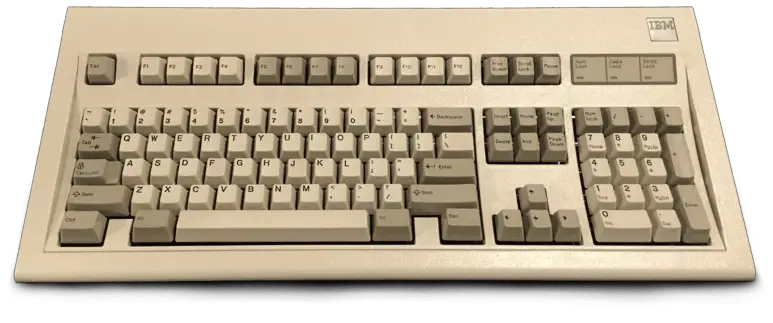 | Pros | Cons |
| --- | --- |
| Looks cool, simple style and aesthetic, very retro, and classic keyboard design | Very low point of actuation |
| Comfortable to type on – good bounce back | No programmability |
| Reliable switches and good feedback | No backlight |
| Pretty comfortable to type on all things considered | Cant be used wirelessly |
| | Very loud |
Unicomp Ultra Classic
Second on the list, we have the Unicomp Ultra Classic. Once again we have a very basic keyboard in terms of functionality. But, we all know that's not why we are here.
The Unicomp is a very attractive looking keyboard, it's plain and simple in design for sure but it still looks good. It's far more interesting aesthetically than the IBM Model M with its higher contrasts of shade and a more interesting case design.
The Unicomp Ultra Classic is a great keyboard all things considered. It is not only very comfortable for typing but it is reliable and consistent.
What I mean by that is, this keyboard was built to last and so long as you don't abuse it too much it will always perform to a consistently high standard. Not as high as modern keyboards but high enough that it is genuinely a viable choice for your next keyboard.
The Unicomp Ultra Classic also does not have any flashy extras. You can't program this keyboard, there are no macros, there are no media keys. There aren't even any function keys so you can go around trying to brute force some macros computer side. You get the basics. Make do with them.
So what do you have? You have a decent quality USB 2.0 and a comfortable typing experience. The switches are good, a little loud, but they get the job done. The keycaps are reasonably comfortable to use but the plastics are old, they aren't sweat resistant, so you may not find they stay comfortable for very long.
The frame itself may look better than the IBM Model M but it's not quite as reliable. It's a bit flimsy, it's two kickstands being the biggest example of this. It might take a little while to adjust to this keyboard and its quirks; but, that's the cost of greatness.
In all seriousness, this keyboard is fun to use but it takes some getting used to. If you're willing to buckle down and put the effort in to learn to use it to its limitations then you are in for a real treat.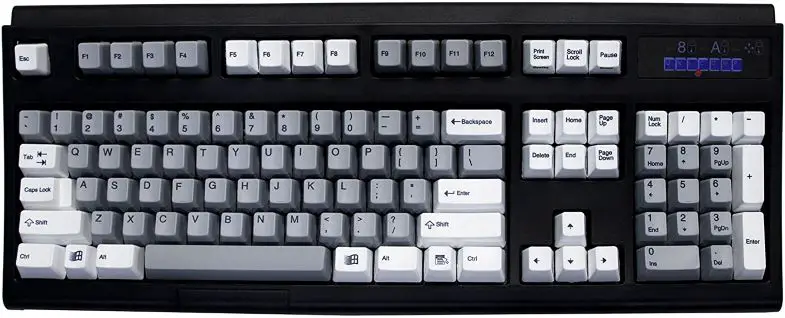 | Pros | Cons |
| --- | --- |
| Looks great – very aesthetically pleasing. Dark grey – white/cream style | Plastics on Keycaps aren't great nor is the plastic frame itself |
| Comfortable to use | No bells and whistles |
| Fun for typing | No USB passthrough |
| Ergonomics are pretty good, can attach an aftermarket wrist rest | No backlight |
| Reliable keyboard – built to last | No programmability |
IBM Model M vs Unicomp Ultra Classic
Which is best for programming?
For programming, you typically want functionality above pretty much everything else. Ordinarily, that would mean lots of function keys or media keys and programmable macros. The more programmability the better.
Neither of these keyboards offers any of these typical qualities so as much as I hate to say it id never recommend either of these for programming. Instead, we can look at the comfort of typing.
Here I'd say it's a bit up in the air. The reason being that either keyboard could be seen as reasonably well suited to the task so long as you rule out macros as playing a part.
I'd probably put the IBM Model M over the Unicomp simply because the Unicomp requires such a major adjustment period. The IBM Model M also gives more feedback when typing which can massively reduce errors. Accuracy is tremendously important when programming.
Which is best for gaming?
For gaming, I'd probably go with the Unicomp Classic. The reason being that while these keyboards are indeed very similar in a lot of ways the Unicomp is simply just more fun. It looks more interesting, it's a little flashier, and it's fun to use.
While it may not look like your typical gaming keyboard, it does have something to it. In terms of comfort, I think the Unicomp is a little better for gaming because you can attach a wrist rest. It will need to be an aftermarket wrist rest, but it's still at least an option.
Neither keyboard uses PBT plastics on its keycaps so I'd probably suggest that you switch those out first of all. The Unicomp is pretty loud by modern standards but not quite as loud as the IBM Model M.
Since you can't run any macros or custom functions you may want to invest in something like a Nostromo to give you a little more functionality.
Which is best for everyday use?
When it comes to everyday use, typing, emails, etc, you pretty much only care about the typing experience. You don't need crazy functions, you don't need media keys, ordinarily, I'd say you do still need function keys but we can leave that out of the equation for now.
So, which has a better typing experience? Probably the IBM Model M. However, you have to factor in that the Unicomp can become more comfortable over time with a fair bit of practice and adjusting. Do you have time to put the hours in practice? If not, the IBM Model M is the clear winner. If you do, then, I guess only time will tell.
The problem with the Unicomp is that unfortunately it just isn't going to work for everyone. I mean, it will work. But, not everyone will adjust properly. You might spend hours upon hours trying to get used to the keyboard only to find out that no matter how much you try you just hate it.
You could ultimately swap out the switches and the Keycaps for some more modern options but that kind of defeats the point of what we are trying to do here.
Which is best for modding?
Modding generally refers to making modifications to the keyboard. These can either be hardware modifications, which are certainly possible on both of these great keyboards.
Or software modifications, which are completely impossible on both of these keyboards. Why? Because neither is capable of running any software. They have no memory, they are just switches and lever with a very very basic PCB.
When it comes to hardware modding they are pretty much equal. Both can have very simple modifications made to them almost immediately. You could easily add O rings, swap the keycaps, add switch films, and give it a good clean. This is going to make typing more comfortable.
Swapping out the switches isn't quite as easy because not all switches are going to fit. These switches are different than modern ones meaning they aren't always interchangeable.
The difference-maker is, arguably, that the IBM Model M can allow USB passthrough where the Unicomp does not. This means two things. One, you can change the old as heck USB cable out for a brand new one. Two, you could make the keyboard wireless. That's far more tricky than the previously mentioned modifications but certainly doable.
Which is best on a budget?
Neither is good on a budget all honesty. A budget keyboard is something that probably costs around $50. These are going to be far, far, more than that. I'd estimate that you can pick up an IBM Model M for around $125-150. Which isn't cheap by any means but not completely crazy.
The Unicomp Classic is a little harder to come by and therefore a little more expensive. Or, a lot more. You can probably pick one up for about $225. If you want one in great condition then you might even need to pay over $250.
Neither of these keyboards is good if you are on a budget. If you manage to pick one do these up on the cheap, perhaps from a thrift store, etc, then more power to you.
So while I'd hardly say that the IBM Model M is a budget option by any stretch of the imagination it is far more likely to be cheaper than the Unicomp Classic.
Which would I recommend?
Which of these two great keyboards would I recommend? Probably the Unicomp in all honesty. They are so on par in pretty much every metric that you may as well go with looks. Sometimes it's fine to be superficial, this is one of those times.
I think the Unicomp looks slightly better so that's the one I'd pick. The lack of USB passthrough doesn't bother me as I doubt I'd actually need it at any point. You can't go into this wanting functionality or you've already lost.
Conclusion
As always, whichever keyboard you prefer is going to be entirely up to you. Hopefully, you now at least have a clear idea which might be best for you. Or, perhaps, you can see why neither might be right for you.
Whatever you decide, good luck on your quest for the perfect keyboard. Happy typing!
---
If you want to see more of my product reviews, check out my Guides and Reviews category!
---