Getting the perfect mouse for a quiet computer setup environment can be difficult since silent mice aren't paid a lot of attention in this day and age. But making your computer mice silent and quiet is still an option on the table if you want to do that.
Now, you might be wondering, how to make a computer mouse quiet exactly? Well, if that's the case, then you're in the right place because that's exactly what I'll tell you today.
In this article, I'm going to talk about Computer Mice, the problems with their noise, how you can make them quieter, the benefits of quiet mice, and if you want to get a new mouse, the top 3 best silent mice choices as well. So, without wasting any further time, let's get started.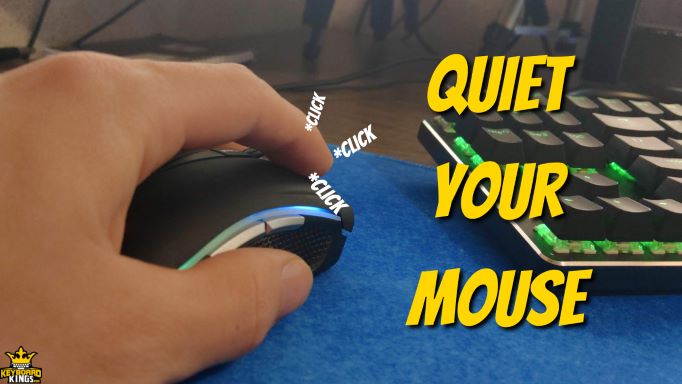 Why Is My Computer Mouse Making So Much Noise?
Well, there could be several reasons for a computer mouse making noises internally or externally. To give you a proper understanding, let's take a look at some of the culprits causing noise in your computer mouse.
Clicking Noise – The first and most obvious culprit for computer mouse noise is the clicking mechanism of the mouse. It is possible that you bought a mouse that provides a normal clicking sound which is louder than you expected and now it is causing problems for your peaceful working or playing set up in a quiet environment.
Damaged Parts Inside – There are a lot of connections, circuits, and pieces of hardware within a computer mouse. It is possible that a splash of a drink, or the mouse falling down, or anything like that would've caused damage to the internal parts of the mouse which is why moving the mouse is now causing sound because of the damaged part moving within the mouse.
Issues with the USB Connection – When the USB port of your computer or the USB connector of your computer mouse isn't working properly, plugging the mouse could be more of a problem than a solution. The OS is constantly going to bombard you with notification sounds of the mouse connecting and disconnecting again and again which can become exhausting after a while.
Dust outside and Inside the Mouse – If you've set up your computer desk in an area where there is a lot of dust, what's going to happen is that your computer mouse is going to get dusty and even the clicks might get jammed which may give out an unusual noise. So, that could also be a big noise problem.
End of Usability – After 2-3 years of usage, if the quality of the mouse was sub-standard, it is possible that the mouse is about to reach the end of its usability and that might cause it to behave abnormally and produce unnecessary noise. This noise can also cause problems if you're using the computer in a silent environment.
4 Ways to Make Computer Mouse Quiet
So, you've got a computer mouse and it is making excessive noise. Well, instead of getting a new one and spending a bunch of money, you can make it quieter. Well, if that's what you want to do, here are some of the methods you can utilize to make your mouse silent:
1 Clean Dust off Your Mouse
The first method is quite an obvious one. But you're going to need to be thorough with it. What you're basically going to do is that you're going to unscrew the frame and make sure you open up the mouse first.
Then you're going to take a small microfiber cloth and gently use it to clean the outside of the frame. After that, for the inside, you're going to use something gentler like a cotton bud. Use a cotton swab to clean the switches and the internal circuitry of the mouse and that's all you're going to need to do. It will surely fix any dust-related noise problems.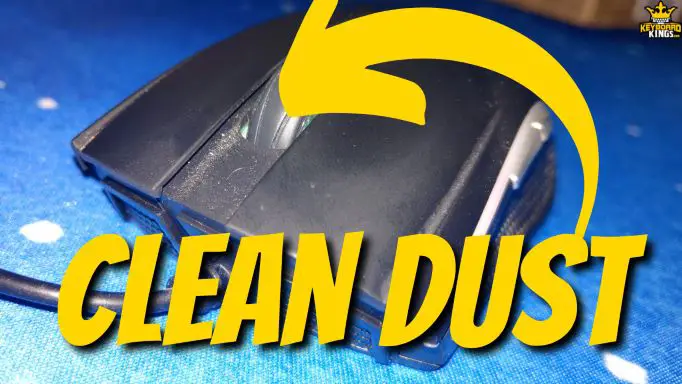 2 Repair the USB Power Cable
The USB Cable as I said before can also be a big reason for your computer mouse not working well. In that case, what you're going to do is you're going to have to cut the wire.
If there is any kind of problem or detachment within the insulation, deal with it, and then put a new layer of insulation on the wiring. If you're inexperienced in this, you can take the mouse to a repair shop and your job will be done in practically no time. So, this might work for your noise issue as well.
3 Use a Thick Foam Mousepad
If you feel like the mouse is too heavy and direct contact with the desk is what's causing unnecessary screeches or sounds, you can deal with that as well. All you need is a bit of creativity.
Basically, what you're going to do is you're going to take your mouse, unplug it, place a piece of fabric on the desk, then put a decent mousepad on it and then plug the mouse in again and use it over the mouse. You're going to see that the mouse won't make as much sound because the sound of the clash will get dampened by the fabric and the mousepad.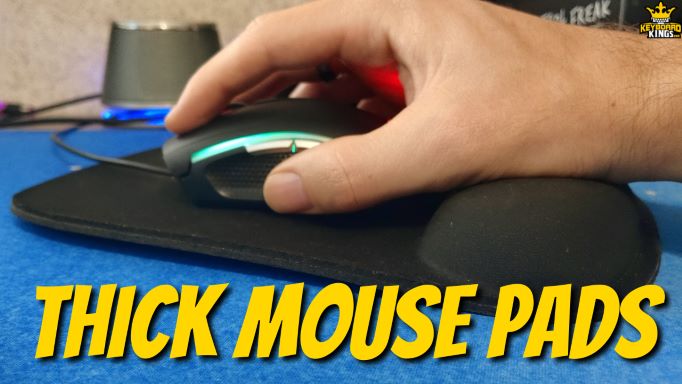 4 Add Insulation to the Switches
Now, the last but the most effective method to deal with computer mouse clicking noise specifically is the use of insulation. You can use thin foam pads or pieces of fabric for this solution as well.
What you're going to basically do is that you're going to open the mouse up. You're going to take the top of the circuit of the mouse where you'll be able to see a couple of switches for each of the click buttons. Beneath them, you're going to stick fabric or foam with glue to the extent that the switch can still be clicked. And then use the mouse. You'll be surprised as to how silent the mouse is.
Benefits of Quieter Computer Mice
So, how exactly do quieter computer mice help your cause? Well, there are several benefits of a silent mouse. Let's take a look at some of the major benefits and advantages.
Better for Silent Environments – If you're working in a silent environment where you don't want to disturb the peace of others around you, a silent mouse would help by not making any unnecessary noise and keeping the surroundings peaceful while you use your computer.
Comfort – If we talk about the comfort level of silent mice, it is always better than others simply because of the fact that quieter mice are easier to control, lighter on their feet, and have a better ergonomic design on average.
Additional Features – Silent mice are usually more expensive than standard mice because they not only offer silent usage but other features as well like wireless connectivity, extra buttons, added ergonomics, RGB backlighting, smart functions, etc. So, all these excessive features also make these computer mice better.
Top 3 Best Silent Computer Mice
So, you're thinking of buying a new mouse anyway and you have your eyes on silent computer mice? Well, here are the top 3 silent computer mice you can find in the market with great features and amazing benefits. 
For a more in-depth review of some quiet mice, check out this article I wrote recently: 5 Best Silent Computer Mice
1. Razer DeathAdder V2 Silent Gaming Mouse
The Razer DeathAdder V2 Silent Gaming Mouse is a very high-quality gaming mouse that comes with fully customizable RGB lighting, auto-calibration for mouse pad to reduce drift, and 3 times faster switch mechanism as compared to standard mice.
This silent mouse offers 20K DPI settings, a durable design, and quiet clicks that you'd absolutely love to press. So, getting this mouse is surely going to be a good decision for you.
2. Logitech M220 Silent Wireless Mouse
The Logitech M220 Silent Wireless Mouse is a wireless mouse that connects with a USB receiver. It offers 90% more silence than any standard computer mouse. Along with that, it comes with other amazing features like extra precision, an ergonomic design, a comfortable grip, and increase durability. So, getting it would be a good decision for you.
3. VicTsing Silent Slim Wireless Mouse
The VicTsing Silent Slim Wireless Mouse is one of the best silent mice in the market with a unique slim design, high-quality build construction, portable and light-weight design.
The best thing about this wireless mouse is the fact that it can connect to multiple devices and offers 90% silent clicks. The price of this mouse isn't very high either so it will definitely be a great investment.
Conclusion
Making a computer mouse quiet can go quite a long way especially if you're working in a professional environment or you have other people around you that you don't want to disturb. With the aforementioned tools and techniques, you can easily make your mouse silent. Otherwise, you can simply get a silent mouse and make life easier. I hope you learned a lot from this article and that you're going to have a great experience with it ahead. May you have a great day ahead of you.