The tactile keyboard switch market has gone through some great revolutions and now we keyboard enthusiasts can finally say that we're at the peak of technology. However, it's hard to decide which ones are the best between the fantastic Holy Panda switches and the epic Zealios switches.
So, which switches is the best between Holy Panda and Zealios? You might be thinking. Well, that's the point of today's article, and that's what I'm here to tell you.
In this article, I'm going to talk about Holy Panda switches, their functionality, along with Zealios switches and what they have to offer, as well as some of the pros and cons of both these switches, to accurately compare and find out which one is the best tactile switch of them all. 
So, without further ado, let's get into this.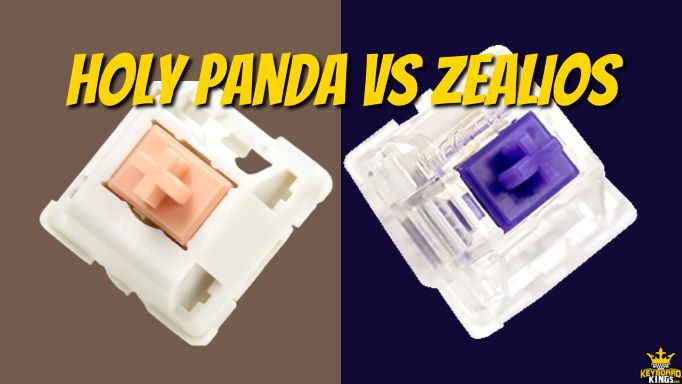 In a hurry? Considering the price, and overall quality, hands down I would pick Zealios Switches over Holy Pandas. Get yours today from amazon.com.
---
Holy Panda Switches
The absolute peak of tactile switches is the Holy Panda switches. These switches are considered legendary in their actuation, bump, feel, and keypress, which is no doubt at all. Holy Panda switches are made using the stems of the Halo transparent switches and the housing of the Inver panda switches, and the result is, as you'd expect, simply unbelievably good.
Ever since they arrived on the scene, Holy Panda switches have gotten fantastic success and popularity among the high-budget keyboard enthusiast community because they cost a lot. But their tactility is something that they're proud of boasting about. You can feel the bump in the middle of the switch and not relatively high, and even if you bottom out, you're not going to feel a strong recoil force.
They don't come pre-lubed from the factory, but the switch itself is so great that even without lubing, they're not rough or janky. They offer their money's worth which is epic. Since these switches were so popular in the tactile region, I had to get them myself and try them out. And that's precisely what I did. I have to say; I'm glad I got them for myself.
What's So Special About Them?
After checking the Holy Panda switches for quite a decent amount of time and fully getting the Holy Panda experience from them, you might be wondering, what made them so special to me as tactile switches?
Well, the one main thing that I found really special about these switches that make the Holy Pandas unique and a contender for the number 1 spot on the tactile list, is the smoothness they have to offer.
Despite the actuation force being between 60-70g, you're not going to believe this, but the switch feels so soft, light, and smooth on the fingers when pressed. This unreal kind of smoothness makes you fall in love with these switches.
And not only that, the sound that these switches emit is something you can hear all day long without complaining. These are some of the things that make the Holy Pandas so special, despite being super expensive.
Pros and Cons
Now that we know what Holy Panda has to offer as a tactile switch, it is essential for us to check out the advantages and disadvantages we're going to have to get through if we buy these switches. Let's take a look at the pros and cons of the Holy Panda switches.
| Pros | Cons |
| --- | --- |
| Smoothness – The first and foremost benefit of Holy Panda switches is that they're incredibly smooth even without being pre-lubed in the factory. This smoothness can be observed even when you're bottoming out on the switch. | Very Expensive – The one thing that I'm not a fan of is the price tag of the Holy Panda switches. One switch can cost up to $1.30 which means that you might have to pay around $90 for 70 switches. |
| Lightweight – The switch comes with an actuation force of 60-70g which seems like a lot for a tactile switch but believe me when I say this, despite being a heavy switch, the keypress feel is so light on your fingers that you're barely going to feel any hardness on the switch. | Only for Typing – The actuation force of these switches isn't versatile which is why according to the experience I'd say that these switches are only meant for typing and not gaming because for gaming you need extra quick and responsive key switches. |
| Great Sound – Too much clickiness can be quite off-putting and that's why when I say that the Holy Panda switches have an incredibly soft and soothing sound to their click, I mean it in the best sense because the sound really is great. | |
| Amazing Stability – If we talk about the stability of the switch, you're not going to feel any kind of jitter or stutter on it when you're pressing or even if you're continuously pressing the switch. You're going to feel amazing at all times. | |
Interested? Get some Holy Pandas from Amazon, check price here.
---
Zealios Switches
While we're on the subject of finding the one true king of the tactile switches in the market, allow me to introduce you to one of my favorite switches of a long time, the Zealios tactile switches.
These switches come in multiple variants depending upon the actuation force. You can get them in 62g, 65g, 67g, and even in 70g if you really want that nice and strong keypress. These switches come in a clear housing and with purple stems which is a classic combination especially if you're using a backlit RGB keyboard. Overall, they are a crowd-pleaser.
The tactility is amazing and you can feel the tactile bump quite high in these switches while experiencing a softer recoil when bottoming out. That's also pretty great about them. The sound of these switches is gentle and soothing. You can close your eyes and listen to them for quite a while if you want to. If you're a gamer, I would recommend getting the fewer actuation force variants.
Zealios switches are somewhat expensive but there are more expensive variants of switches in the market that don't provide nearly as good an experience as they do, so point to them.
The Zealios switches are also some of the most popular ones in the business. They have a cult following and rightly so because they have some of the best sound and tactility, I've ever seen in keyboard switches.
What's So Special About Them?
So, now that I've practically used these switches for more than a week, what have I found so special about them as tactile switches? This is something you must be wondering right now. Fair question. And I've got the right answer for you. The thing about these switches that has truly made me feel really special about them is the high tactile bump and the quickness of the switch itself.
This is what makes the Zealios switches so good for all kinds of keyboarding activities and usage. With that amazing sound and that deliciously smooth keypress, you're going to have a wonderful time with them. When I say they sound really good, I don't believe I'm making it quite apparent actually. I would actually suggest that you get them for yourself and then hear them for yourself. I assure you, you're going to love every bit of it.
Pros and cons
Since we've checked out the features and specs of the Zealios switches, it is high time that we take a good look at what the pros and cons situation of these switches is like. Here they are:
| Pros | Cons |
| --- | --- |
| Incredible Sound – The sound of the Zealios switches is just as you'd expect, amazing. The softness of the click along with the gentle somber tone of the sound that these switches emit is perfect for the ears and you'll love it if you're a fan of tactile switches. | Expensive – Although the Zealios switches aren't as expensive as some of the other tactile switches in the game, they're still pretty expensive with each of the switches costing at least $1 which equates to around $70 for 70 switches. |
| Superb Smoothness – If we talk about smoothness, these switches are around the top of the ranks. The switches are soft, smooth, however, they're pretty tactile but still, they have that softness that makes you want to click them more and more. | |
| High Actuation – One of the best things about the Zealios switches is that the actuation bump can be felt pretty high up and you don't have to reach the middle of the bottom to find the tactility that you're looking for. | |
| Available in Multiple Weights – If you're not a fan of heavy switches, you're going to love the fact that the Zealios switches have got you covered with their variety of weights in terms of actuation force. You can choose between 62-, 65-, 67-, and 70-gram switches if you want. | |
You can get Zealios switches on Amazon for a great price.
---
Holy Panda vs. Zealios: Which One is Better?
Both Holy Panda and Zealios keyboard switches are amazing, without a doubt. But if we take a look at how these switches fare against each other, only then will we be able to find the one true victor. Let's take a look at the comparison between these switches over a series of important factors.
Price
Let me start off by saying that both these tactile switches are certainly very expensive in comparison to others in the game. And if you're on a budget, getting them would be pretty difficult for you.
However, if you're comparing the price of these switches with one another, the Zealios switches are significantly less expensive than the Holy Panda and offer great tactility at the same time. So, they're the winner in this case.
Tactility
The tactility of a tactile switch is one of the most important aspects of it. In the Holy Panda switches, you'd be able to feel the tactile bump around in the middle of the keypress. This isn't something everyone approves of.
On the other hand, in the Zealios switches, you could feel the tactile bump right around the top which gives a better sense of tactility in my opinion and that's why this is another point to Zealios.
Gaming and Typing
Keyboards are not only used for typing but also for gaming as well. That's why getting a switch that is great for all purposes is quite important for a regular keyboard user.
The Holy Panda switches have a fixed actuation force requirement which makes them better for typing but the Zealios switches are great for both typing and gaming because there are multiple weight options that you can choose between depending upon your requirement. So, that's very cool about the Zealios switches.
Stability
Stability is a feature that every tactile mechanical switch must have in order to not feel janky or unimpressive. Well, the Zealios switches are incredibly firm and durable in terms of stability and have no jitter to them whatsoever.
But the Holy Panda switches are just on another level in terms of stability. They're known to be swift and straight in all kinds of situations. So, in terms of stability, I'm going to have to give this one to Holy Panda switches.
Overall Features
Finally, let's take a look at which of the aforementioned switches takes the cake when we talk about overall features, sound, keypress, tactility, and actuation. Although I believe that Holy Panda key switches are pretty great in all these avenues, I don't think they're the best.
To me, Zealios switches have a crisper feel to them, a softer bottom out, a better tactility, and impressive sound to complement all of these features. That's why I believe they're the better switch.
Comparison Table
| Comparison | Winner |
| --- | --- |
| Price | Zealios |
| Tactility | Zealios |
| Gaming | Holy Pandas |
| Typing | Zealios |
| Stability | Holy Pandas |
| Features | Zealios |
| Overall Winner | Zealios |
Conclusion
Holy Panda has a lot to offer even though the price is definitely very expensive, but in comparison to Zealios switches, I believe the clear winner is surely Zealios. The features, price, and overall comfort, and tactility are just incredible in these switches.
I hope you learned a lot from this article and that you're going to have an incredible time no matter which of these switches you might end up getting. Have a great keyboarding experience!