An essential part of building your custom mechanical keyboards is choosing the perfect keyboard case. Therefore, you need to know a lot about keyboard cases before you choose one and develop your ideal keyboard with it.
You might be wondering, what's unique about keyboard cases? What makes them different and unique? What should I consider while using a particular keyboard case? Well, these questions and a lot of others will be answered today.
In this article, I'm going to talk about keyboard cases, how important they are to a custom keyboard, the advantages of a high-quality keyboard case, and a good guide for choosing a unique keyboard case for your very own customized mechanical keyboard build. 
So, without further ado, let's get started with this guide.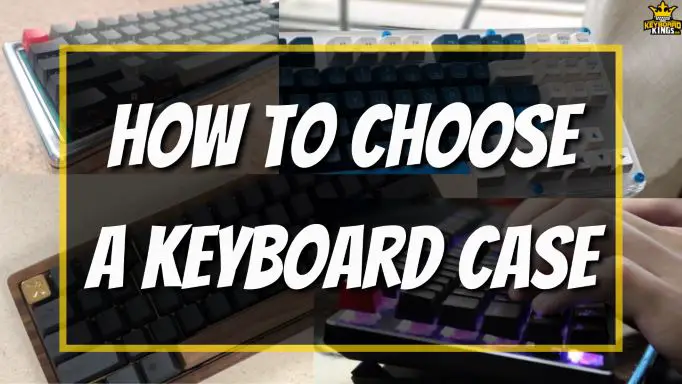 Significance of a Mechanical Keyboard Case
Mechanical keyboards are quite popular among keyboard enthusiasts owing to their number of benefits. They are long-lasting, customizable, and highly useful. However, building a mechanical keyboard from scratch isn't easy. 
You have to choose the individual components carefully and also make sure they match in size and other factors. And then finally, do all the soldering and other work to build the keyboard. 
There are several reasons why the keyboard case is the most essential and primary component of a custom keyboard.
Right off the bat, one thing that you need to know is that you're going to be placing everything related to your mechanical keyboard within the case itself. This highlights a bit of what the structure has to do with the build.
Secondly, the case is what holds together everything as you use the keyboard. So, the requirement that your mechanical keyboard frame should be reasonable is quite essential as well.
Then there's also the fact that the case is what sits on the tabletop. The rubber feet, the flip-up kick feet, and all those things are also located on the back of the frame. So, all of these elements make the mechanical keyboard's case super-important and significant in the build.
Not many people realize this while starting on their build and focus more on other components, which makes the keyboard a bit underwhelming.
So, make sure you cover all the bases when you're thinking about getting a good keyboard built. This includes realizing the importance of the unique keyboard case and ensuring you get the best quality product to fulfill your requirements.
Advantages of a High-quality Keyboard Case
Before I tell you how to choose a unique and high-quality keyboard case, it would be better to explain all the advantages you can get if you use a high-quality case for your custom keyboard build. Let's take a look at some of the major ones right now.
Keyboard Usage Longevity – The first and foremost advantage you're going to get with a high-quality keyboard case is the longevity of the lifespan of your keyboard. A better case would mean more durability, which in turn would suggest that you'll be able to use the keyboard for more than a few years easily.
Better Overall Feel – Keyboard usage is all about how a person feels typing on a particular keyboard. If you've used a high-quality keyboard case in the build that you're proud of, your overall experience of using the keyboard will be much better, and the feel will be great as well.
Premium Visual Aesthetics – If you're getting a decent keyboard case for your customized keyboard build with a stunning design and many great functionalities, it will enhance the overall look of the keyboard. The visual aesthetics of the keyboard will emit a certain premium feel that makes it look quite lovely.
Good Building Experience – imagine buying high-quality switches, plates, PCB, and whatnot for quite a high price and then choosing a bad quality keyboard case. Your keyboard building experience wouldn't be good at all. That's why buying a high-quality case can genuinely make your keyboard building experience all the more enjoyable, fun, and overall exciting.
Ergonomic Support – The ideal keyboard case isn't usually plain and simple like a box. Instead, it comes with a bunch of its features at the bottom. A good keyboard case will offer exceptional surface sticking capability and multiple layer height adjustability so that you can feel ergonomically superior to other users.
Guide to Choosing a Unique Keyboard Case
So, you're thinking of choosing the perfect keyboard case for yourself? Do you want something that is high-quality but at the same time unique? Well, there are many essential components you need to consider when choosing an individual keyboard case.
Let's take a look at some of the considerations that you need to necessarily take if you want to get a unique keyboard case for your own keyboard build.
1. Material of the Keyboard Case
The first element of uniqueness in a keyboard case is the material. Therefore, the material of the keyboard case is quite important. It shows how durable the keyboard case will be and how it will last.
It also showcases how the keyboard will look and behave on top of your tabletop. So, let's take a look at some of the primary materials used to make high-quality keyboard cases that are unique.
Acrylic Case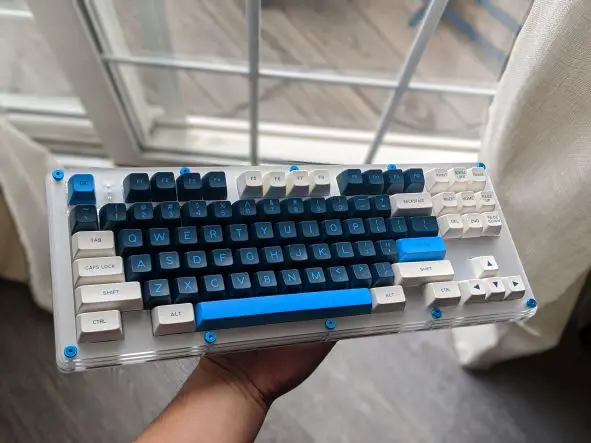 The first case material that we've got is acrylic. Acrylic is technically a plastic material, but it has tendencies that align with glass because of its transparentness and capability of illumination.
Acrylic isn't a common material, which basically gives it the rarity and uniqueness you'd want in your keyboard case. Moreover, acrylic can easily be customized and beautified even further. So, it is definitely a good material for your keyboard case because the durability factor also exists within it.
Stainless Steel Case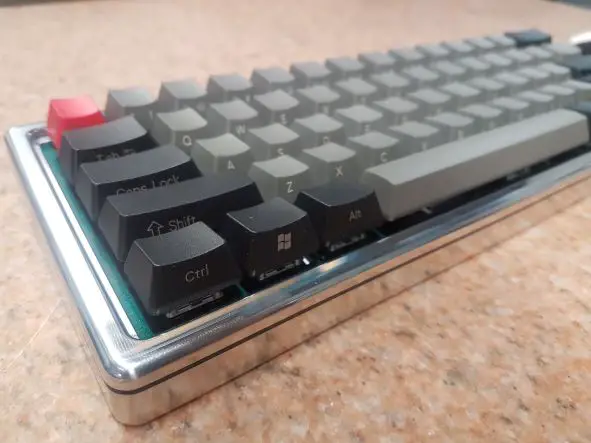 Stainless Steel, a material typically used in highly durable devices and machines that are subject to a lot of harsh conditions, is quite a rare keyboard case material due to difficulty in the creation and increased expenses.
But in terms of durability, it is second to none. It is also rust and stain-resistant. So, if you want to get a hefty and heavy-duty keyboard case, going for a stainless steel one would be the ideal thing for you to do.
Wood Case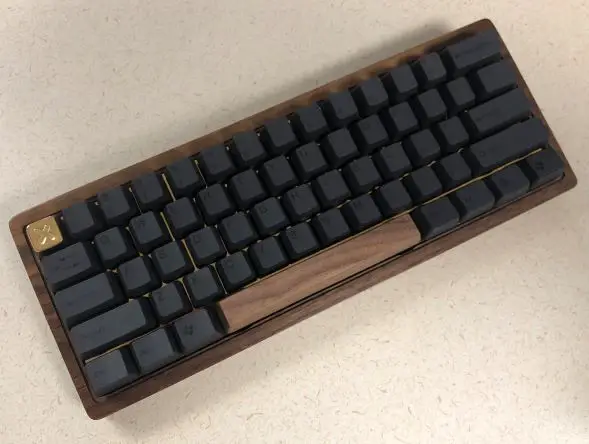 Wood is mostly not considered a common material for keyboard cases at all. However, wood cases are available, and they give a certain rustic and antique feel to the keyboards if you ask me.
They're more expensive to produce, look better, and have a pretty decent amount of durability associated with them. So, if you want to get a wooden keyboard case, you can get them without a doubt.
Aluminum Case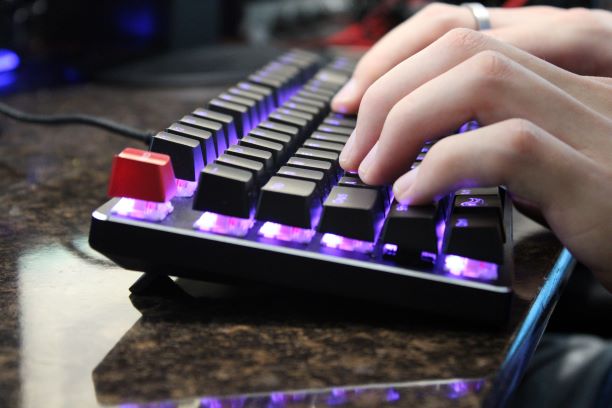 The best keyboard case material used by a lot of professional manufacturing companies and keyboard enthusiasts is the aluminum case. The aluminum case is lightweight, durable, good-looking, and not as expensive as stainless-steel cases either.
Most premium keyboards use an aluminum finish which gives them extra durability and worth. So, if you're thinking of building a high-quality keyboard yourself, going for an aluminum case would be a good idea.
Plastic Case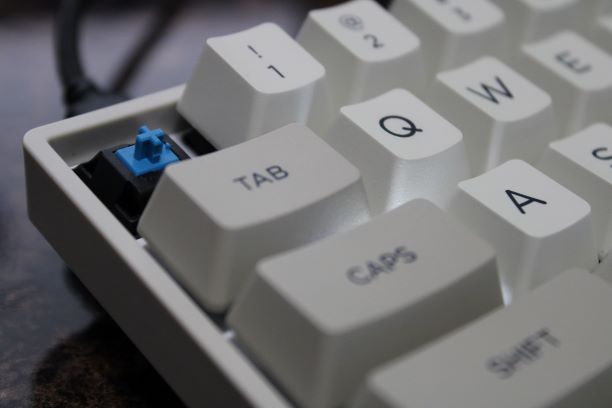 The most commonly used case material is plastic. However, it is on the cheaper side, less durable, and the overall feel isn't the greatest either. On the other hand, you can usually find prebuilt keyboards in the affordable section with a plastic case.
Unless the quality of plastic is excellent, the ideal thing to do would be to avoid using plastic as a material for your keyboard case. But it also depends upon the budget you have for your keyboard cases.
2. Size of the Keyboard Case
The second quality of a keyboard case is the size. It is another very crucial consideration when you're getting a keyboard case for your customizable keyboard build.
There are different sizes of keyboard cases, equipped with different layouts and functionalities depending upon the usage of the keyboard and its compactness and space requirements.
Let's take a look at some of the main sizes of keyboard cases you can choose from when building your own keyboard. Note that there are other keyboard case sizes available as well, but they're usually uncommon for general purpose and gaming use.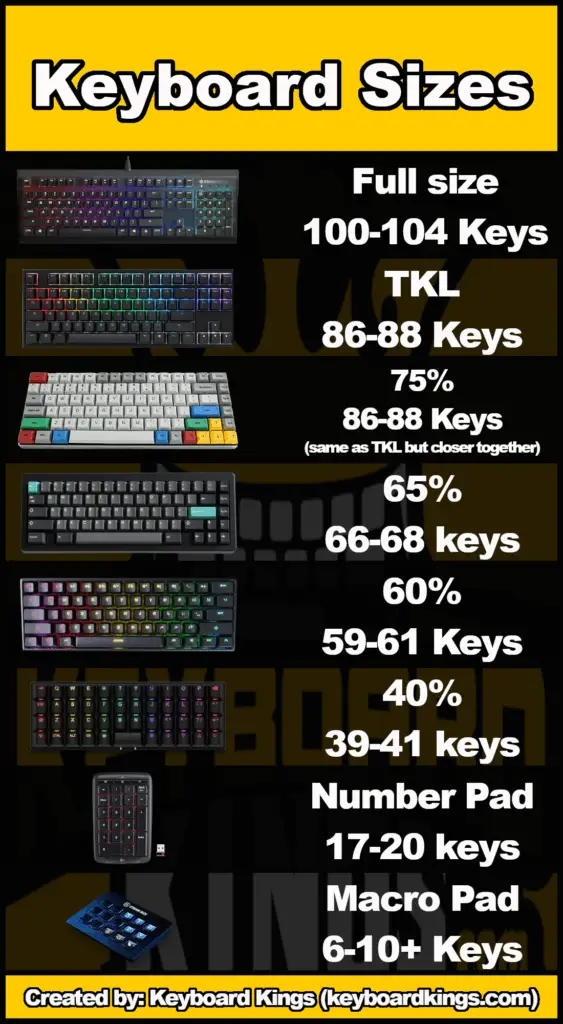 60% Keyboard Case
First, let's talk about 60% of keyboards. A 60% keyboard case is the one that has the space for a 60% keyboard layout. This layout doesn't include the function keys, the numpad, or the arrow and navigation keys.
You get the basic functionality and a few function-capable keys that you can use to have a good experience. The goal of this keyboard case is compactness and ease of use. If that's what you require, then going for this keyboard case would be the right thing for you to do.
75% Keyboard Case
Next comes the 75% keyboard case, which offers the capability of holding 75% of the layout of a keyboard. This layout includes the function layer and navigation arrows, and a vertical strip of added functions.
The Numpad is missing, but the functionality in this layout is quite impressive. The compactness usually depends upon the bezels of the case, but the ideal case would have thin bezels usually.
100% Keyboard Case
The most common type of keyboard case is full-sized or 100%. These cases can hold all the keys in a keyboard layout. For example, the 100% layout usually consists of 104 keys, including all the functions, navigation, and numpad keys as well.
Usually, this keyboard case is more significant and not compact at all. So, if you have a lot of space for your keyboard and your computer usage requirement needs all the keys you can get, getting the 100% keyboard case would be the right call for you.
3. Design of the Keyboard Case
Another factor of unique keyboard cases is the designs that they offer. Different companies and individual artists have their designs for keyboard cases to provide a certain sense of visual uniqueness to keyboard enthusiasts.
There are some unusual-looking keyboard cases available in the market as well. Here are the two ways the design of the keyboard case can differ and be unique to others.
Design Patterns
To make your keyboard build unique, you can get it designed with specific visual patterns or artistic elements on the back or the sides or get something printed on it through hydro-dipping.
Visual Uniqueness
If you're not done there, you can get cases that just aren't standard rectangular frames for the keyboard layouts. You can go for a different shape, a different approach, a different look to obtain the visual uniqueness that you're seeking in your keyboard.
4. Keyboard Frame Mount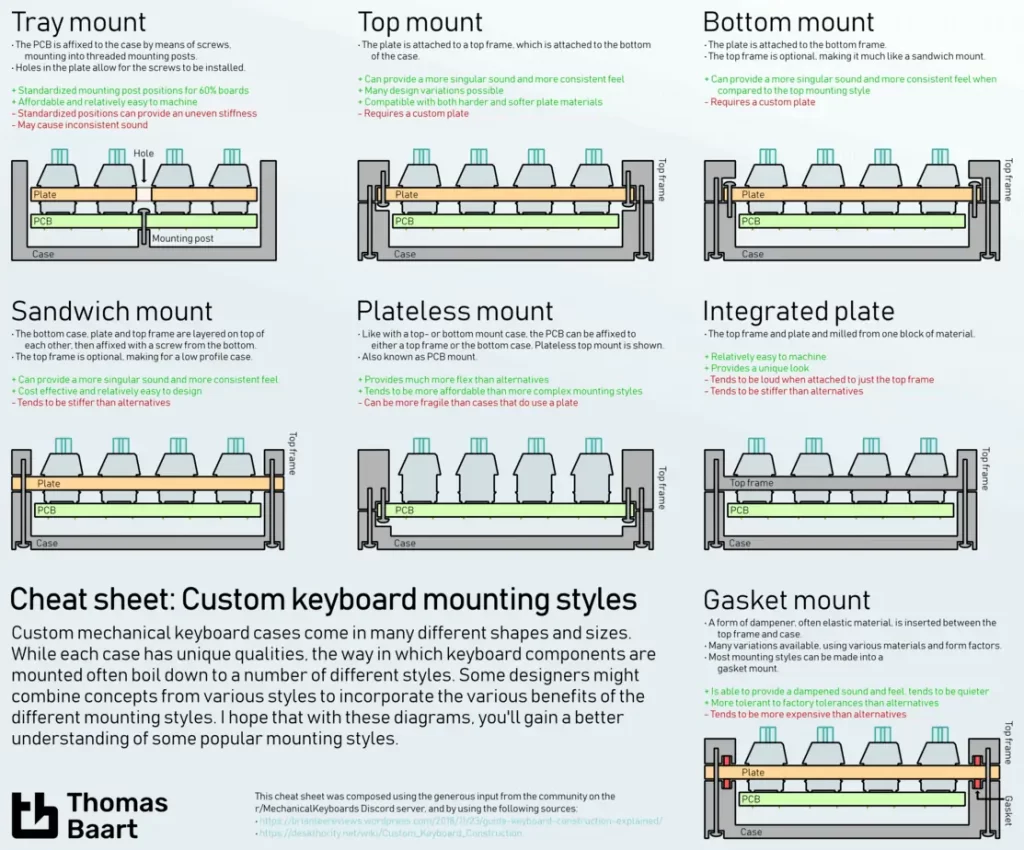 The last but not the least factor you need to think about before getting your own keyboard case is the keyboard frame mount style. This deals with how the keyboard plate gets placed within the keyboard frame.
Let's take a look at some of the significant frame mount styles available in most standalone keyboard cases nowadays.
Top Mount
In this mount, the plate is attached to the top of the frame. The frame itself is attached to the bottom of the case, thus providing a more consistent feel and a linear pressing sound.
Plateless Mount
This particular mount is also sometimes called a PCB mount. There is no plate attached to the frame at all. Thus, there's more flexibility on offer by the keyboard itself. However, this mount might be a bit extra fragile as well.
Bottom Mount
The plate is attached to the bottom of the frame. In this particular mount, the top frame is not required actually. The sound and feel are much more consistent than the full mount, but a custom plate is required for this mounting style.
Conclusion
The keyboard case is one of the most critical components of a custom keyboard build. The material, the durability, the texture, bezels, and everything else make the keyboard case unique and high-quality.
With the aforementioned guide, you'll be able to find the perfect keyboard case for yourself. I hope you learned a lot from this article and that you're going to have a great time with your own custom keyboard design. It will indeed be an excellent experience for you. May you have a great day ahead of you!