With a scissor-switch keyboard, also known as a low-profile keyboard, you can work throughout the day without feeling exhausted or uncomfortable. You will not have to check for any errors again and again as there are already minimum chances for mistakes.
If you want to know what makes scissor switch keyboards different from other keyboards, you are in the right place.
In this article, I'll be discussing in detail what a scissor-switch keyboard is. We will also be comparing scissor-switch keyboards to mechanical ones so you can decide if it's the right choice for you. And to select the most suitable scissor-switch type keyboard, I'll be giving a list of 5 top scissor switch keyboards with their pros and cons so that a user is aware of his selected type.
The Top 5 Best Scissor Switch Keyboards
HP Wireless Elite Keyboard
Gigabyte GK-Force K7 Stealth
Cherry Stream SX Keyboard
KB55 Multi-platform Bluetooth Keyboard
Logitech MX Keys
By the end of this guide, you will be able to decide whether you need this type of keyboard or something else depending on your needs. So, without wasting any time whatsoever, let's get started with this article.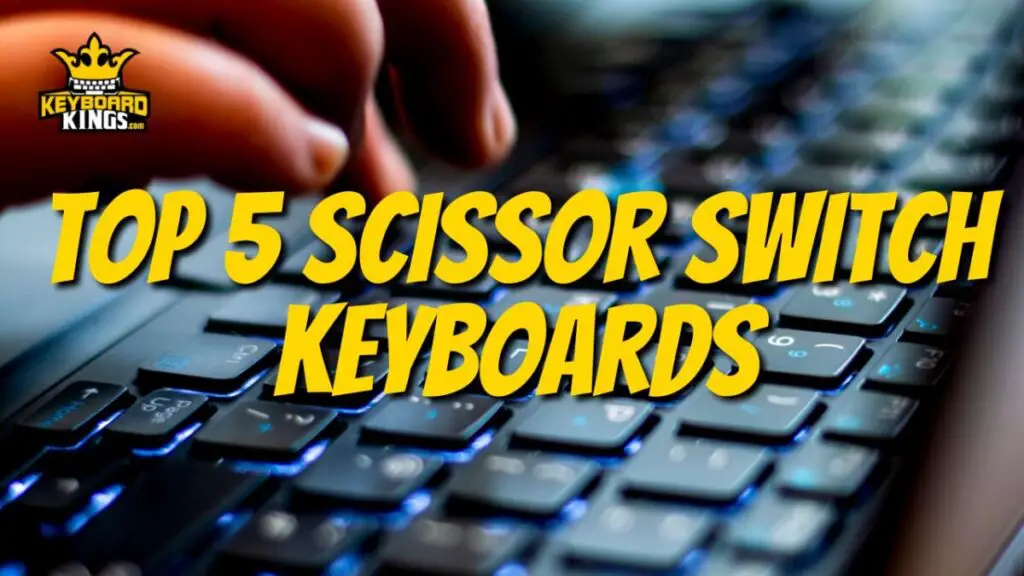 What is a Scissor Switch Keyboard?
Scissor switch keyboard technology has been around for a while now. It prevents the keys from sinking below into the base, which improves typing accuracy. Acer originally developed this technology.
Scissor switch keyboards are made in a specific design that has improved typing precision. The keys are upheld and prominent to make it more accessible and reliable for typing. The critical pressing involves a rubber in a cross-cut shape that makes an X, and because of this mechanism, it is named a scissor-switch keyboard. The selecting or clicking of keys is smooth and noiseless. 
It's low-profile provides perfection and accuracy. This is the reason behind its popularity. It has been used in tablets, MacBooks, and various laptops and is still developing as an external source for scissor switch keyboards.
How Does it Work?
The working and designing of the scissor-switch keyboard make a tremendous difference as it will guide you to the first row right after leaving a key on the keyboard. The user feels relaxed and comfortable while typing, like playing a smooth piano with precision. 
This key management and precision make it a low-profile keyboard. The user can avoid unnecessary movement of fingers. That's why it is also suitable for gaming purposes and highly recommended for quality typing material. 
Each key is placed on a scissor or a pivoting arm that makes the key rise above the base. Once you raise your finger off one key, you are taken onto the next key in line. This technology ensures faster typing and also minimizes hand movements.
Mechanical Keyboard vs. Scissor Switch Keyboard 
The common question that comes to mind is if scissor switch keyboards are similar to mechanical? The answer can be yes and no.
These are somehow different from mechanical keyboards, and the common difference between both is the attachment of a spring on the upper side. However, there isn't much difference when it comes to working. Scissors switch keyboards have specific parts of plastic known as hinges. Moreover, they are quieter than mechanical keyboards.
Advantages of a Scissor Switch Keyboard 
The scissor-switch keyboard has gained significant importance in this short time. To make their case strong for you, here are some main reasons for this popularity given below:
Satisfying typing style 
A scissor-switch keyboard provides user satisfaction other than a mechanical keyboard. A user can undoubtedly trust while typing faster and with various variety.
Most people are familiar with alternatives as they have used scissor-switched keyboards but have never given that attention. The most common example is MacBook style or commonly used laptops.
Sound or noise
While pressing a key on a scissor-switch keyboard, a smooth sound is produced, which is less noisy than a membrane and is best for this purpose. This quality has made scissor switch keyboards a source of smooth working. 
Those who are daily office workers always go for a scissor-switch keyboard to make their work smoothly and swiftly. It does not give off an irritating sound. Instead, it provides a satisfying sound, pleasing to the ears. 
Travel distance
In a scissor-switch keyboard, the travel distance is from 3.0mm to 4.0 mm. This distance helps to handle the bottoming out of keys while typing something faster. When you press a key and then another key immediately, it makes a keystroke and is solved as soon as an indication is provided by the user. 
There is a clack at the point of indication along a single click. Less travel distance means less time is taken to perform work and your fingers get less tired as well. Although for some people, less distance may be a problem as it means keys are closer to one another. Once you get into practice, this will no longer be an issue.
Top 5 Best Scissor Switch Keyboards 
| Computer Keyboards | Price Comparison |
| --- | --- |
| Logitech MX Keys | $$$$$ |
| Gigabyte GK-Force K7 Stealth | $$$$ |
| HP Wireless Elite Keyboard | $$$ |
| Cherry Steam SX Keyboard | $$ |
| KB55 Multi-platform Bluetooth Keyboard | $ |
Per Amazon rules, I can't disclose exact prices. This is a visual representation of the price compared to each other. The more "$" means a higher price comparatively.
Now, as I've discussed a lot about the scissor-switch keyboard, it's time to discuss the top 5 scissor switch keyboards with their essential features and pros and cons.
1. HP wireless elite keyboard
The HP Elite keyboard is a wireless keyboard with 100% size. It is unique in its style and design. It is a thinner scissor switch-type keyboard, comprising 0.61 inches. 
As it is wireless, it connects to other HP keyboards or mice with the help of a USB. It is mainly used for typing purposes other than gaming or programming. A user can use it without any resistance as the keys are placed at a suitable distance from each other.
Features and specs 
Let's look at what it comes with.
Compatibility – Its main feature is that it can work on Windows and macOS. It can also link a maximum of 5-HP gadgets with it. It has a sleek and modern design, and its wireless quality makes it easy to use.
Great Design – One of the most prominent features of the HP wireless type keyboard is its unique and sleek design. Beauty is attracted in all manners. Similarly, its sleek design gives it a stylish look and it makes typing smooth and tireless. 
Connectivity – HP wireless keyboards are super famous for their connectivity as they can link a maximum of 5-HP gadgets with them. Although it is a wireless keyboard, it can link various gadgets to work more effectively and smoothly.
Economical – HP wireless keyboard is a type of scissor-switch keyboard that is wireless yet easy to purchase as it has less price than others. An economically fit keyboard along with wireless quality is an attractive point for a user who is in search of a scissor-switch keyboard. 
Pros and Cons
| Pros | Cons |
| --- | --- |
| Sleek Design – It has a sleek design that looks super stylish | Not Best for Mac – Limited macOS compatibility  |
| Good Price – Price is economical  | No Macros – It lacks macro functions |
| Wireless – Can be connected wirelessly  | For Casual Use – Not suitable for gaming purposes like most other keyboards.  |
If you'd like to learn more or read more reviews, check it out on Amazon.
---
2. Gigabyte GK-Force 7 Stealth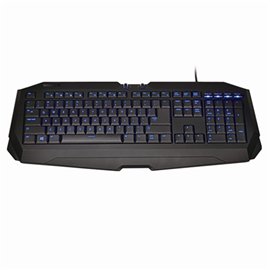 Gigabyte GK-Force 7 stealth keyboard is an amazing option. This is because such types of keyboards are mostly famous for gaming purposes, but it's not specific for gaming. It has special types of keys that avoid ghosting while typing. Its color-changing style has contributed to making it popular among the young generation.
Features and specs
Here are some of its features and specs:
Gaming style – Contrary to other scissor switch keyboards, this type of keyboard is best for the gaming experience. That's why it has gained tremendous popularity among youth. It has a unique feature of three different colors, which makes it suitable for gaming as well. The interesting point is that the colors are not fixed to keys; instead, they can be changed to cyan, green or blue.
Great Keys – The keys of GK-7 are good for typing too, but it is best utilized for gaming. Moreover, the keys work like a keyboard with a limited and short travel distance. Users interested in their work for typing as well as gaming are highly recommended to use this keyboard.
Reduced ghosting – Another essential feature is the main target of most users, and luckily this keyboard is one of them. It reduces the ghosting effect on the keys. With short travel distances, there are fewer chances of stroke, leading to fewer ghosting features. To register the stroke, seven different types of keys are considered to select simultaneously, and it will perform its function right away.
Pros and Cons
| Pros | Cons |
| --- | --- |
| High-Quality Aesthetics – It looks stylish om terms of design. | No Macros – GK-7 has limitations as it has no macro function |
| Low Keys – It comes with Low-profile keys | Few Media Keys – It also lacks media functions as there are fewer media keys |
| Scrolling Wheels – This keyboard has two scrolling wheels | No Special Inclusions – Unique features like a wrist pad are absent in this type of keyboard.  |
| Rollover – It also offers an anti-ghosting function | |
If you'd like to learn more or read more reviews, check it out on Amazon.
---
3. Cherry Stream SX Keyboard
The Cherry Stream keyboard has been designed in such a way that it shows some unique qualities attractive to a user's choice. It has a new type of design along with spill resistance. Moreover, it compromises of highly tech-functionalities. Its high-quality tactile feel gave accurate precision. The Cherry Stream SX Keyboard is also famous for its accuracy and reliability.
Features and Specs
Let's check out some of its features.
Wireless – it is a wireless keyboard with a connectivity of USB type combination. It has sturdy lightning keys. The quality of life of the keys is more than 20 million. Its slim and stylish design makes it more attractive to users.
Extra Keys – It comprises PBT-type caps of keys as well as ten extra keys, which perform various functions such as shortcut keys and function keys. The rollover keys make this keyboard function more accurately and precisely according to the user's demand. 
High-technology – The new edition of the Cherry Stream SX keyboard has special organized functions as it is easily compatible and reliable. Its durable quality makes it work more smoothly and swiftly.
LEDs – A new feature of LEDs has made this edition before the previous ones. These qualities have also made it more comfortable for professionalism and work. Sometimes, a cool environment can make the user's mood for work. LEDs play an important role in this regard.
Pros and Cons
| Pros | Cons |
| --- | --- |
| Decent Design – It has a slim and modern design | Connection Limitation – It is only suitable for USB-A type connections |
| LED lights – The LED lighting in this keyboard is quite nice. | |
| Lettering – It also offers great key lettering | |
If you'd like to learn more or read more reviews, check it out on Amazon.
---
4. KB55 multi-platform Bluetooth keyboard
KB55 multi-platform Bluetooth keyboard has remarkable quality as compared to other scissor switch keyboards in the form of Bluetooth connection of 3.0 quality. It is preferable for office work. 
Features and Specs
Here are some of its specs:
Wireless Bluetooth – Its Bluetooth quality makes it easy to connect with laptops and smartphones, which is an excellent contribution to today's generation. The demand for wireless type keyboards is always at a high rate and KB55 is the best choice for it.
Pocket keyboard – Being a wireless and Bluetooth keyboard, it is a pocket keyboard that can be carried anywhere anytime quickly. Carrying a slim and easy-to-use keyboard has made office work more accessible and more compatible. 
Uniqueness – Its unique features include two AAA batteries and a direct connection to the on/off button. Once the keyboard is connected to a device, On/Off quality makes it more smooth and quick.
Pairing keyboard – It is considered as pairing keyboard as it has special two AAA-type batteries. It has a 3.0 Bluetooth connection and any device with this capacity can pair up with a KB55-type keyboard. It can even last for months. Although its quality is 3.0 it works like 5.0 quality Bluetooth.
High Performance – The KB55 type keyboard works exclusively with all platforms and is thus also regarded as a multi-platform keyboard. It consists of all dedicated keys that are suitable for macOS and Windows. In this regard, this type of keyboard is highly recommended.
Pros and Cons
| Pros | Cons |
| --- | --- |
| Wireless keyboard – It is a completely wireless keyboard. | Small – It isn't a full-sized keyboard |
| Multi-Usability – It can easily be used as a pocket keyboard | |
If you'd like to learn more or read more reviews, check it out on Amazon.
---
5. Logitech MX keyboard
An ergonomic keyboard with a high-quality operation made up of a metal case with plastic keys/buttons. Its sleek and stylish design makes it easier for the wrist to adjust and work smoothly. It is less than 2-inch deep, which gives this keyboard a sleek and smooth look. 
Features and Specs
Let's check out its specs and features.
Multi-device connection – It can connect to three different devices all at a time. It is rechargeable, especially by a USB-C type cable. However, its incredible battery life of more than five months has made it more attractive to customers daily.
Smooth typing – Special features such as low profile keyboard and intended typing have reduced the chances of wrong typing or any mistakes. Proper spacing between keys helps to work smoothly without any keystroke or wrong pressing of keys. 
Full-sized keyboard – Another important feature of the Logitech MX keyboard is its full size. Usually, it is a user's choice to accept or neglect the size of the keyboard, but Logitech's full-sized version is designed in such a way that it is attractive to a user. It can be used effectively by office workers.
USB rechargeable battery – Logitech MX keyboard has a specific quality of recharging. It has an integral battery that can be recharged and used against the battery consumption war. It makes this type of keyboard unique and easier to accept as compared to other scissor switch keyboards.
Pros and Cons
| Pros | Cons |
| --- | --- |
| Easy Charging – It comes with a USB rechargeable integral battery that makes charging easy. | Smooth Scroll Wheel – The scroll wheel has no "tactile bumps while scrolling |
| Great Experience – It offers a good typing experience, which is quite important.  | Doesn't sit flat – The mouse wiggles a bit from side to side while using it |
| Backlighting -This keyboard has backlit keys, which are quite cool | |
If you'd like to learn more or read more reviews, check it out on Amazon.
---
Wrapping Up
For daily use such as university-going students or office workers, a smooth, slim, and lightweight keyboard that is carried effortlessly and types smoothly and swiftly is more attractive. To fulfill these qualities, a scissor-switch keyboard is the best choice. For gaming purposes, a soft, flexible, and soft keyboard are suitable, and a scissor-switch keyboard is good for it and is always recommended. 
I've always prioritized scissor switch keyboards and used them personally for an extended period of time. I tried to summarize the main features and qualities of the best scissor-switch keyboard. I hope you learned a lot from this article and that you're going to find the perfect keyboard for a good experience.
You just need to figure out the exact feature you want and which model would be more suitable for you. All the best!