When it comes to modern, high-tech computer user experiences, technologies like wireless mice have become the forefront of innovation. Wireless mice are either powered with regular batteries or rechargeable ones. This is what's most important about the working of a wireless mouse.
That's why you might be wondering, what battery do I need for my computer mouse? Well, if that's the case, then you're in the right place because that's what I'm here to tell you.
In this article, I'm going to talk about wireless mice, how good batteries are essential for their working, what to look for in high-quality batteries, along with a list of the best top 3 AA batteries for your computer mice. So, without wasting any further time, let's get started.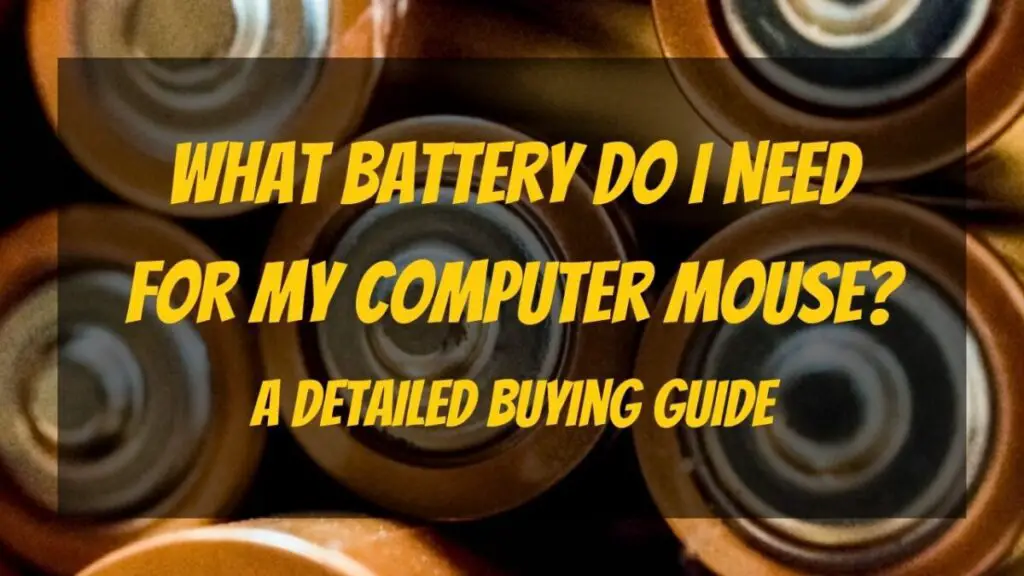 How Do Wireless Mice Work?
Wireless mice utilize radio frequencies to communicate mouse instructions to the computer. They usually require a transmitter (the mouse) and the receiver (USB dongle), but advanced technologies like Bluetooth are also used in wireless computer mice.
The main concern that people tend to have is how wireless mice are powered electronically. Well, wireless mice are powered through batteries. In some cases, the source of energy is rechargeable AA batteries, and in other cases, they're not chargeable.
Wireless mice have become quite popular among the gaming community because of advanced wireless systems and communication channels being just as fast as wired connections, which makes them more mobile and functional at the same time. So, you should definitely get a decent wireless mouse for yourself. But make sure you get a good pair of batteries with it.
How Important Are Good Batteries for Wireless Mice?
You might be thinking, why are good batteries SO important in wireless mice? Isn't the feel and ergonomics of the mouse more critical? The truth is, these things are also important, but without a good pair of batteries, a wireless mouse isn't going to hold power for a long time, and that's why they're extremely important.
Let's say you just bought a wireless mouse for a low price, and it comes with all the features as well as RGB that you wanted. But one concern is that it lacks batteries that offer decent discharging and low charging time. Also, the longevity of the battery isn't very much. As a result, you're going to get disappointed by the mouse's performance, and you might even think about replacing it.
On the other hand, if you got a semi-decent spec-wielding computer mouse, but it offers excellent battery life, and the quality of the batteries is pretty impressive as well, you're not going to want to say goodbye to it for quite a long time. It is as simple as that. Good batteries make or break your wireless mouse usage experience.
Why Do Wireless Mice Consume a Lot of Battery?
Not all wireless mice consume a lot of batteries. So, it is dependent upon the technology being used in the wireless mouse, the age of the mouse, and when it came out.
If a mouse utilizes Bluetooth technology and doesn't use a simple radio frequency for communication, the energy requirement from the batteries will be higher, which is why the mouse will drain more battery life. As a result, the mouse will have to be recharged often.
Similarly, if you're using a mouse that came out ten years ago against one that was just recently launched, the circuits, the pathways, and everything in the construction of the wireless mouse will affect how efficiently the mouse uses its battery. But, again, this simply means that a mouse older in terms of technology consumes a higher battery percentage than a mouse that uses better and more efficient technology and performance methods unless it comes with additional power-consumptive features.
What to Look for in High-Quality Mouse Batteries?
Finding a high-quality mouse battery set can be difficult if you don't know what to look for in the ideal pair. Well, to make things easier for you, I've made a list of all the most essential factors and inclusions you must consider when you're buying high-quality batteries for your mouse. So, let's take a look at them.
1. Material of the AA Batteries
Firstly, there's no doubt that we're getting AA batteries. However, we really need to think about what material we want the batteries to be. For example, standard alkaline AA batteries drain faster and don't last as long in power-draining devices like mice and cameras and are even prone to leakage.
On the other hand, if the material is Lithium, the batteries can handle power-hungry wireless devices quite well, and there is no risk of leakage from the battery. They're usually on the more expensive side, but they also tend to have a longer life, which helps their value.
2. Rechargeability of the Batteries
Rechargeability is one of the most important factors when buying AA batteries for your computer mouse because you're not going to want to change the batteries every few weeks. After all, that's going to be pretty infeasible in terms of budget.
Since computer mice come with higher-drain circuits, you're going to want to make sure that the batteries you're pairing with the mouse are periodically rechargeable. But for the chargeability, you will require a unique charger for the cells, which will be expensive. However, it will be a one-time investment compared to a periodic investment for new battery cells.
3. Quality of the Batteries
Last but not least is the quality of the AA batteries you're purchasing. Nowadays, you can find dozens if not hundreds of brands selling their own versions of batteries. Some of them are name-brands, while others are not heard about so much.
Now, when you're getting AA batteries, your goal is to make sure you get high-quality ones since you're spending a good amount on these batteries. Brands like Duracell, Energizer, and others tend to make high-quality batteries that last long, offer durability, stability, and better quality. So, going for their batteries is usually the right decision when you're getting a few for your computer mouse.
Top 3 AA Batteries for Computer Mice
So, you're thinking about getting high-quality AA batteries for your mouse? Well, you're lucky because I've made a list of the best 3 AA batteries for computer mice available in the market right now. You're going to want to check them out and pick the one that works best for you. So, let's see what they have to offer.
1. Duracell Procell Alkaline Batteries
The Duracell Procell Alkaline Batteries are one of their best offerings for battery-powered devices like wireless mice. They're not very expensive like the Coppertop line cells from Duracell, but at the same time, they offer better and longer life to low-powered devices on average.
If we talk about longevity, the Duracell Procell Alkaline Batteries have a shelf life of over seven years. And these battery cells are capable of keeping your mice charged and performing amazingly for as long as 250 hours or 7-8 weeks of continuous usage, which is quite lovely.
If you'd like to learn more or read more reviews, check it out on Amazon.
---
2. Rayovac High Energy AA Batteries
If we're talking about budget options, then Rayovac High Energy AA batteries are the best available on the market. Rayovac High Energy AA Batteries offer capability, strength, durability, all at a calm and collected price that is reliable for all mouse owners and low-powered battery device owners as well.
These cells are great if you want to get them in bulk, and they have a shelf life of around ten years, so the value is perfect. For example, the Rayovac High Energy AA Batteries can be used to power a computer mouse for 6-7 weeks or around 250 hours which is pretty good longevity.
If you'd like to learn more or read more reviews, check it out on Amazon.
---
3. Energizer L91 Ultimate Lithium Batteries
Without a doubt, one of the best quality AA batteries in availability with a consumer reports score of 89 out of 100, the Energizer L91 Ultimate Lithium Batteries are what you're looking for. In addition, these batteries are currently one of the longest-lasting batteries.
Another thing about them is that they're completely leak-free and, at the same time, they're incredibly light, which makes them perfect for mice without making them too heavy for your hands. These can be stored for up to 20 years, and the batteries will help you last around 6-9 months on your computer mouse.
If you'd like to learn more or read more reviews, check it out on Amazon.
Conclusion
Like other wireless devices and gadgets, wireless mice also need batteries to operate. The right AA batteries are pretty crucial for your computer mouse's longevity and better functioning. With the aforementioned list of factors to look for in the ideal pair of batteries, you're going to be able to find the perfect pair for your wireless mouse.
The overall experience of using your wireless mouse will become significantly better with a set of good batteries. Use this article as a guide when you are in the process of finding the right batteries for your wireless mouse. I hope you learned a lot from this article and that you're going to have a great time with your mouse. May you have a great day ahead of you!