Mouse pads come in a number of designs, materials, and sizes. From plastic and aluminum to fabric, polyester, and rubber, there are many materials these pads are made of. Cloth or fabric mouse pads have been found to be quite useful, especially in the gaming world.
And when it comes to soft mouse pads, the company that offers some of the most highly-rated mouse pads is Artisan.
Artisan mouse pads are very good quality, but they are also quite expensive. When someone spends this much amount of money on something, they are definitely concerned about how long it's going to last.
Well, if this is what you're wondering, you are in the right place. Here, we will discuss what kind of mouse pads Artisan offers, what are their pros and cons, and how long they usually last.
So, let's get started.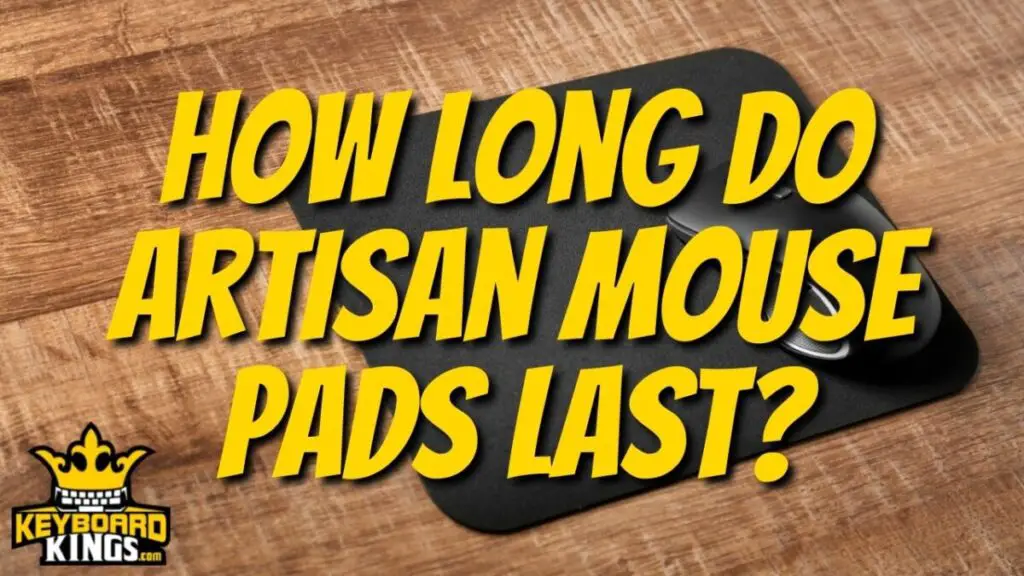 What Are Artisan Mouse Pads?
Artisan is a Japanese company specializing in some of the best gaming mouse pads in the world. Their mousepads are categorized into extra-soft, soft, mid, and hard variations. Since they are imported from Japan and only high-quality materials are used in their construction, they are on the expensive end.  
It is said that once you use one of these pads, you cannot use any other mouse pad in the world. Although it's a bold statement, it's far from being wrong.
These pads have received a great number of positive reviews where users have reported them to be "simply amazing", "the best mouse pads in the world", and "totally worth the hype".  
Artisan mouse pads are available in four standard sizes: small, medium, large, and extra-large. Since they are made of fabric, you can easily choose a large size and store it easily when it's not in use.
The pads not only offer softness and comfort but also great stopping power. You are able to control the mouse pretty well when the mouse pad is soft. Artisan pads are slim and therefore do not offer much cushioning to your wrist. However, when it comes to more speed, they are quite efficient.
Artisan mouse pads are known as "extremely flat", which means they have absolutely no waviness on the surface. This feature improves a mouse's pointer precision and allows you to prevent glitches and errors.  
These pads are divided into three categories depending on the purpose they serve. Shidenkai and Raiden models are designed for speed, Hien and Hayate are meant for improved balance, and Zero is meant for accurate movements and control.
Some of these mouse pads are glass-coated, but they are still soft to touch. All pads come with a silicone backing for stability.
Pros and Cons of Artisan Mouse Pads
If you're considering buying one of these pads, you must be interested in knowing their pros and cons. So, let's have a look at these.
| Pros | Cons |
| --- | --- |
| Smooth, fast, and comfortable | The pad might get discolored over time |
| Available in a number of colors and sizes | Small size may not stick well to wooden surfaces |
| Ideal for online games/sports | A bit pricey   |
| Made of sweat-absorbent materials | |
| Different versions available for different purposes | |
| Durable materials that last for a long time   | |
| Easily washable | |
| All mouse pads come with a warranty period of 24 months | |
How Long Do Artisan Mouse Pads Last?
Artisan mouse pads are known to be very good quality and they usually last for many years depending on the care and usage of the mouse pads.
The different versions of these mouse pads have different lifespans and the company recommends exchanging the pad every three months or so as a maintenance step. The mouse pad may also lose its glide after four to six months. However, it still has a lot of life left in it.
The reason these mouse pads can last for a long time is their three-layer structure, which doesn't wear out very fast. These layers include the surface, the substrate, and the base. The pads are also quite lightweight, speaking for their quality and making them easily washable.
Shidenkai mouse pads by Artisan has a glass coating, and it wears out pretty fast. That is why the company recommends exchanging these pads every three months or so. Other models can last for anywhere between three to five years and even longer.
Choosing the Right Artisan Mouse Pad
Choosing the right Artisan mouse pad is important if you want to increase its lifespan. The factors you need to take into consideration include size, color, model, surface, and substrate thickness.
Carpet substrates of Artisan mouse pads have a thickness of 3mm to 4mm. Extra-soft and soft variations are thicker. A stable glide can be experienced with a rough substrate. If you're looking for smooth gliding and would like to have more control, go for mid.
Different models of Artisan mouse pads are designed for different purposes. So, make sure you get the right pad, otherwise, it may wear out fast.
Hayate XSoft mouse pad, for example, makes a great gaming mouse as it offers an efficient carpet for both speed and control. If you compare it to any other mouse offering the same speed, its stopping power is much better. Thanks to its slightly rough and oily surface.
Hayate Otsu Mid mouse pad also offers somewhat similar performance, but it has a few subtle differences. The surface is weaved and the speed is comparable to one offered by composite mouse pads, which is definitely slower than Hayate XSoft.
Because of the surface texture, this mouse pad is not easy to clean and, therefore, may not last for a long time. It is recommended to clean it using a brush quite frequently.  
All mouse pads by Artisan are reliable when it comes to preserving their properties. However, what you need to make sure of is to clean them on a regular basis and use them carefully. It's not recommended to fold the pads into tubes, particularly the glass-coated models.
Frequently Asked Questions
What is the best Artisan mouse pad for playing CS:GO?
Users recommend using Shidenkai for playing CS:GO because of its smooth glass surface and excellent properties when it comes to glide and speed.
How to clean an Artisan mouse pad?
You can clean these mouse pads using any regular mild detergent or even shampoo. With the help of a cloth, spread the detergent over the mouse pad evenly but don't rub too harshly. Rinse with water afterwards till you see no more foam and then remove water using a towel.
What is the fastest Artisan mouse pad?
The fastest is definitely Shidenkai, but it is also very prone to wear and tear. Zero, on the other hand, is the slowest Artisan mouse pad. If you choose Hien or Hayate, you can expect to get the best of both worlds.
If you're looking for a fairly fast mouse pad for gaming, it is recommended to get your hands on Artisan Raiden and Hien (Mid). These pads also wear out slowly and offer a good lifespan to the user.
In case you plan on buying Artisan Hien (Soft), you can expect a much quicker glide and fairly good stopping power. Artisan Hayate Otsu offers similar properties. Zero offers steady control but lower static friction.
Even the slowest Artisan mouse pad is not very slow in reality. It is comparable to Xtrfy GP4 and Corsair MM300.   
Conclusion
Artisan mouse pads offer not just the right amount of speed and friction but also comfort. If you're looking for a soft fabric mouse pad, Artisan mouse pads are for you. However, one question that often pops up in a user's mind when they are using a fabric mouse pad is, how long will it last.  
Mouse pads by Artisan may last for five to ten years depending on how you use them. If you take good care of your pad and clean or wash it on a regular basis, it won't wear out anytime soon.
However, some models are known to last no more than three years and some of them last for only about six months to a year. All mouse pads by Artisan come with a two-year warranty period and the company offers to exchange a used mouse pad with a new one every three months.
Since pro-gamers recommend using soft mouse pads or ones made from fabric or polyester, Artisan mouse pads are known as ideal gaming pads. They offer superior properties and are made of high-quality materials meant to last a long time.
If you're planning to buy an Artisan mouse pad, make sure you find the real deal and don't fall victim to a knockoff. Since the pads are expensive, there are many fakes claiming to be original but are extremely low quality. These fakes won't last for even a month, so get the original product and make it last a lifetime!