If you're a computer enthusiast and you love to use it for gaming, working, and spending all your free time, then learning about different aspects of components associated with computers will be great for your knowledge.
One of the most widely asked questions right now is, how fast can a human click a mouse? Well, if that's what you're here to learn, then you're in the right place because that's what we'll talk about.
In this article, I'm going to talk about mouse clicks, the average speed of mouse-clicking, the durability of mouse switches, and the average click capacity of modern gaming mice, as well as how fast can humans click a mouse along with other things. So, without wasting any time, let's get started with this guide.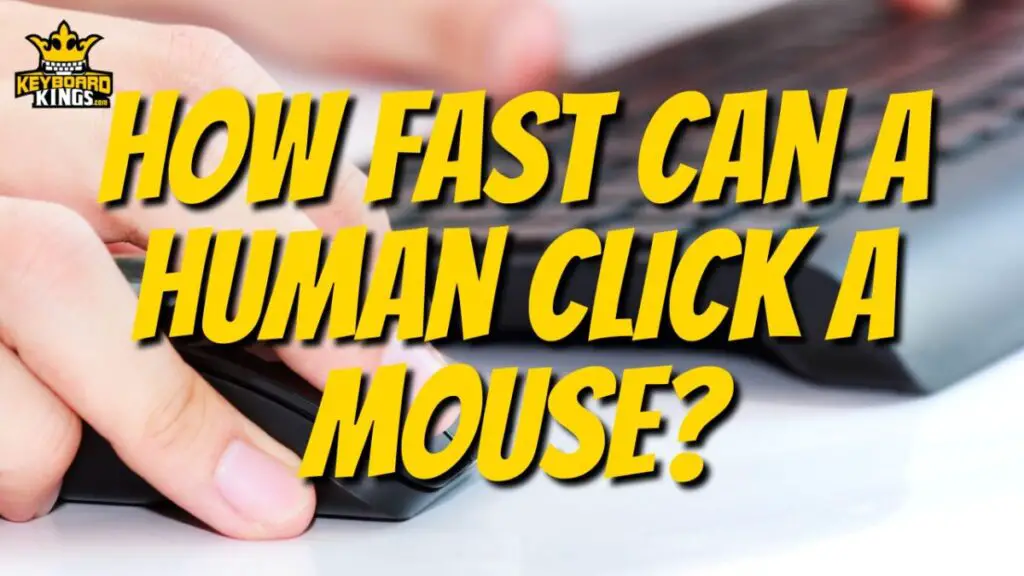 Average Mouse Clicking Speed
Mouse clicking speed can differ depending upon the kind of action a person is using the mouse for. If you're using a mouse to scroll a page or surf the web, then the average mouse click speed would be around 1 click per second or less even.
However, if we talk about design work, the average mouse clicking speed will be a bit more. It can actually go around to 2-3 clicks per second which is considered pretty normal.
For gaming purposes, players require more mouse clicking speed than usual. And generally, mouse-clicking speed is judged in gaming as well. The average mouse clicking speed for gamers is 6.69 clicks per second, which seems like a lot but if you're a gamer, you'd realize that it is pretty average.
How Many Times Can You Click a Mouse?
Before you buy a mouse for yourself, it is important that you learn about how many clicks that mouse comes with. This means that the number of clicks the mouse will provide before the switches of the mouse lose shape or stop working the right way.
Generally, mouse manufacturing companies offer a click lifespan of over 20 million clicks. Now, it depends upon you how you're going to use the mouse and how exactly long the mouse is going to work for before it stops working the way you want and needs to be replaced.
If you're using the mouse for playing video games like a multiplayer FPS, then the mouse can last you around 3-4 years before it needs to be replaced if it comes with a 20 million click lifespan.
On the other hand, if you're a simple computer user who surfs the web and checks documents, then the same mouse can work for around 10 years even. So, that's the long and short of how many times you can click a mouse.
How Durable are Mouse Switches Generally?
The mouse clicks also depend upon the durability of the mouse switches themselves. Typically, the durability of the mouse switches can differ if the mice are from different companies.
For example, a corsair mouse that comes for a more expensive price is going to have more durable mouse switches than a no-name brand mouse that comes for much cheap than the former.
If you're looking to learn about the general durability of mouse switches, a good mouse switch can last quite a long time before giving way. The durability means how hard or violent of a mouse click can the switch bear without breaking.
Mouse switches are typically made of plastic material, but if the plastic is high-quality, then you can expect the mouse switches to be more durable than generic switches.
How Fast Can a Human Click a Mouse?
We've already talked about the average speed of clicking a mouse button so, if you actually want to know how fast exactly a human can click a mouse, then we're going to have to talk about the world record holder for the fastest mouse click in the world.
According to research, the world record for the fastest clicks for humans on a mouse button is around 11.6 clicks per second which is an incredibly fast and extremely swift speed that not many can get to. However, if you want to get as fast as the fastest clicker in the world, you can keep practicing, and perhaps one day, it will be you holding the world record.
Can Fast Clicks Break Your Mouse?
If you're pressing your mouse buttons too fast, you might feel as if it will break your mouse. But actually, this shouldn't be a concern. Contrary to popular assumptions, the mouse switches are designed to be pressed quickly in succession, so you don't have to worry about them breaking if you press the buttons too fast.
What you should be concerned about, in some cases, is the weight that you press the mouse button with. If you're pressing the buttons too violently, then they might stop working before you know it. So, make sure you press mouse buttons gently, and when you're about to rage, just get off the chair and leave all your expensive computer peripherals on the table safely.
What Do You Need Fast Clicking For?
A lot of people also ask this question, what would fast clicking be actually useful for? Well, a mouse that offers decent fast clicking capability can be used for multiple reasons actually.
One of the most important applications of fast-clicking mice is gaming. If you're a gamer who likes to play FPS games or multiplayer games that are fast-paced in terms of action, you're going to need a mouse that offers fast clicking.
Then, there are other special usages like design, modeling, and others as well that can become way more efficient with the use of fast clicking mice. Ideally, you'd want a mouse that is both durable and offers a decent clicking experience as well.
Best 3 Mice with Durable Fast Clicking Switches
If you're looking for a high-quality computer mouse that comes with good quality durable switches that can offer decent click lifespans, here is a list of 3 of the best options available in the market right now. So, let's check them out and see what they have to offer.
1. Razer DeathAdder Elite Mouse
First on the list is without a doubt, the incredible Razer DeathAdder Elite Gaming Mouse. This mouse is the pinnacle of premium quality and has literally everything to offer.
It comes with a high-quality precision DPI of 16000 and also offers Razer Chroma RGB lighting. Not only that, but the Razer DeathAdder Elite Mouse is also equipped with a rubberized scroll wheel, and 7 programmable buttons.
From having a 50 million click lifespan to an ambidextrous design, as I said before, this mouse has everything. So, you should definitely think about getting this one if you want a mouse with great switches. It will make your overall experience great.
If you'd like to learn more or read more reviews, check it out on Amazon.
---
2. Corsair Nightsword RGB Mouse
Corsair Nightsword RGB Mouse is a really good option if you're looking for a sleek gaming mouse. It comes for a decent price and offers a lot of incredible features as well.
One of the best features of this mouse is the inclusion of a DPI range with a max limit of around 18000 DPI. There is also a weight adjustment system in this mouse with two adjustable weights included in the package.
The mouse also comes with 10 programmable buttons that you can change according to your liking and a high-quality RGB lighting inclusion as well. It comes with a contoured shape as well and a comfortable grip that works amazing for all uses. It is definitely a mouse that should be on your watchlist when you're looking for a mouse that comes with decent-quality switches.
If you'd like to learn more or read more reviews, check it out on Amazon.
---
3. Logitech G502 Hero Mouse
Another great option if you're looking for an all-rounder mouse with the best features and offerings is the Logitech G502 Hero Mouse. It comes with great switches and a unique design.
The Logitech G502 Hero comes with a bunch of amazing features including a great DPI range of up to 25600 DPI as well as the fully functional RGB lighting, 11 customizable buttons, and onboard memory as well.
If you want, you can also adjust the weight of this mouse by adding or removing weights in different positions in the mouse and using it comfortably. There's also a mechanical button tensioning feature in it. You should definitely take a look at this mouse if you're thinking about getting one for yourself.
If you'd like to learn more or read more reviews, check it out on Amazon.
---
Conclusion
With the right kind of mouse, you're going to be able to click pretty fast and get things done the way you want. If you didn't find what you're looking for in the list, there are a bunch of high-quality mouse reviews available on the blog that you can check out and buy.
You can even try breaking the world record if you feel like it with the apt mouse. This guide will be helpful in choosing that mouse or optimizing your existing mouse to make it suitable for fast clicking. All the best!