Being a keyboard enthusiast is incredibly exciting and fun, but it isn't always straightforward. You need to use all keyboards, whether they're good or not, just to have that experience. That need has brought us to the door of PFU Limited and their recent keyboard invention, the Happy Hacking Keyboard Professional 2 Keyboard.
Well, is the HHKB Pro 2 a good choice? You might be wondering. Great question. If that's what you're thinking, then you're in the right place because that's precisely what I'm here to tell you.
In this article, I will talk about the Happy Hacking Keyboard Pro 2, what it has to offer, the build and design, the pros and cons, and everything in between. Before you make a buying decision, you should read about this keyboard. So, without wasting any further time, let's get into it.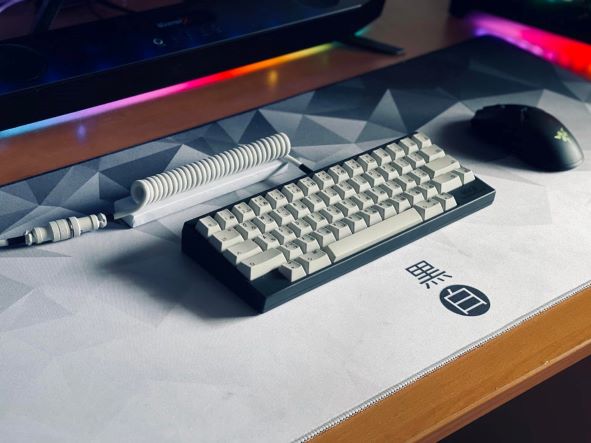 In a hurry? Get the Happy Hacking Keyboard Professional 2 at amazon.com!
Happy Hacking Keyboard Pro 2
The Happy Hacking Keyboard Professional 2 Keyboard is a 60% keyboard with 60 keys and a unique design with a lot of fans. It comes for quite a high price but promises to deliver an excellent keyboarding experience for niche keyboard enthusiasts.
Since its launch, the HHKB Pro 2 has made a lot of people its devoted fans and some dedicated haters. The popularity of this keyboard gave rise to curiosity within me as a keyboard enthusiast. So, I did what any average person would do, and I ordered the HHKB Pro 2 to test and review for myself.
What's In the Box?
I received my Happy Hacking Keyboard Professional 2 Keyboard about two days ago, and I'm happy to say that the design of the box seems pretty nice for the price that I had to pay for it.
The packaging was pretty decent as well. Upon opening the top of the box, here's what I found inside:
HHKB Pro 2 Keyboard
USB Power Cable
Instructional Manuals
Even though the price for this keyboard is pretty high, there weren't any additional components like a keycap puller or anything inside, which isn't the best sign, I'd say.
Unique Design and Good Build Quality
Right off the bat, the first thing I noticed about the Happy Hacking Keyboard Professional 2 was the unique design it comes with. Of course, this keyboard is a 60% one, but the layout is different from any other 60% keyboard I've ever seen.
This keyboard has two spaces on the bottom row on either side with the HHKB logo printed on the right side. This might seem bizarre to you but in terms of usage, this layout is pretty great. The right shift is also reduced in size to add the Fn key to its right.
On the back of the keyboard, there are instructions on how you can use the dip switches to change keys up in the keyboard according to your ease along with two rubber feet.
There are also two ergonomic kick feet on the top of the back with a 2-level angle design that you can use to change the height of the keyboard. The design also comes with a natural ergonomic incline which is quite nice. The keyboard is entirely made of plastic which is something you wouldn't expect for such an expensive price. However, the quality of the plastic is decent and there's minimal flex to it. 
So, in terms of overall quality and design, I'd say the HHKB Pro 2 is a good keyboard but that's not the only thing that matters when you're spending this much on your peripherals.
Nice Keycaps and Decent Legend Imprints
Let's get to the keycap construction now. The keycaps used in this keyboard are actually pretty amazing in terms of feel, structure, and overall integrity. These keycaps are made of high-quality PBT plastic. They're very durable and have a nice texture on the top which feels great on the typing fingers. Even the legend imprints are really well printed if that's what you were wondering.
If we talk about the printing process, it is dye sublimation that allows the keycap legends to be fade-free. With that, the keycap legends are also very high-quality and look pretty decent.
On the side of the keycaps, we have a large-sized logo of the HHKB brand which is actually not very distracting like in other keyboards. This keyboard is also available in the Stealth version with Black keys.
Overall, if we talk about the keycaps and the legend imprints, we can safely say that the Happy Hacking Keyboard Professional 2 Keyboard is good and holds its reputation high.
Amazing Topre Keyboard Switches
Let me start by saying that the HHKB Pro 2 is not a mechanical keyboard. But that's not a bad thing. It comes with high-quality Topre switches which are actually rubber dome switches. These switches use an electrostatic capacitive non-contact mechanism to provide a signal to the PCB where the key is actuated upon pressing. These switches are great in terms of feedback.
The tactility can be felt high in the switch but still, they're not very heavy. Topre switches require low force around 45g which is good enough to give you a slight tactile feel while the whole keypress is still soft.
The plastic top plate of the keyboard might seem all bad but it actually helps keep the impact of the switch light and soft. So, we can say the key switch game is also above-par.
6 Feet Mini-USB and USB-A Power Cable
On the top side of the keyboard, we have a Mini-USB port, along with two USB-A ports as well. Next to these ports, we have a removable cover that has 6 dip-switches under it.
The Power Cable of the HHKB Pro 2 is 6 feet in length which is actually quite a decent span. You can easily use the keyboard without feeling restricted or having to tug on the keyboard wire at all.
Features and Specs of the HHKB Pro 2
Now that we've taken a good look at the design and build of the HHKB Pro 2 Keyboard, it is time we check out the features and specs of this keyboard as well. Let's do that.
Topre Switches – Topre switches offer decent tactility, soft press, high actuation point, and a rubber dome no-contact mechanism that is quick and fast, perfect for casual browsing and typing.
PBT Keycaps – The Happy Hacking Keyboard Professional 2 Keyboard comes with high-quality PBT plastic keycaps which are loads of times more durable than ABS keycaps so that's pretty amazing.
Dip-switches – On the top of the HHKB Pro 2 keyboard, you have six dip-switches which can be used to change the functioning on the keyboard. The functions of each switch are mentioned on the back of the keyboard.
Secondary Keys – With the help of the Fn key, you can not only control the arrow keys, and navigation keys, but also media controls, and the upper function layer key because of the inclusion of secondary buttons on each of the keys on this keyboard.
USB Pass-through – There are 2 extra USB ports on the top of this keyboard which allow you to connect your other devices while you're using the HHKB Pro 2 keyboard.
Pros and Cons
So, you're thinking of buying the Happy Hacking Keyboard Professional 2 Keyboard? Well, before you do that, let's take a look at some of the advantages and disadvantages this keyboard has to offer.
| Pros | Cons |
| --- | --- |
| Ergonomic Design – The overall design as well as the natural incline of the keyboard and the kick feet that allow you to change the height of the keyboard make the HHKB Pro 2 a very ergonomic choice of keyboard. | Not enough USB power – Out of the box, the USB pass-throughs cannot be used at full power. You're going to have to add a custom controller that allows full USB power usage. |
| Premium Components – The high-quality plastic body along with the PBT keycaps as well as the Topre switches are all high-quality and premium components that are fitted in this keyboard. | Stabilization Issues – This particular keyboard has a few stabilization issues that produce a weird sound sometimes when the keys on the HHKB Pro 2 are pressed. |
| Portability – If we talk about the portability of this keyboard, it is a 60% keyboard with very small edges and bezels which makes it quite portable and compact. | |
Is the HHKB Pro 2 Worth the Price?
Finally, the important question is, is the Happy Hacking Keyboard Pro 2 a good buy for the price; Well, I don't think so. I know it is a great keyboard with a bunch of nice features but that price tag is just too expensive.
If you're a niche keyboard enthusiast thinking of getting it for the purpose of collection, sure. But overall, there are other keyboard options that come for a much lower price. So, I'd suggest going for them.
Interested? Get the Happy Hacking Keyboard Professional 2 at amazon.com!
Frequently Asked Questions
While I was researching for other people's opinions on this keyboard, I came across a lot of questions that people had asked about this keyboard. So, I'm going to answer some of the most frequently asked questions about the HHKB Pro 2 for you guys. Let's take a look at them.
Q. Is the HHKB Pro 2 compatible with Mac;
A. Yes, you're going to be really happy to know that not only is the HHKB Pro 2 supported by Mac, the CMD and other Mac-only buttons are even marked on the bottom of the keys as secondary functions. So, you can use it with your Mac devices easily.
Q. Does the HHKB Pro 2 come with customization software;
A. Unfortunately, no. The HHKB Pro 2 does not come with a proprietary customization tool but you do have the capability of editing keys using the dip-switches on the top of the keyboard. You can also try and edit the software of the keyboard using third-party customization tools and software applications.
Q. Is the Happy Hacking Keyboard Professional 2 a good choice for gaming;
A. No, the Happy Hacking Keyboard Professional 2 is a good choice if you're thinking of using it for novelty or simple casual browsing and typing. But it doesn't offer any great features, particularly for gaming. That's why it shouldn't be bought solely for the purpose of playing games, but you can try and see if it fits your gaming requirements.
Conclusion
The Happy Hacking Keyboard Pro 2 is a decent keyboard that comes with a bunch of thumbs-up features but ultimately, it is a super-duper overpriced keyboard and you can find better options in less than this price. If you want to buy it, you can, and it will be a good experience but only if you really love it. I hope you learned a lot from this article, and that you're going to have a great keyboarding experience with your choice of keyboard!