No gaming setup is complete without a high-quality gaming chair. A good gaming chair can make your time on the computer comfortable and satisfactory. That's exactly what Ewin claims to offer with their Heavy Duty Racing Gaming Chair offering support for over 550lbs.
You might be wondering if the Ewin Racing Heavy Duty Gaming Chair is worth the price and if all the claims made about it are true or not. Well, this is what we will find out today because I'm going to give a comprehensive review of this gaming chair and discuss everything about it.
In this article, I'll tell you what the chair comes with and its features and specs, design, build quality, pros and cons, and everything in between.
So, if you want to know if it's the right chair for you or not, keep reading on!
Ewin Racing Heavy Duty Gaming Chair
The Ewin Racing Heavy Duty Gaming Chair is a high-quality gaming chair that comes with a unique design, great curves, a lot of weight capability, and an overall durable frame, all for a decent price.
That's exactly why a lot of people are buying this gaming chair. The fact that it can lift incredibly heavy weights just adds to the flair and amazingness of this chair.
So, to make sure this chair lives up to its hype, I decided to get it for myself to effectively review it. 
What's in the Box?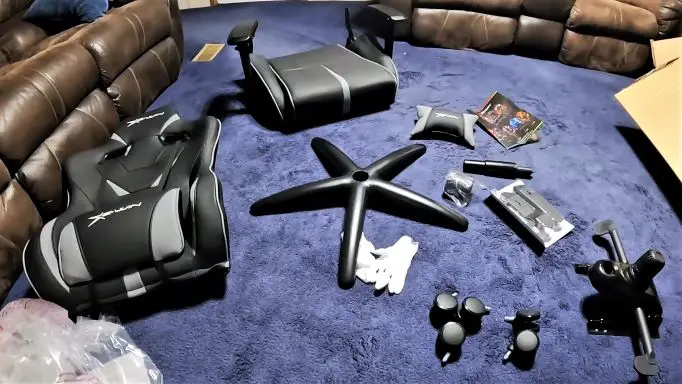 The package arrived a while ago and now I've got the chance to open it. From the looks, it seems very well packed and hefty, but actually, it isn't as heavy as you'd think it is.
Inside, there were a lot of different smaller packages, each with bubble wraps, plastic covers, and Styrofoam as well. So, we can say that the Ewin Heavy Duty chair is very well packaged.
Here's what I found inside the box of the Ewin Racing Heavy Duty Gaming Chair;
Gaming Chair Base
Backrest
Gaming Chair Seat
Mechanical Parts
Instructional Manuals
Gloves
Neck Pillow
All the components are just as expected from a company as good as Ewin. Even the screws, bits and bobs, and everything are safely packed, which is quite decent for the assembler.
High-quality Design and Durable Frame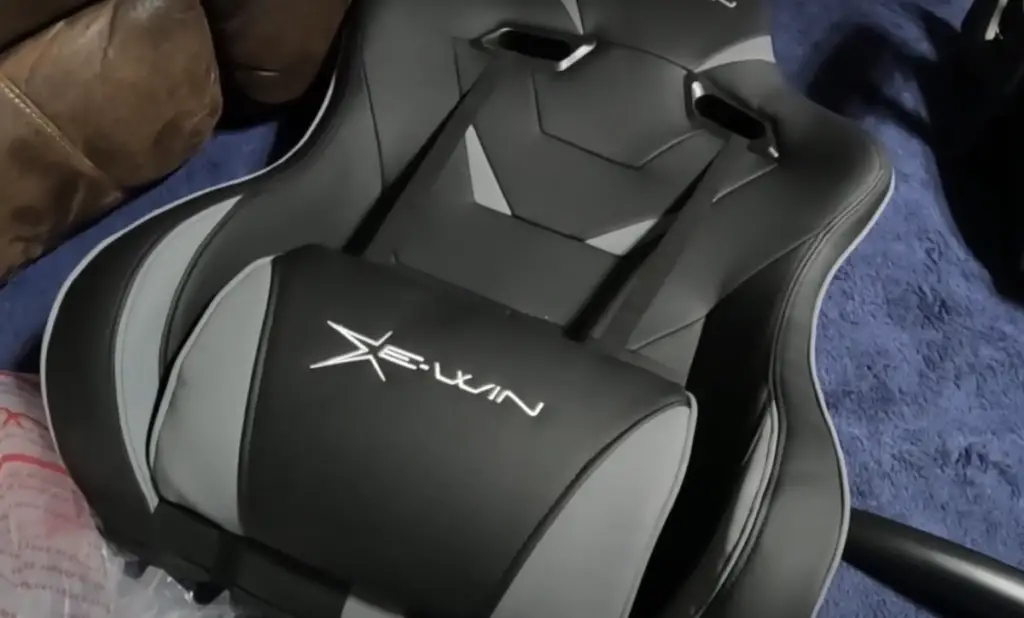 When it comes to the design of this chair, it is quite nice. The color theme as well as the looks and overall visual aesthetic of the Ewin Heavy Duty Gaming Chair are all fantastic and quite gaming-forward.
The curved shape gives it a racing vibe which is quite nice, and since it is a large chair, it is going to take a decent amount of space wherever you're going to put it in your room.
Talking about the size, the durability of the chair pairs really nicely with it. This chair along with its hydraulic system, the wheelbase, and everything in between is quite strong and capable of lifting weights up to 550lbs.
So, when I say that in terms of design and durability, the Ewin Racing Heavy Duty Gaming Chair is better than many of its competitors, it will most certainly be the truth and nothing else.
Smooth Chair Base and Comfortable Material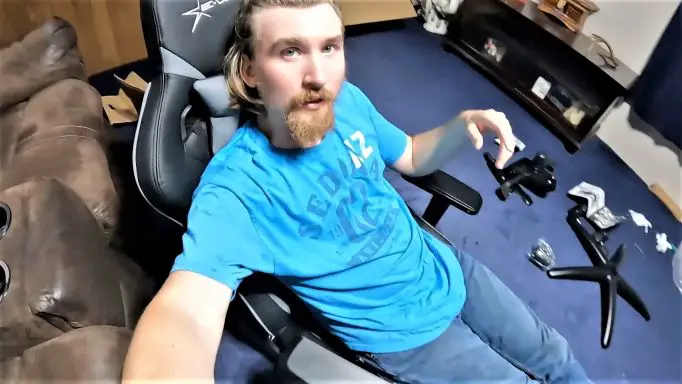 One of the best things about this chair is the base and the wheels it comes with. The base of the chair is quite durable, high-quality, sleek, and decent-looking. With the wheels, the movement of the chair in all directions is sublime and smooth, making for a pretty wonderful rolling experience.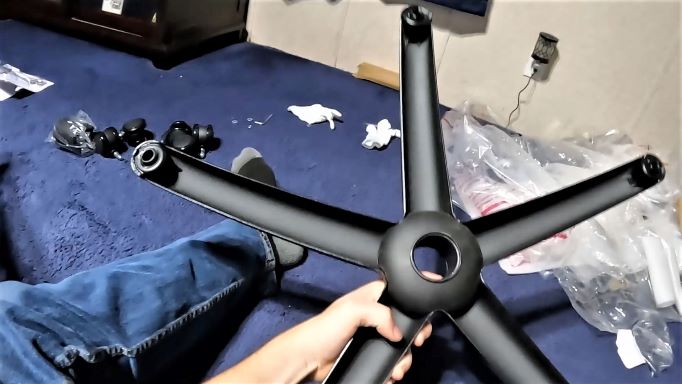 The material used in the chair is PU leather. The seat and the back of the chair are both very comfortable but, at the start, they can seem a bit stiff. You're only going to have to sit the chair in and then it is going to be as comfortable as you'd want it to be.
For the price that it comes, the components, the screws, the guards, the base, wheels, and everything is quite high-quality and durable which explains how this chair is able to withstand weights of over 550lbs and offer a pretty comfortable experience at the same time.
Building the Ewin Racing Heavy Duty Gaming Chair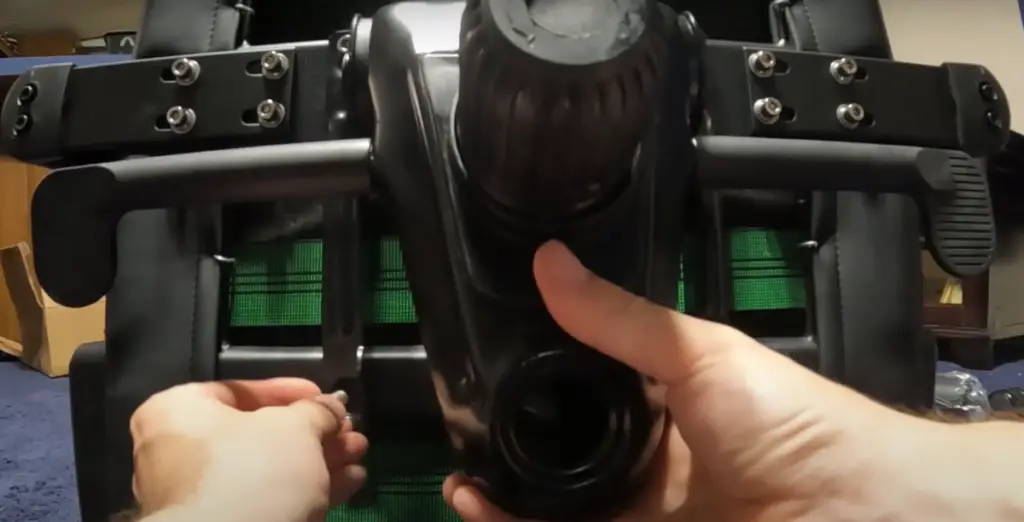 After checking out everything, I finally went to the brass tacks with the parts. From the instructional manual, the building part of the Ewin Racing Heavy Duty Gaming Chair doesn't seem quite difficult but trust me when I say this, it is a tough job to build this gaming chair.
Especially joining the back of the chair with the bottom, the screws don't exactly lineup and you have to put weight on the back to make sure everything aligns well so you can then tighten the screws and get things done.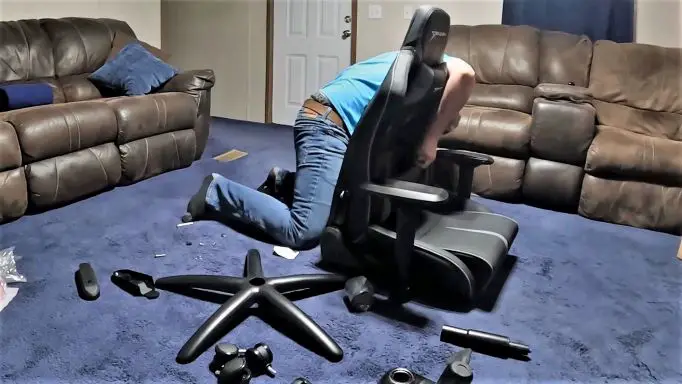 After that, it was time to place the guards on either side of the seat which wasn't that hard. The next thing is to ready the hydraulic system with its guard and then place it onto the base of the chair once the wheels have been attached to it.
Finally, you're going to place the chair on it, and it is going to clamp onto the system.
You can choose to clip the headrest at the start or the end and that's all you need to do to build this chair. It will take you about an hour to build this chair if you're a beginner, but if you have experience with gaming chairs, you can get it built before that.
Just know that the process is a bit time-taking and requires strength, so be prepared!
Features and Specs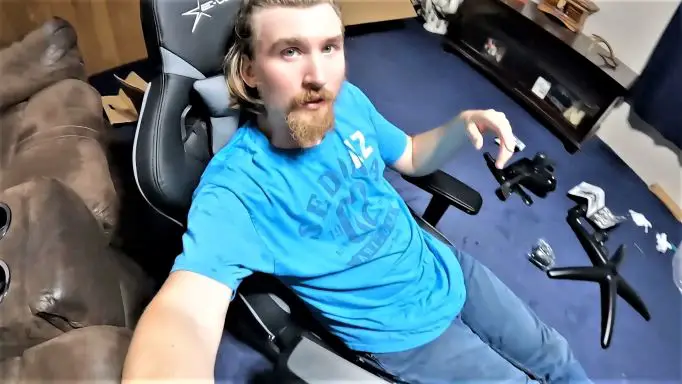 The Ewin Racing Heavy Duty Gaming Chair is quite featureful if you ask me. Let's take a look at some of the major features and specs that this gaming chair has to offer.
Ergonomic Design – The Ewin Racing Heavy Duty Gaming Chair comes with a soft yet durable leather material that feels nice to sit on and has an ergonomic feel associated with it which is quite nice.
Adjustability –  Another feature that this gaming chair comes with is adjustability. You can use the levers to adjust the chair vertically and you can also adjust the angle of inclination of the back.
Headrest – The Ewin Heavy Duty Gaming Chair also comes with a headrest. You can clip it on the top of the back of the seat and adjust it according to what you feel comfortable with.
Armrests – The seat of the chair comes with pre-installed armrests. Whether you're a gamer or an office worker, you can feel comfortable and relaxed with your arms on the rests which are quite comfy.
Decent Lumbar Support – There is a decent amount of lumbar support on this chair at the lower side with the lumbar cushion that adds to the comfort level.
Pros and Cons
Before you make a decision and end up buying this gaming chair, it is important that you take a look at all the advantages and disadvantages that come with getting it.
Here they are;
Pros
Durable Build – One of the best things about the Ewin Racing Heavy Duty Gaming Chair is the fact that it comes with a very durable frame and build that is made to last.
Weight Capacity – This impressive heavy-duty gaming chair comes with a pretty good weight capacity. It can withstand weights up to 550 pounds which is pretty amazing.
Good Price – The Ewin Racing Heavy Duty Gaming Chair comes for a pretty decent price. In fact, it is much better in value than many other competing gaming chairs as well.
Cons
Limited Range of Adjustability – The chair can only move a couple of inches vertically which is fine but in gaming chairs, typically, you need a longer range of motion for a comfortable experience depending upon your own frame.
Building is Tedious – The process of building this chair is quite tedious and difficult for beginners. You're going to require some strength to line screws up and it could be a little frustrating for some people.
Is the Ewin Racing Heavy Duty Gaming Chair Worth It?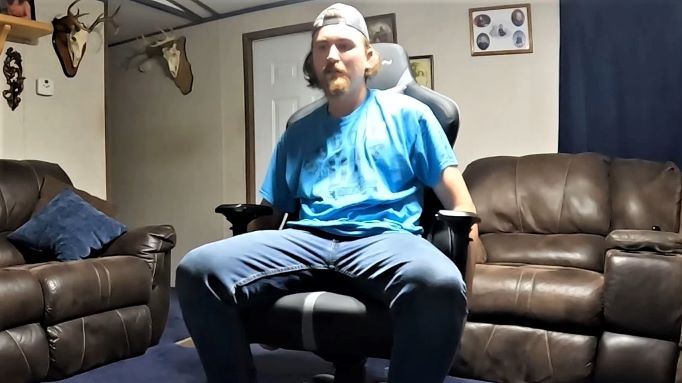 Finally, the million-dollar question that arises is, is the Ewin Racing Heavy Duty Gaming Chair worth the hype? Well, apart from the rough building process and a few minor problems, this chair is quite strong, durable, and nice looking as well.
So, with all the features and high-quality design that it offers, it is surely worth the hype and at the price it comes, you should definitely think of getting one for your computer setup.
Where to Buy the Ewin Racing Heavy Duty 550lb Gaming Chair?
You can buy the Ewin Racing Heavy Duty 550lb Gaming Chair from their website. There is a US store and a Canada store. You can access their store by clicking one of the following links:
You can also get a 20% discount on your purchase by using code KKS
Wrapping Up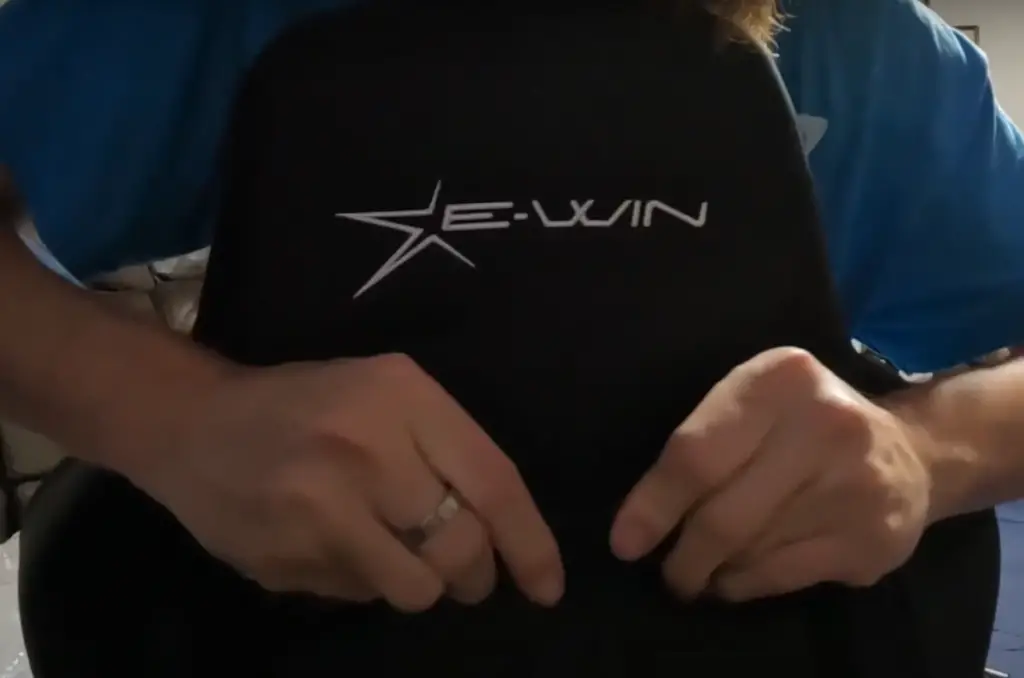 The Ewin Racing Heavy Duty Gaming Chair is a great option, especially if you're large-framed. The epic max weight capacity and a high-quality pair make a really great gaming chair. The price is also justifiable. The lumbar support is good, so overall it is a decent chair.
If you're not looking for too many excessive features but a good sitting experience with a robust and durable frame, then this is the chair for you. All the best with your gaming experience!