In a world full of large-sized 100% keyboards or tiny 60% keyboards, if you're someone who prefers to be right in the middle, it is unlikely that you'll find a good gaming keyboard for your setup. But E-Element claims to have found a solution to your problem – the E-Element Z-88 RGB Mechanical Keyboard.
You might be wondering, what kind of Keyboard is the Z-88 and how good is it? Well, if that's the case, then you're in the right place because that's precisely what I'm here to tell you.
In this article, I'm going to talk about the design and build of the E-Element Z-88, the construction, the quality, features, and specs, along with the pros and cons. I'll be thoroughly reviewing this budget keyboard so that you can make the right buying decision. So, let's get started without further ado.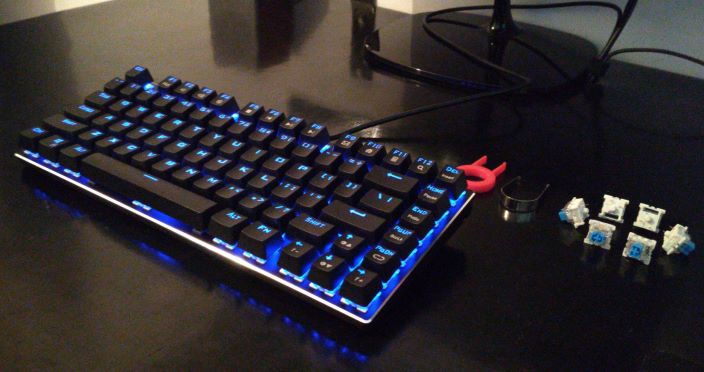 In a hurry? Get the E-Element Z-88 at amazon.com!
E-Element Z-88 RGB Mechanical Keyboard
The E-Element Z-88 RGB Mechanical Keyboard is a 75% keyboard that comes with 81 keys along with multitudes of features, specs, and RGB pattern options for an excellent price.
It is a budget keyboard that also offers high-end keyboard options like RGB lighting, N-key rollover, etc., which makes it a pretty decent budget keyboard top contender.
Since its release, it has been all over the internet, and many people have started using it, so I did what any average keyboard reviewer would, and I ordered one for myself.
What's In the Box?
I received my Z-88 a couple of days ago, and I have to say, I was happy with the design of the box. It looked minimalistic, decent, and sturdy enough to be durable at the same time.
Upon opening the box, I found a good amount of cushioning, and under that protection, here are the things that I found in the box of the E-Element Z-88 Mechanical Keyboard:
Z-88 Keyboard
Instructional Manuals
Detachable Cable
Additional Components
It gives me great joy to list additional components there. Despite being a budget gaming keyboard, E-Element's Z-88 comes with a bag of 5 extra switches as well as a keycap puller and one key switch puller. So, props to E-Element for that.
High-Quality Sleek Design and Durable Build
So, let's get into the meaty parts of the review. In terms of looks, the design of the E-Element Z-88 is quite decent especially because of the compact form factor along with the sleekness and thin-bezel shape. The edges of the Keyboard have a chrome metallic look and shine to them while the Keyboard is inclined upwards for an ergonomic effect. If we take a look at the back of the Keyboard, we can see 4 rubber feet.
Along with those, we have two rubber kick feet as well that can add to the ergonomics of the Z-88 Keyboard. For spillage, there are 3 spill holes on the bottom side so the Keyboard remains safe at all times. The backside also has crevices and proper cable-routing lanes along with the Micro-USB port for the power cable. So, all the design elements are pretty on-point and good for the price.
If we talk about durability, the top plate of the Keyboard is aluminum with a full plastic body. So, there is minimal flex to the Keyboard. In terms of design and build quality, the Z-88 is quite on fleek. 
Double Shot ABS Keycaps and Clear Legends
Let's come to the keycaps of the E-Element Z-88 now. The keycaps that these particular keyboard uses are ABS but they're double-shot injected versions of ABS keycaps which are durable and more than I would expect at this price range.
The legends are also clear and added very carefully which is why the backlit illumination of the Z-88 Keyboard makes it look pretty amazing. So, that's something great about it.
The problem, however, arrives when we take a look at the font style of the legend imprint. The style is very techy and looks gaming forward so if you think you're investing in a minimalist keycap font design for professional usage, this won't look that good.
This is a problem but it has a pretty straightforward solution. You can spend a few extra bucks and get good keycaps with simple legends if you want. They're not ugly, they're just gaming-forward.
RGB Lighting and Nice Keycap Feel
The Z-88 Mechanical Keyboard comes with RGB backlighting that shines through the keycap legends. The keycaps aren't individually lit but the patterns are still a lot in number.
The look of the RGB lighting is sub-par though. It isn't too bright but at the same time, it doesn't seem very premium. However, since it is a gaming keyboard feature, it does get the job done, only barely.
If we talk about the feel of the keycaps, then definitely the smooth texture of the double shot injected keycaps makes the overall keypress feel pretty great, so that's cool about the Z-88.
Outemu Blue Clicky Mechanical Switches
What I was impressed to see was that the mechanical switches in this Keyboard weren't some unknown Chinese brand. The E-Element Z-88 RGB Mechanical Keyboard uses Outemu mechanical switches. The switches that came with my Keyboard were Blue Clicky ones. Outemu switches are Cherry MX clones but they're high-quality and offer a great click in a fraction of the price.
Especially if we talk about the Outemu Blue Clicky Mechanical switches, the actuation force requirement is high, the keypress feels nice, and the noise of the click is pretty loud.
Overall, you're definitely going to like the Blue switches or any Outemu switches in this Keyboard because the stabilization is decent, and the Outemu switches offer a good keypress experience for all kinds of computer usage.
5 Feet Detachable Micro-USB Power Cable
One thing I really like about the E-Element Z-88 mechanical keyboard is the fact that it comes with a detachable power cable. The connection type is Micro-USB which is pretty great.
If we're talking about the length of the power cable, it is 5 feet which isn't that long but it is long enough for you to sit down and use the Keyboard without any comfort issues.
Included Features
The E-Element Z-88 is a pretty amazing mechanical keyboard that comes with a bundle of features and specs. Let's take a look at the options and features available in this budget mechanical keyboard.
N-key Rollover – The Z-88 comes with 81 dedicated keys and it features an N-key Rollover which basically means that you can press all the keys together and none of them will experience ghosting which is pretty cool.
Hot swappable switches – The Outemu switches are placed into a socket over the PCB which allows them to be hot-swappable so you can change the switches with even Cherry MX ones if you feel the need to.
Multiple RGB patterns – The E-Element Z-88 comes with RGB lighting with multiple patterns which means that you can change the RGB pattern of the Keyboard using the Fn key along with the F+ or F- keys.
Key Shortcuts – If you're wondering where media keys or hotkeys are, on the function row you can find shortcut keys for all kinds of things including web browser, email, calculator, etc.
Ergonomic Design – The Z-88 Mechanical Keyboard comes with an ergonomic design along with a bunch of adjustment options that allow you to feel comfortable whenever you use it. So, that's also pretty great.
Pros and Cons
Before you decide on buying this particular mechanical Keyboard, you need to make sure you know all the pros and cons that come with the E-Element Z-88 Mechanical Keyboard. So, let's take a look at them.
| Pros | Cons |
| --- | --- |
| 75% Layout – The thing about this particular Keyboard is that it is 75%, which isn't too small or too large and fits completely on the smallest of desks, and offers more than enough buttons in a compact form factor. | Tacky Lighting – The RGB lighting offers a bunch of patterns, yes, but the thing is the quality of lighting is just okay. It isn't that great which is a bit of a problem for me. |
| Durable Structure – The top aluminum plate of the Keyboard helps it stay firm and durable and the overall build quality of it is pretty great for its price. | Legend font is a little weird – The font of the legends is a bit gaming-forward and techy and if you're planning to use it in a professional environment, it might not look that great. So, that's another problem I believe. |
| Great price – As I said, the price of the Z-88 Keyboard is very low in comparison to some of the other keyboards in the market which offer lesser features and specs. | |
Is the E-Element Z-88 Worth the Price?
So, the main question of utter importance is, is the E-Element Z-88 worth the price that it comes for? Well, I'd say it definitely is. It is a compact yet filled Keyboard with tons of features, high-quality options, shortcuts, and a durable keyboard at a very good price. So, you should definitely get this Keyboard if you're short on money.
Interested? Get the E-Element Z-88 at amazon.com!
Frequently Asked Questions
On the internet, there were a lot of questions that remained unanswered regarding the E-Element Z-88. So, I thought I should review a bunch of these questions and answer the more important frequently asked ones. So, let's do that.
Q. Can the switches be replaced in the Z-88?
A. Yes, the switches in the Z-88 Keyboard are hot-swappable but the thing is, the pinholes in the socket are too thin. So, without force, only Outemu switches will fit into it. You can force other switches in there as well but at your own risk.
Q. Is the E-Element Z-88 keyboard compatible with Mac?
A. Of course! In terms of compatibility, the Z-88 Keyboard is pretty great actually. It is compatible with all kinds of operating systems including Linux, Windows, and Mac as well so you'll be good.
Q. Can I use the E-Element Z-88 keyboard for gaming?
A. The E-Element Z-88 keyboard is a great keyboard overall, it can be used for any activity but if you really want to use it for gaming specifically, then you should get tactile or linear switches instead of the Blue clicky ones.
Conclusion
The E-Element Z-88 RGB Mechanical Keyboard is a proper gaming keyboard with a very high-quality build and design. Along with many features, this Keyboard also has tons of options and elements that you won't get in many other keyboards either. And the small price tag helps a lot. So, you should definitely get this Keyboard on a small budget. But if you have a bigger budget and your demands are higher than this, you can spend your money on a better keyboard. I hope you make the right decision and enhance your keyboarding experience.