Are you thinking of getting a high-quality keyboard for your personal and office use but don't have a large budget? Well, Dell has again come up with a keyboard that might pique your interest. But, of course, I'm talking about the Dell DJ425 Multimedia Keyboard.
You might be wondering, is it a good buy, and what does the DJ425 have to offer in terms of specs and features? If that's what you're thinking, then you're in the right place because that's precisely what I'm here to tell you.
In this article, I will talk about the Dell DJ425 Multimedia keyboard, its specs, features, pros and cons, build, design, and everything in between. I'll also be talking about the different aspects and address a few critical FAQs all you keyboard enthusiasts might have about this product. So, without wasting any further time, let's get into it.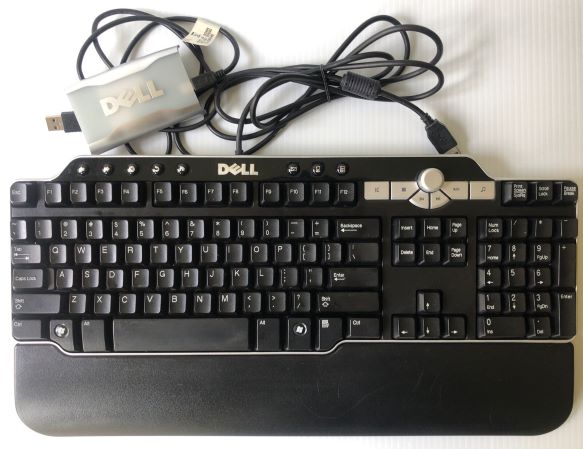 In a hurry? Get the Dell DJ425 Multimedia Keyboard at amazon.com!
Dell DJ425 Multimedia Keyboard
The Dell DJ425 Multimedia Keyboard is a high-quality full-sized keyboard that comes with 104 keys, a stylish design, tons of features, a nice look, and best of all, a bunch of nice multimedia keys, all for a slim and affordable price.
Ever since its release, the DJ425 has been making strides in the keyboard industry due to the value it offers. A lot of people have this keyboard or are interested in buying it. That's why I had to review it for myself. So, that's exactly what I did. I ordered one DJ425 Multimedia keyboard for myself. 
What's In the Box?
The DJ425 arrived a few days ago, and the box that it came in was pretty ordinary, but I didn't have high expectations since this keyboard is more about functionality and less about over-the-top box designs.
Upon opening the box, I saw a good layer of plastic protection standard in all keyboards from Dell. Here are the contents that I received inside the box of the Dell DJ425 multimedia keyboard:
Instructional Manuals
DJ425 Keyboard
There weren't any additional contents in the box, but I'm not going to hold that against the DJ425. It is a very affordable keyboard, and if it does what it needs to do without offering anything excessive, it's going to be good enough.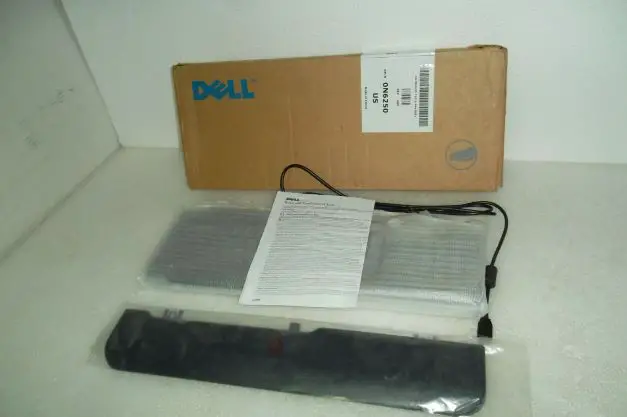 Sleek Design and Durable Build
Let's get into the meat of the keyboard review. First, the design of the DJ425 is actually much different from other Dell keyboards. There are curves and edges along with a multilayer design with silver accents.
The design of this keyboard itself is actually quite ergonomic with the OEM keycap layout. The weight of this keyboard isn't hefty either, so you're going to like using it.
On the back of the keyboard, we've got the standard rubber feet and adjustable kick feet on both sides, making this keyboard even more ergonomic because you can change the height of the keyboard depending upon your requirement.
If we talk about the build, it is made entirely of plastic. But that's not a bad thing. The plastic quality is actually quite lovely, which is why there's not much flex to this keyboard and why it is very durable and robust. So you're going to be able to use it for quite a while.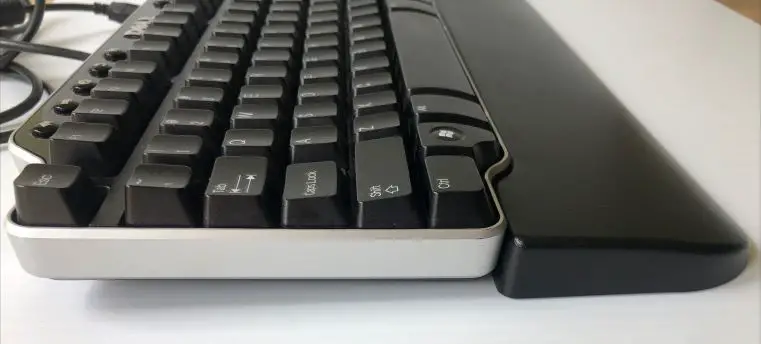 Keycaps and Legend Imprints
Usually, in cheap keyboards, the keycaps are the worst thing. But when we talk about the DJ425, the keycaps aren't bad. They are made of ABS plastic, but it is durable and feels nice on the fingers as well.
Sure, we would've loved to have PBT keycaps on this keyboard, but it wouldn't have been possible for Dell to make it so much. So that's why I'd say this keyboard's keycaps are pretty good for the price.
On the other hand, if we talk about the legend imprints, they're not that great. The printing job is mediocre, and they're also not fade-free. This means that overuse is going to result in the legend imprints fading.
So, there's a win-lose situation if we talk about the keycaps and the legend imprints of the Dell DJ425 Multimedia keyboard. The quality of keycaps still surprises me, though, so that's good.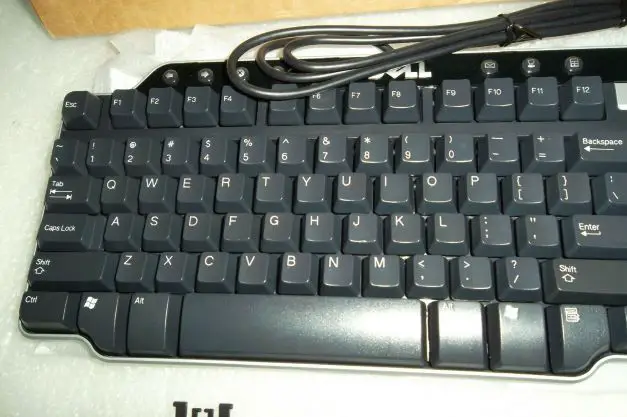 Membrane Keyboard Switches
If you're a fan of mechanical switches, the Dell DJ425 isn't the right keyboard for you. Reason one is that it is designed as a simple keyboard, and reason number two is the fact that it comes for a price where mechanical switches are just not achievable.
The switches inside this keyboard again aren't bad. They're membrane-styled switches and good quality. So, you won't experience a fantastic kind of tactility from them, but they're still good.
In fact, they're pretty nice when it comes to keypress feel. They're also reticent. But they definitely can't compare to mechanical switches, for what they're advertised as they do a good enough job to get a thumbs up from me.
6 Feet USB-A Power Cable
The power cable of the Dell DJ425 Multimedia keyboard uses a USB-A type connection. However, it isn't anything special if you're talking about material or look and the insulation.
The length, on the other hand, is pretty long, which is good. This power cable is around 6 feet in length which makes it long enough for you to be able to easily use the keyboard without having to sit at a wrong angle or dangerously close to the screen.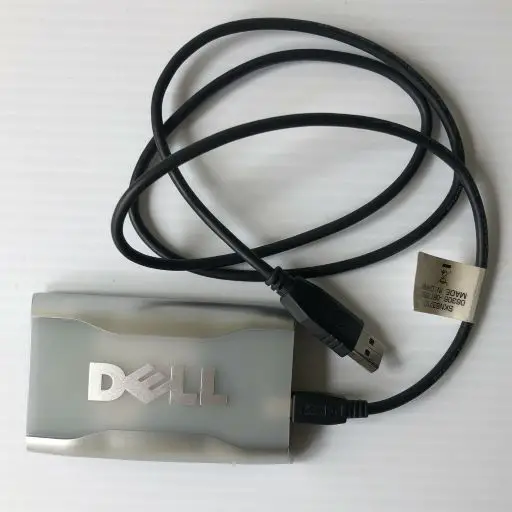 Features and Specs of the Dell DJ425 Multimedia Keyboard
The Dell DJ425 seems like a pretty neat keyboard when it comes to design and construction. But what other unique features and specs does it have to offer? 
Let's take a look at some of the significant features that the Dell DJ425 Multimedia keyboard comes with.
Plug-n-Play – One of the best features of this casual DJ425 personal computer keyboard is the fact that it is going to be usable right as you plug it into a USB port of your PC.
Multimedia Controls – There is a proper section for multimedia buttons on the top-right side above the arrow keys that contains a cluster of media buttons.
Volume Wheel – On the multimedia button section of this keyboard, you can also find a volume wheel. This wheel can be used to easily adjust the sound coming out of your computer depending upon how you like it.
Hotkeys – If you're using the Dell DJ425 Multimedia Keyboard for working, then you're going to love the fact that it comes with hotkeys for accessing emails, the internet, My Computer, the Calculator, and other things as well.
Compatibility – One of the best things about Dell products and the DJ425 is that it is compatible with many operating systems and will connect quite easily.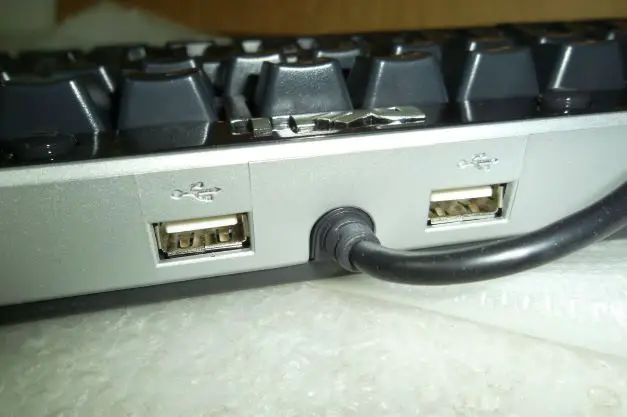 Multimedia Buttons
The best feature that the DJ425 comes with and is known for, is the inclusion of the high-quality silver multimedia buttons on it. There is a proper space for this section, and the controls are excellent in terms of feel.
In this section, you can find multiple multimedia options, including the mute button, forward, backward, pause and play, and the track changes button, making keyboard utilization pretty easy.
All you're going to need to do is press a single button, and you're in business. There's also a high-quality scroll wheel that deals with the media volume on the PC the keyboard is connected to. So, that's pretty epic as well.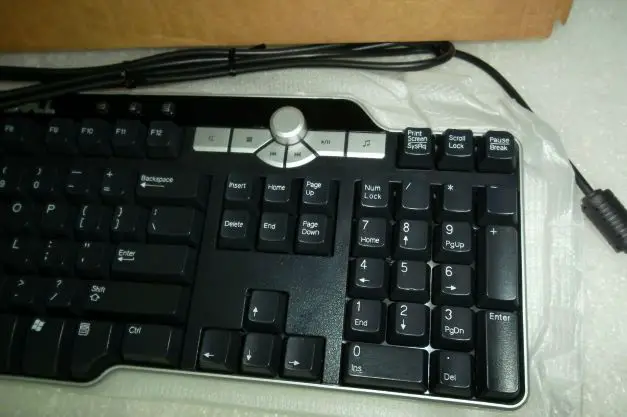 Pros and Cons
Are you thinking of buying this keyboard for your personal or office setup? Well, the best thing to do would actually take a look at some of the pros and cons it has to offer before you make a buying decision.
| Pros | Cons |
| --- | --- |
| Affordable – If you compare the Dell DJ425 Multimedia Keyboard with other keyboards that are even higher-priced, the value of this keyboard is much better than them. | Legend Imprints aren't great – One of the biggest problems of this keyboard is the fact that before it wears out, the legend imprints on the keycaps might fade away, which isn't something you're going to want. |
| Ergonomic – The overall design of the DJ425, as well as the inclusion of kick feet and the naturally inclined layout, really help the ergonomic factor of this keyboard. | Power Cable is just alright – The power cable is quite generic, and there's nothing special about it. That's why I consider it one of the cons of this keyboard. The look of the cable isn't very cool either. |
| Decent features – In this price range, getting such cool features like the multimedia buttons, good keycaps, nice membrane switches, and other things on the DJ425 is pretty great. | |
Is the Dell DJ425 Multimedia Keyboard Worth the Price?
Finally, the million-dollar question in this case is, is the DJ425 worth the hype it's given? I believe it is. It comes for such a small price and is a fully functional and feature-full keyboard. It might have a few flaws, but they're not very major. So, you should think of getting this keyboard. You're going to find it pleasant.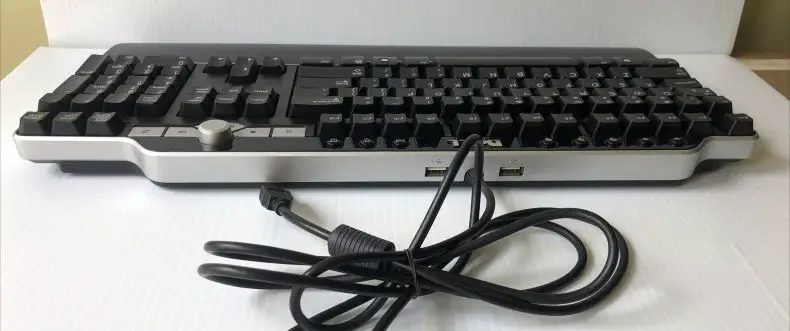 In a hurry? Get the Dell DJ425 Multimedia Keyboard at amazon.com!
Frequently Asked Questions
I was checking out different reviews of this keyboard on the internet, and I saw many people asking questions about it who weren't given any clear answers. 
So, I decided to talk about some of the most important frequently asked questions myself. So, let's take a look at them.
Q. Is the Dell DJ425 good for competitive gaming?
A. The Dell DJ425 Multimedia keyboard is advertised as a casual, personal, and workplace computer keyboard. You can use it for occasional gaming, but it lacks the specific features and options that you might find in a gaming keyboard. That's why you shouldn't engage in competitive gaming with this keyboard.
Q. Does the Dell DJ425 work on Mac OS?
A. Yes, fortunately, Dell always makes sure their products are compatible with all kinds of OSes. So if you want to connect your DJ425 to a Mac OS device, you'll be able to do it without facing any problems. The same goes for devices that work with Windows or Linux OS.
Q. How long will the DJ425 last?
A. The Dell DJ425 is an all-plastic keyboard, but it is actually more durable than you'd expect. If you do end up getting this keyboard, you're going to see that it will last you quite a while. You can expect it to last at least two or so years.
Conclusion
The Dell DJ425 Multimedia Keyboard is a decent option if you've got a small budget and you want a keyboard with a bunch of features for your personal or work setup. However, if you're looking for more, something premium, mechanical switches, and other inclusions, the best thing to do would be to save some money and get a more expensive keyboard.
I hope you learned a lot from this article and that you will make the right buying decision. Have an excellent keyboarding experience!