If we talk about gaming mice in the industry right now, either they are not very high-quality or they are super-duper expensive. So, to really have a great experience, we need to find gaming mice that are great in terms of both value and functionality.
And that's what Corsair claims to offer with their M65 Pro RGB mouse.
But how true are their claims? What does the Corsair M65 Pro RGB Gaming Mouse have to offer? That's what I'm going to explain in this mouse review.
In this article, I'm going to talk about the Corsair M65 Pro RGB Gaming Mouse, the design and build quality, the features, as well as the pros and cons of this mouse. I'll also be answering some of the most frequently asked questions, so make sure you keep reading. Then, without wasting any time, let's get to it.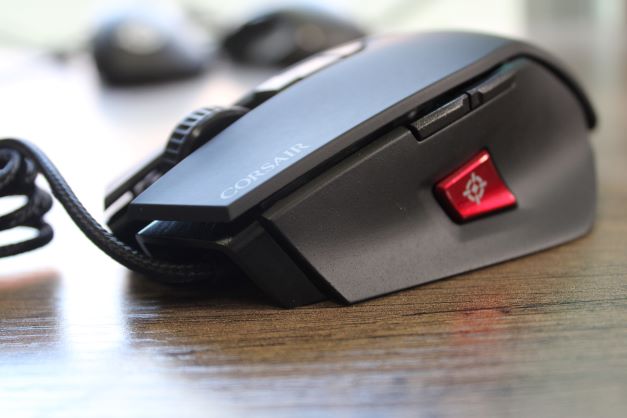 In a hurry? Get the Corsair M65 Pro at amazon.com!
Corsair M65 Pro RGB Mouse
The Corsair M65 Pro RGB Gaming Mouse is an upgraded version of the original M65 mouse with a large grip, contoured design, stylish look, and a gaming-forward array of features that all come for a reasonable, affordable price.
This mouse is used for professional gaming and by many legends of competitive gaming around the world. It is a trendy budget choice, so I had to get it and review it for myself.
What's In the Box?
I received my Corsair M65 Pro RGB Mouse a couple of days ago, and I've been using it ever since. Upon arrival, I was pleasantly surprised by the look of the containing box and its design.
Opening it revealed a layer of protective material which is also a good sign. Inside the box, here are some of the major contents that I was able to find:
Corsair M65 Pro RGB
Instructional Manuals
There isn't a lot to explore here. The box contains just the mouse and the product manual, which is expected since it isn't a very high-budget choice, and it doesn't need to prove a lot either. So let's get to the next part of the review now.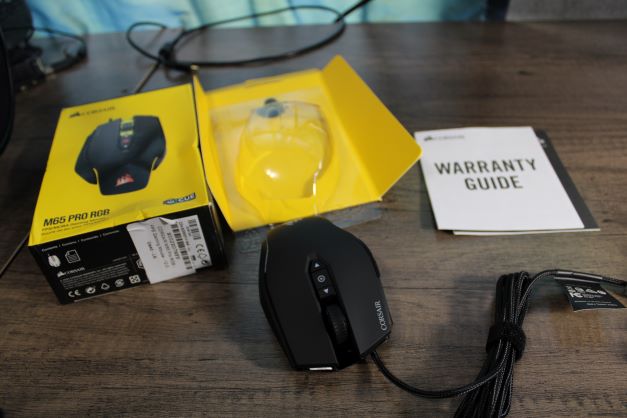 Features and Specs of the Corsair M65 Pro
The Corsair M65 Pro RGB Gaming Mouse is quite a beast when it comes to features and specs. To give you an idea of what it has to offer, let's talk about some of the major features it comes with.
12000 DPI – The first most important feature that needs to be discussed is the amazing DPI setting range of the Corsair M65 Pro RGB gaming mouse. You can customize your DPI range from between 100 to 12000 DPI which is a pretty great feature.
Sniper Button – On the side of the mouse, there is a specialized Sniper button with a particular DPI setting programmed into it which can be changed. Upon pressing and holding it, your DPI will change and releasing it will bring the DPI of the mouse back to its default state.
8 Programmable Buttons – The Corsair M65 Pro RGB comes with a set of 8 overall programmable buttons. You can use the CUE software to change the function of these buttons and clicks according to your usage or the game you're currently playing.
Heavy-duty Scroll Wheel – One of the unique features that aren't talked about quite a lot of times is the heavy-duty scroll wheel that they've integrated into the M65 Pro. The wheel feels decently premium, and the scroll click is also tactile, which is quite great, I believe.
Corsair RGB Lighting – Corsair's M65 Pro RGB Gaming Mouse is a complete customizable RGB mouse that allows you to customize and change the look and appearance of the backlighting on the gaming mouse the way you like it or the way that your setup appears to make everything sync better.
Tunable Weight Mechanism – A very cool feature that you're really going to like about the M65 Pro RGB is the capability of adding or removing weights off of it so that you can reach your desired mouse weight. There are three tunable weight zones on the bottom of the mouse, which you can use for this.
Surface Calibration – A fairly newer technology, known as surface calibration, allows the Corsair M65 Pro RGB Gaming Mouse to actually observe the surface it is sitting on and then adjust its smoothness accordingly so you can have a smooth and lag-free experience.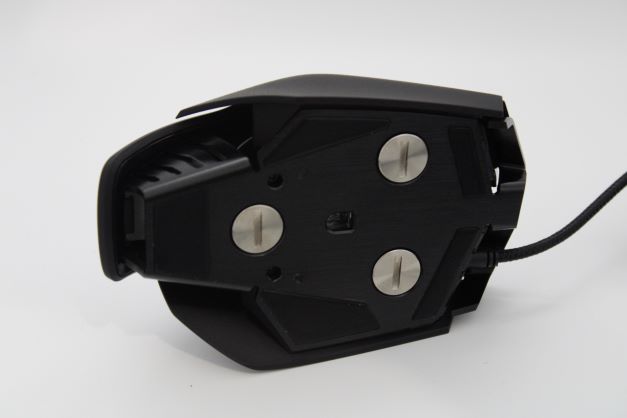 Design and Build Quality
The Corsair M65 Pro RGB is a high-quality budget gaming mouse with a unique and sleek design. It has a contoured body shape and a large size, built for people with larger hands. The color of the body, as well as the RGB lighting, looks very cool in combination. On the top of the mouse, there are three buttons other than the scroll wheel and two clicks.
Overall, there are 8 programmable buttons. On the bottom surface, there are friction pads that allow swift and smooth movement on any surface, along with calibration capability. Finally, if we talk about the build quality, the Corsair M65 Pro RGB Gaming Mouse is made of anodized aircraft-grade aluminum that provides amazing durability and strength to the frame.
It will surely last you quite a long time. All in all, we can say that for the price, the Corsair M65 Pro RGB has quite a great design and build quality that you'd definitely be surprised by.
Overall Mouse Feel
At this point, you might be wondering how good the Corsair M65 Pro RGB feels upon clicking; Well, that's a great question. The Corsair M65 Pro RGB Gaming Mouse is a treat on the hand and fingers.
The mouse uses high-quality Omron switches that come with long durability and a tactile feel. Each click will give you quite a decent press-feel which is something great about this mouse. If we talk about the mouse's grip, the body of the M65 Pro is quite large, and it allows you to easily rest your hand on it, which makes the overall mouse feel quite ergonomic.
The body of the Corsair M65 Pro RGB mouse is contoured so that you're going to properly feel like your hand is a part of the mouse. These key components and capabilities merge to make the M65 Pro RGB a truly ergonomic and feel-good experience.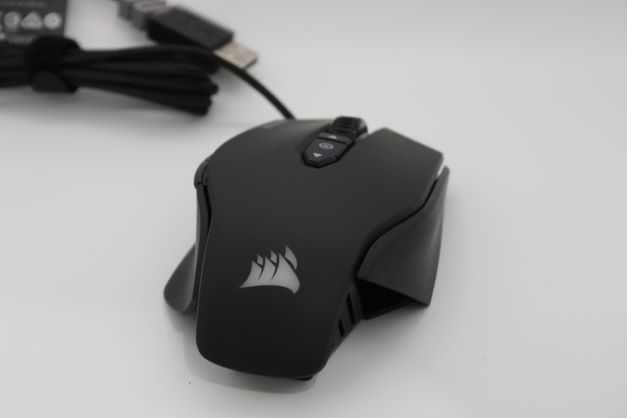 Pros and Cons
So, you're thinking of getting your hands on the Corsair M65 Pro RGB Gaming Mouse? Well, before you do, make sure you learn about the pros and cons it comes with. Here are some of the advantages and disadvantages you'll face if you get this mouse:
| Pros | Cons |
| --- | --- |
| Anodized Aluminum Design – It isn't widespread to see in budget gaming mice that the build quality is quite premium and high-quality. Well, the Corsair M65 Pro RGB comes with a frame made of anodized aluminum that is aircraft-grade durable, and strong. | The cable is just alright – The cable, as we spoke of before, isn't the best in the Corsair M65. It should've looked and felt better. If it were braided, perhaps the experience would've been a bit different. But it isn't something you're going to be loving in this mouse, despite the amazing features. |
| Contoured Design – In this price range, you can typically see gaming mice that keep ergonomics at bay when it comes to design. But the M65 Pro RGB has ergonomics at the forefront, with its body's amazing contoured large-sized design, allowing you to grip it with your hands easily. | |
| Affordable Price – One of the best reasons for the supremacy of the Corsair M65 Pro RGB Gaming Mouse is the price point without a doubt. The price of the Corsair M65 Pro RGB Gaming Mouse is very affordable if you actually compare it to the price of other mice in the market. | |
Connectivity
The Corsair M65 Pro RGB has one issue, the power cable. The material of the cable is very generic and isn't braided. It is safe, but it doesn't look as good as the mouse itself, which is a cause for concern if you're someone who likes their cables braided.
The technology used by the M65 Pro is USB 2.0, which is fine. The length of the cable is also good, being around 5.9 feet, making sure you don't have to tug on it to use it comfortably. But the material and the look are not among the things you're going to be proud of.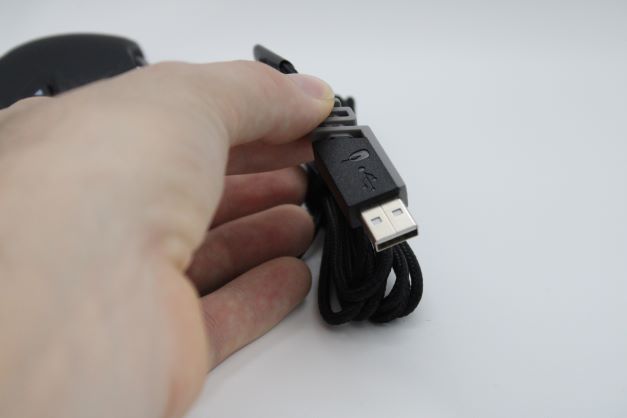 Corsair CUE Software
Corsair's proprietary customization software, Corsair Utility Engine, is a great product that works with all eligible Corsair keyboards and mice. In addition, the Corsair M65 Pro is also eligible.
With this software, you can edit the DPI settings of the mouse and increase the range of the 5 internal quick-swap DPI settings, which can be changed with the press of a button. You can also change the DPI of the Sniper Button on the mouse to enhance your gaming experience the way you like.
It also has the ability to store customized profiles on the onboard memory of the Corsair M65 Pro, and there are also different options for changing the look and the RGB lighting of the gaming mouse.
All in all, the CUE software is great, and the interface is pretty easy as well. So, you're going to have a good time editing and customizing things on the M65 Pro.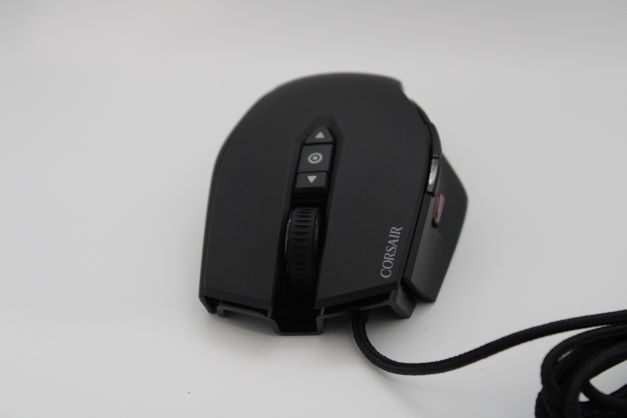 Interested? Get the Corsair M65 Pro at amazon.com!
Frequently Asked Questions
Since I was researching the Corsair M65 Pro Gaming Mouse as I wanted to review it, I came across many frequently asked questions that weren't answered well relating to this mouse. So, that's what I'm going to do here.
Q. How to Stop the Sniper Button on the Corsair M65 Pro?
A. If you want to stop the Sniper Button from creating problems while you're gaming with the Corsair M65 Pro, what you can do is that you can set the Sniper Button to the same DPI as you're using. This way, accidentally pressing the Sniper Button won't cause any problems or change anything while you're using the M65 Pro.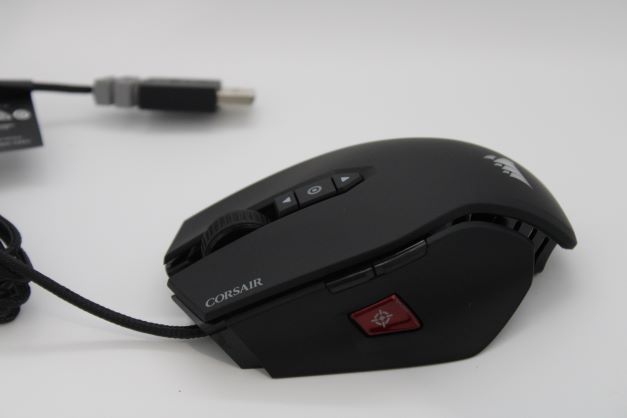 Q. Will the Corsair M65 Pro work on any surface?
A. The Corsair M65 Pro RGB is specially designed to work on almost every kind of surface. In addition, it comes with special technology is known as surface calibration, which allows it to adapt to any surface that it might be sitting on. This makes it greatly smooth on all kinds of surfaces.
Q. Is the Corsair M65 Pro a good choice for gaming?
A. The Corsair M65 Pro RGB is a great choice for gaming. It sports tons of epic gaming-forward features and specs that will aid you in single-player and multiplayer professional gaming quite well. So, you can definitely say that it is a good choice for gaming activities.
Q. How comfortable is the Corsair M65 Pro?
A. The Corsair M65 Pro RGB might not be advertised as an ergonomic gaming mouse, but it surely is designed that way. The grip on the Corsair M65 Pro, as well as the contoured shape, really helps your hand feel calm and comfortable on the mouse while you're using it, which is amazing.
Q. Can the Corsair M65 Pro connect to the PS5?
A. No, unfortunately, the Corsair M65 Pro RGB Gaming Mouse cannot connect to the PS5. It is not supported by consoles and only works on PC with different operating systems. It is a plug-n-play USB 2.0 device, and it won't work with your console.
Conclusion
Gaming computer mice come in all shapes and sizes. The Corsair M65 Pro RGB is a wonderful choice for any gamer, regardless of their budget. It is the perfect mouse for professional gaming, and you're going to love using it absolutely. There aren't many better gaming mice in a similar price range. I assure you it will be an amazing experience for you – using the Corsair M65 Pro RGB.
I hope that you learned a lot from this article and that you're going to have a great time making the right choice and using this gaming mouse for your personal and professional computer activities. Have a good day ahead of you!