Butterfly clicking is a technique used by gamers to increase their CPS or clicks per second up to 30 CPS, especially if they use a mouse specifically designed for this purpose. It is considered quite an impressive score for games like Minecraft as it's not detected as suspicious activity.
We will look at how this technique is performed shortly, but an important question that many people ask is if butterfly clicking will break your mouse.
Well, if you try to use it on a regular budget mouse, it will definitely serve to wear down the mouse buttons much faster than they normally would. On the other hand, if you buy a mouse specifically designed for this purpose, then you can use it as long as you please.
So, in this article, we will look at how butterfly clicking works and if it's bad for your mouse. We will also discuss a few top-rated mice for butterfly clicking available on the market and discuss their features that may help you reach an optimal CPS.
So, let's get started!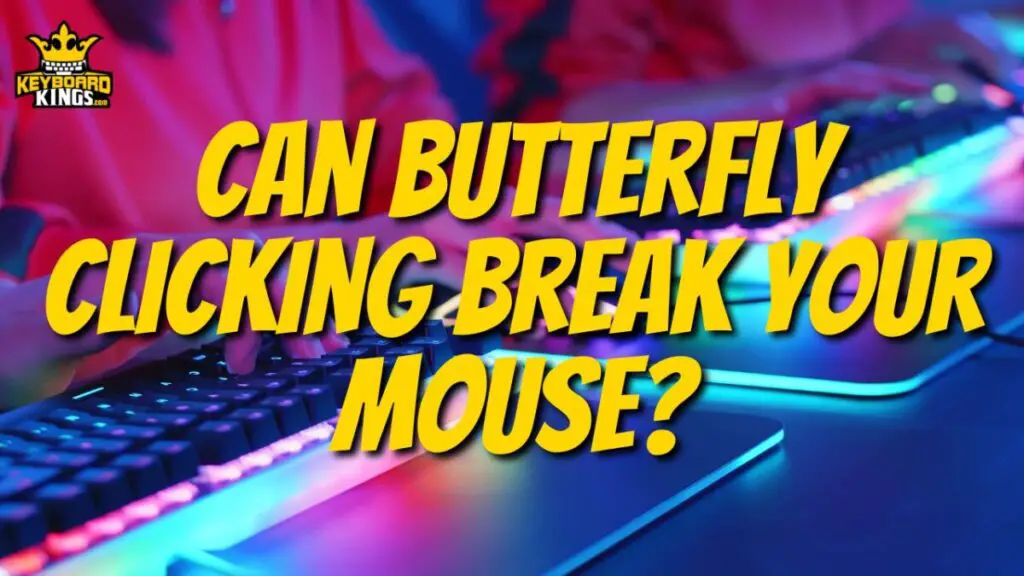 What is Butterfly Clicking?
Butterfly clicking (or tweaking) is achieved by using two fingers and slamming them one after the other on the left mouse button. Since you are using two fingers instead of one to register clicks, the CPS can increase to 20 clicks per second and it can benefit you hugely in player-vs-player games like Minecraft.  
While butterfly clicking doesn't seem difficult, it's an activity that can damage your tendons if you keep doing it for hours on end. The damage can be serious and irreversible, and it is therefore recommended to use this technique only sparingly.
If, however, you can get your hands on a modern, ergonomic mouse specifically recommended for butterfly clicking, then the damage can be prevented. Such a mouse is a gaming mouse with features that support comfort and ease and a shape that offers improved performance while gaming.
One of the best gaming mice recommended for butterfly clicking is the Razer Naga Trinity gaming mouse that has been designed to offer 50 million clicks and comes with 19 programmable buttons. Its ergonomic and high-quality build allows the user to butterfly click without any difficulty.  
In general, look for a mouse that offers great grip and makes scrolling easier. And not to mention, the mouse must have long-lasting mechanical switches that will be able to withstand millions of clicks.  
There are other mice recommended for butterfly clicking as well and we are going to look at their features shortly.  
Can Butterfly Clicking Break Your Mouse?
While a lot of people are aware of the potential health dangers of using techniques like butterfly clicking to increase CPS, not many know that such techniques are not good for your mouse either.
If you attempt butterfly clicking on a regular, budget mouse, it will definitely wear out sooner than expected. Since you are clicking repeatedly using two fingers with the mouse having constant touch with the surface and without lifting your hand for hours on end, this practice can affect your mouse's switches.
However, if you use the technique cautiously on a high-quality mouse recommended for this purpose, it will not break the mouse. So, if you plan on using butterfly clicking or any other technique to increase your CPS in gaming, get yourself a specialized mouse.   
The Best Mice for Butterfly Clicking
In order to register more clicks per second, your hand needs to be in constant contact with the desk. If you lift your hand, the mouse loses contact and will not register a click even if you keep pressing the button.
So, a mouse that allows you to move your hand just slightly up and down in a fast motion registers better clicking and hence an increased CPS. Gamers are able to play faster and without lifting their hand from the mouse pad, which is great for many PVP and FPS games.
So, here is a roundup of the top gaming mice that allow butterfly clicking and hence a better gaming experience.
This is a super-lightweight mouse with a high-quality build that makes it perfect for butterfly clicking. Price-wise it is comparable to the Razer DeathAdder V2, but feature-wise it's even better because it's ambidextrous and specifically built for speed and control.
Although it's lightweight, it still feels very solid in your hands. Users have found it great for games like Minecraft and Overwatch. However, because of its design, it requires regular cleaning so dust won't settle inside the enclosure.
The mouse is recommended for both drag clicking and tweaking owing to its high-quality Omron mechanical switches that have the ability to withstand as many as 20 million clicks. It also comes with 6 programmable buttons and is, therefore, an all-rounder.    
Another ambidextrous mouse with a matte finish and split trigger buttons, the SteelSeries Sensei 310 is an ergonomic mouse recommended for butterfly clicking. Although it's not lightweight, it is designed in such a way that reduces unintentional clicks and improves your performance.
This mouse is designed to offer a fingertip or a claw grip with side grips that offer exceptional control. It is also designed to support comfort and ease when you have to use butterfly clicking while playing.
Like the Glorious Model O, it also comes with Omron mechanical switches but these have the ability to withstand more than 50 million clicks. Misclicking or unintentional clicking is prevented with the help of its eight buttons that offer tactile feedback so you are able to register the clicks.  
Owing to the comfortable grip and lightweight design of this mouse, it has been recommended for butterfly clicking by experts. Logitech is a name that gamers particularly trust and they never hesitate to get their hands on one of their gaming mice.
As such, the G403 Hero 25K is considered around 8 times faster for butterfly clicking than other similar mice available on the market. It comes with a sensor that offers highly accurate and precise tracking.
The faster response time offers improved gaming performance. The mouse also comes with onboard memory so you can customize key configurations according to your requirements. However, this mouse is relatively more expensive than other mice we have discussed in this post.  
Is Butterfly Clicking Better Than Jitter?
While there could be some advantages of jitter clicking, it's a technique that puts pressure on your forearm and may cause pain and discomfort if you continue using it. Jitter is more dangerous for the health of your arms and joints and is therefore not better than butterfly clicking.
While butterfly clicking can also be harmful if you don't use the right mouse and the right position if you use it sparingly you can prevent sore tendons and joints.   
Another disadvantage of using jitter clicking is the long time it takes to relearn aim. Jittering is not possible on a regular, office mouse. You need a special gaming mouse to make it happen because of lighter clicks that won't hurt your arm.
The mice we have discussed in this post are good for jittering as well as butterfly clicking especially the Razer Naga Trinity Gaming Mouse. If you can get your hands on this mouse, you will be able to use all three techniques, namely jitter, butterfly, and drag clicking without breaking it anytime soon.
Wrapping Up   
Gamers have invented a few techniques they can perform on a mouse to register a better CPS during player-to-player and FPS games. One of these techniques is known as butterfly clicking. Although the technique itself is not very difficult to learn, it may serve to damage your mouse especially if you're using a regular, budget mouse with low-quality switches.
Butterfly clicking, like other gaming techniques, will wear down your mouse buttons eventually. This is particularly true if you use the mouse frequently and for hours on end. Regular mice are designed to withstand as many as 20 million clicks in their lifetime, but expensive and advanced mice have the ability to tolerate as many as 50 million clicks and are therefore recommended for butterfly clicking and drag clicking for gaming.   
If you buy a mouse with features conducive to butterfly clicking, it will not wear out any sooner. These high-quality gaming mice come with advanced features apart from being lightweight and offering a good grip and are also quite expensive. But keep in mind that they will live only up to a specific number of clicks. After that, their switches will wear out and you will need a new mouse.
Even if you use a good-quality mouse designed for butterfly clicking and other techniques, you will still be at risk of damaging your tendons if you practice the technique for hours. It is recommended to use a mouse specifically designed for this purpose and use butterfly clicking only when you have to.