Modern Mouse technology has improved quite a lot in the last 20 years. Nowadays, the main focus of computer mice and other devices is to provide a calm, comfortable, and smooth experience to the user. Not only would the user be able to carry out their task efficiently but also without feeling any strain.
That's where ergonomic mice come into play.
Ergonomic mice are designed to minimize the discomfort one feels after working on a computer. And more importantly, they are tested to ensure that they don't cause serious health issues if used for long durations of time.
In this article, I'm going to talk about ergonomic mice along with 9 reasons why you should definitely use them with your computer setup. And to counter these reasons, we're also going to take a look at a few reasons why you shouldn't use an ergonomic mouse.
So, let's get started.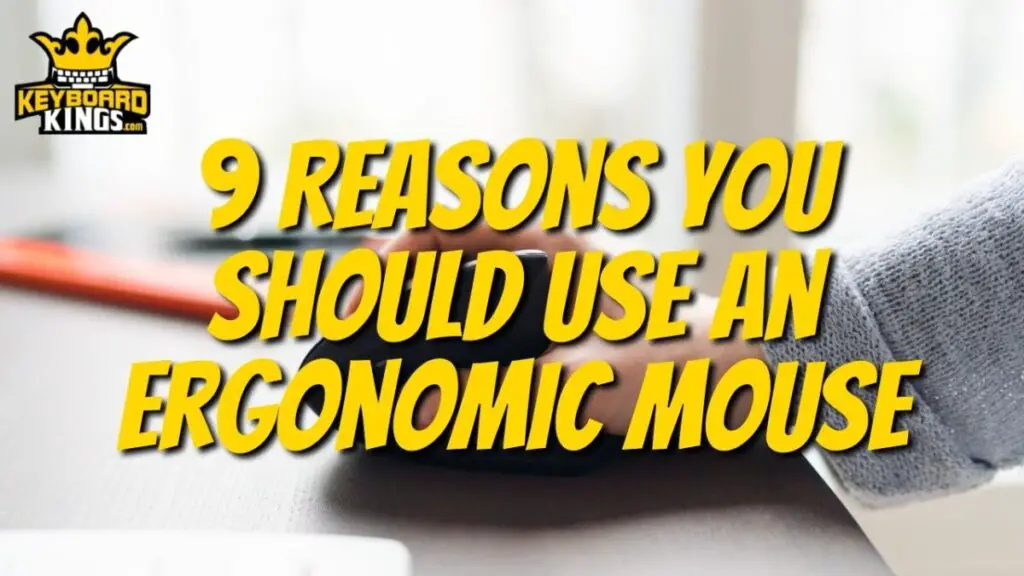 What's an Ergonomic Mouse?
Traditional computer mice are simply designed for carrying out basic mouse functions like clicking, dragging, opening files, moving the cursor around, and managing the activities on the screen with no additional characteristics.
That's where the difference begins between traditional and ergonomic mice. Well, basically, an ergonomic mouse is one that is more focused on having a design that makes it more comfortable and easier to use for longer periods of time for all users.
Ergonomic mice haven't been around for quite a long time. But, they're slowly gaining popularity for enhancing the ergonomics of workplace environments and personal computer spaces, and that's why it is important that you consider getting one for yourself as well.
9 Reasons to Have an Ergonomic Mouse
Ergonomic mice have tons of benefits when it comes to professional and casual usage. If you're not aware of them and you're still on the fence about whether you should use an ergonomic mouse or not, here are 9 of the best reasons to use an ergonomic mouse with your computer setup.
1. Prevent Carpal Tunnel Syndrome
Carpal Tunnel Syndrome is a condition that causes pain, numbness and tingling in the fingers and the bones of the hand. It mostly occurs when the nerves within your hand are squeezed or pressed for long periods due to unnatural positions of the wrist and the condition only worsens over time which can be quite problematic for desk workers.
Luckily, with the help of ergonomic mice, you can put a stop to the risk of developing Carpal Tunnel Syndrome. Due to ergonomic mice being designed with a shape that encourages natural wrist and hand positioning, you don't have to worry about any nerves being pressed or squeezed too long. So, you should definitely start using an ergonomic mouse.
2. Stop Risk of Tendonitis
Tendonitis is the condition where your tendon swells after an injury or internal problem. When you're constantly sitting at your desk without any measure of ergonomics and repeatedly moving your hand over the mouse and keyboard, it is obvious that you're going to develop this problem.
However, if you're careful in your approach and you use an ergonomic mouse, no matter how much time you spend holding your mouse, you're going to feel no pain, or discomfort of any sort. This can not only help you keep using the computer for long hours, but also reduce the risk of conditions like Tendonitis which can only lead to bigger problems if you encounter it.
3. Better for Arthritis Sufferers
Having arthritis in the olden days meant that doing desk work that requires a constant effort of the hands and the joints were almost impossible for people which meant that fewer people with arthritis could work with a computer despite having a lot of experience and capability due to the environment being uncomfortable.
If you're thinking of a solution for this issue, there's nothing better than an ergonomic mouse. Using an ergonomic mouse means that you're going to be working overtime without the pain, strain, or discomfort of using a regular mouse.
So, if you're an arthritis sufferer, make sure you start using an ergonomic mouse because it will do wonders for you.
4. Can Use Comfortably for Long Work Hours
Using an ergonomic mouse is pretty amazing. Another great reason why you should definitely use an ergonomic mouse for yourself if you're a professional office worker is that you're going to be able to work quite a long time without facing any kind of issues.
Typically, with normal mice, you're going to start feeling the pain in your hands after a few hours. But if you're thinking of pulling off all-nighters with ease, then you're definitely going to want to use an ergonomic mouse that will ensure that your arm and hand remain calm and comfortable and you can work for long hours.
5. Have a Great Time in Your Long Gaming Sessions
Professional gamers have faced problems in their long gaming sessions for a long time now. Due to the gaming mice being contoured in different ways, they're able to offer great performance but at the expense of poor ergonomics which can cause long term pain and suffer for the hand and the entire arm of the user.
With the help of an ergonomic gaming mouse, professional gamers can benefit from the combined amazingness of performance and comfort which are the two pillars of a great computer usage experience. So, getting an ergonomic mouse will surely result in your gaming sessions being amazing. That's why you get surely get one. It will prove really helpful.
6. Modern Ergonomic Mice are Full of Features
When ergonomic mice became a thing, they focused only on the ergonomic features, comfort, and providing a calm experience to the users but as time passed and ergonomic mice became more of a common type of mice, they evolved quite a lot in terms of features and specs.
Nowadays, you can find a bunch of cool inclusions in average ergonomic mice. From RGB lighting to high DPI range, onboard memory, gaming designs, programmability, wireless connectivity, and much more, you're going to be able to find an ergonomic mouse of your choice with all these capabilities if you search good enough which is a great thing.
7. Tons of Options to Choose From
A few years ago, if you wanted to get an ergonomic mouse to enhance your computer usage experience, you wouldn't have a lot of options to pick from because this technology is quite recent and there weren't a lot of options to pick from back then.
However, the great thing about using ergonomic mice nowadays is the fact that there are a lot of different options you can choose from. There are tons of different companies and brands making ergonomic mice and you can one that fits your requirements and needs.
That's why getting a good quality ergonomic mouse nowadays is quite easy.
8. Reduce Risk of Mouse Arm Syndrome
Mouse arm syndrome is one of the most commonly occurring problems for desk computer users. It affects the hand, wrist, and shoulders of desk workers who are typically working with a mouse and a keyboard for long periods of time and experiencing strain in their muscles and tendons.
The symptoms of this syndrome include pain in the elbow, arm and hands, and tightening of the shoulders. With the help of using an ergonomic mouse, you can increase your overall comfort, and reduce the risk of mouse arm syndrome.
And at the same time, be able to use your mouse and keyboard in a comfortable manner without experiencing any strain or pain in your muscles.
9. Enhance Your Overall Mouse Usage Experience
As we said before, computer usage is all about having the best experience possible. And that is only possible if the user feels comfortable and calm when they're using the computer. For that, having ergonomic peripherals is incredibly important to make sure you feel at ease while using the computer.
A big part of providing a comfortable experience using your computer is having an ergonomic mouse. With the help of an ergonomic mouse, you're going to be able to enhance your overall mouse usage experience and have a great time using your computer for long periods of time.
A Few Reasons Not to Use an Ergonomic Mouse
Well, we're not going to be biased here which is why it is important for us to take a look at some of the reasons why ergonomic mice might not be the best choice for you. Let's take a look at these reasons and understand why such amazingly comfortable mice might not be the right fit for you.
It Will Take Time to Get Used to
If you've been using regular computer mice all your life and you're used to the simple grip of a regular mouse, and you're good at playing games and working on your computer with it, then you're definitely going to have a lot of difficulties picking up the way of using an ergonomic mouse.
It's not that holding an ergonomic mouse is difficult and you're going to have to practice how to use it. But when it comes to getting used to using an ergonomic mouse, it will surely take a lot of time. Some people just aren't able to get a hang of things with an ergonomic mouse.
So, it surely isn't for everyone. That's something we all can understand.
Expensive
Ergonomic mice might be available in abundance in the market nowadays since so many different peripheral companies are delving into this combination of technology and ease but when it comes to the overall cost for these mice, not all things are handy dandy and that could pose as a severe problem for you.
Ergonomic mice are in most cases expensive because they're high-end and are meant for delivering a combination of both comfort and performance. So, finding one that is affordable is usually difficult. That's why fewer people use these mice and fewer offices have them on their desks.
If you can't afford an ergonomic mouse, you shouldn't get one. Otherwise, there's no reason for you to break the bank for a peripheral that you may not get a hang of.
Low-Quality Ones Might Cause More Pain
One of the biggest problems nowadays with finding the right ergonomic mouse is that you can often get scammed. An ergonomic mouse that is advertised to have all the tools, options, and features that you want might not even be that high-quality of a mouse but it may be coming for an affordable price.
If you end up spending less money on an ergonomic mouse and it ends up turning out to be a low quality one, then you're neither getting the comfort of an ergonomic mouse nor its capabilities and performance of it. So, this is a problem you could face if you try to get an ergonomic mouse.
There is a chance that you might get a low-quality one which could prove very bad for you.
Is Getting an Ergonomic Mouse Worth It?
The final question that must be on your mind right now is, are ergonomic mice worth it? Well, without a doubt, they definitely are worth the hype and the benefits that they offer. There might be a few downsides, but when it comes to delivering an amazing experience, ergonomic mice can do just that by making sure your hand stays comfortable, pain-free, and calm.
So, you should definitely go for an ergonomic mouse if you're looking for one.
Conclusion
Ergonomic mice are definitely the way to go in the future of computer usage since they're all about providing a combination of functionality and ease of usage which are both quite important factors to create a decent computer usage experience.
So, make sure that you get yourself an ergonomic mouse if you can afford one.