REWASD has made quite an impact in the keymapping software industry with their innovation of the basic gamepad features and controls, but if for some reason, you don't like using it, or you find it too complex, there are other alternatives to REWASD that you can find in 2021.
You might be wondering, which are the best alternatives to the REWASD software; Well, if that's what you're thinking, then you're in the right place because that's what I'm here to tell you.
In this article, I'm going to talk about keymapping software tools, how they work, along with the top 5 REWASD alternatives you can find in 2021, their features, pros and cons, and practically everything. So, without wasting any additional amount of time, let's get to it.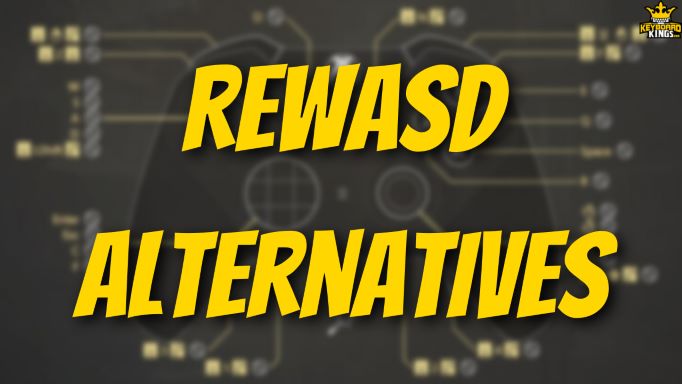 How Does Keymapping Software Work?
Well, have you ever been through a situation where you wanted to play a console-based game on your keyboard, but the controls were all based on the gamepads? 
The whole situation is very frustrating and sometimes, there is no other way than to go out and buy a new controller to connect to your PC if you want to ultimately play the game.
Keymapping software is here to redefine cross-platform gaming for you. Whether you're a keyboard enthusiast who loves to play games with your keyboard or a controller user who likes to play PC games with a gamepad, these software tools have got you covered.
With high-quality keymapping software like REWASD among others, you can map all the keys, buttons, triggers, pads, analog sticks, touchpads, and every other kind of key as well as keyboard buttons to your controllers and keyboards for compelling gameplay. So, you're going to want to use these essential mapping software tools to make gaming more accessible and better.
Top 5 REWASD Alternatives in 2021
So, you're looking for a REWASD alternative because of troubleshooting problems and complex interface; Well, lucky for you, I've made a list of the top 5 options of REWASD you can find in 2021. So, let's take a look at them and what they have to offer.
1. Xpadder
Let's start by talking about the easiest and one of the oldest keymapping solutions in the market, Xpadder. Xpadder allows you to take your gaming to the next level by simply mapping your keyboard and mouse as well as gamepad controls to the device of your choice.
The thing about Xpadder is that it offers a straightforward and excellent gamepad interface for the mapping process. But it doesn't come for free. Instead, Xpadder costs $10 for a full version that you can get, which allows you to remap all kinds of controllers and gamepads, so that's cool.
| Pros | Cons |
| --- | --- |
| Easy to Use – The first and foremost benefit of the Xpadder software is its ease of use. The interface is pretty simple, as it uses a gamepad appearance for the vital mapping process. | Not Free – The only problem that I found in Xpadder was that it isn't free. It costs around $10 for downloading and access which can be restrictive for missing out on a perfect platform. |
| Compatibility – According to the official website of Xpadder, it allows the remapping of Xbox console gamepads, other consoles, and keyboard and mouse as well, which is pretty great. | |
| Software Stability – Another great thing about the Xpadder tool is that continuous software updates keep coming, ensuring that it works stably and there are no troubles for the users. | |
| A lot of features – Compared to REWASD, Xpadder offers many great features and tools that you can use and learn to utilize at your own pace very quickly. | |
Final Thoughts
All in all, Xpadder can be a good choice if you're starting out with remapping keys and you slowly want to make your way up to advanced editing. But it isn't free. So, you're going to have to pay to learn using essential mapping tools. But, on the other hand, if that's something you're cool with, definitely get this tool.
2. DS4Windows
DS4Windows is a program that allows you to emulate an Xbox 360 controller and even use PS4 controllers for your PC games along with keyboard mapping of gamepads. However, to unlock its full potential, it is advisable to use the PS4 controller.
The best thing about the DS4Windows software is that it is entirely free, and it has so much to offer. Compared to REWASD, it is right there at the top and has some incredible features you can explore. 
| Pros | Cons |
| --- | --- |
| Multiple Profiles – One of the best deals of DS4Windows is the fact that it allows you to create multiple profiles suitable for different controllers and devices along with the games that you're playing. | Best only for PS Controller – According to the website itself, DS4Windows, as the name suggests, offers the most functionality when you're playing with a PS4 controller. |
| Automatic Profiles – If that wasn't good enough for you, it also allows you to assign different profiles to different games and applications so that these profiles can automatically turn on as you start the game. | |
| Decent and Easy UI – The user interface of DS4Windows has been through vigorous trial and error processes to reach a refined, simple, and elegant display that is easy to use for everyone. | |
| Tons of Functions – With the ability to add macros, change touchpad settings, rainbow lighter as well as many other functions, DS4Windows is one of the best tools in the business. | |
Final Thoughts
DS4Windows is pretty great software, especially if we consider the fact that it comes for free. The options and functions are great, and the user interface is pretty simple and basic as well. So, I'd say it is one of the best contenders against REWASD if you're a PS4 controller user.
3. JoyToKey
JoyToKey is shareware free to download software that allows you to edit the keymapping of your controller and adjust it according to gameplay requirements on your keyboard like the rest of the tools in this list.
But there's something special about this particular software. It doesn't only come for free, but it comes with Xbox X/S support as well. And the updates are regular and fruitful, which shows they care about the community.
| Pros | Cons |
| --- | --- |
| Decent UI – The user experience of JoyToKey is also very basic and focused towards people who aren't proficient in the art of keymapping which is great because most people are just discovering it now. | Excessive Features Are Unavailable – If you're looking for advanced editing and tools for cross-platform play, unfortunately, those options are mostly unavailable in JoyToKey. |
| Free to use – This software is free to download and use and that is why it is one of the better options in comparison to REWASD if we talk about the entries in this list. | |
| Continuous Updates – From personal experience, I can tell that there are frequent updates for this application and new options and tools are launched now and then. | |
| New Consoles Supported – The JoyToKey software also offers new console support, which allows you to play games that don't provide readily available native keyboard mapping options. | |
Final Thoughts
Overall, JoyToKey is a great tool, and you're going to like it because of how simple and essential it is. And it serves its purpose of providing free key mapping well. So, getting it is undoubtedly going to be a good decision for you. On the other hand, if you're looking for advanced editing, perhaps you should choose another one of the tools in this list.
4. Pinnacle Game Profiler
One of the best key mapping and controller software in the business is the Pinnacle Game Profiler as it works with the most company console controllers in the market, but it doesn't support recently released consoles which can be a problem.
Pinnacle Game Profiler offers multiple game profiles and connects with thousands of games which is great about it. Along with that, it can work on as many PCs as you want. But it is still paid.
| Pros | Cons |
| --- | --- |
| Low Price – The price of the Pinnacle Game Profiler is actually very low; it is a one-time $7 price tag which is even lesser than Xpadder if we're talking about comparisons. | Doesn't support recent controllers – Pinnacle Game Profiler is more of an Xbox 360 generation software and it didn't evolve much. If you're a retro player, that's great but for recent games, it doesn't have much to offer. |
| Nice UI – As is with most of the software tools in this list, the user interface and experience of Pinnacle Game Profiler is also pretty unique and easy to use. | |
| Multiple PCs – Once you buy the software, you can use it on as many PCs and devices as you want to. You can map keys for your preferred applications anywhere you like. | |
Final Thoughts
All in all, Pinnacle Game Profiler is a great tool. But since it isn't free and it doesn't work with the newer console controllers, you might not want to get it. On the other hand, if you're a retro player, you can go for it. You won't regret it.
5. InputMapper
InputMapper is a very high-quality extended spin on DS4Windows which takes a few key mapping software as inspiration and makes use of them to create a full customization software. It is completely free to download and use, so you're all good with it.
You can create several profiles, and the new version of InputMapper is being funded by the community which is why all the options of this software are user-based and easy to use.
| Pros | Cons |
| --- | --- |
| Multiple Profiles – The thing about InputMapper software is that it comes with multiple profile options which helps a lot if you're thinking of using multiple devices and controllers for your usage. | Still in Development – The Beta of the InputMapper software is available for download on their official website. This means that you might encounter a bunch of bugs and problems which isn't something you'd want if you're thinking of using key mapping software. |
| Customization Options – Whether you're looking for macro mapping, customization of keys, different buttons on controllers and devices, you'll be able to map them using this particular software. | |
| Great Design – The design of the software is based on beginner users which is great. It means that you can use it quite easily without any complexities and problems. | |
| Free to Use – Keeping in touch with most of the software tools in this list, the InputMapper software is also free to download and use which really turns the tide in its favor since it is a very large project with a lot of cool features. | |
Final Thoughts
InputMapper uses PS4 and virtual Xbox 360 controllers for key mapping of keyboards to make sure different games and applications work effectively. It is free to use, and you can expect it to evolve a lot, so it would be a good platform for you to start.
Conclusion
Keymapping software tools are incredibly beneficial if you're thinking of playing cross-platform games with complete immersion and effectiveness. Using the aforementioned paid and free software applications, you can easily map your controls to your desired controller or keyboard.
I hope you learned a lot from this article and that you're going to have a great time exploring these tools and remapping your keys. May you have a great day ahead of you!