Having a good experience while using your computer nowadays has become a top priority since most of a regular person's day gets spent in front of the computer desk. A major factor in offering a comfy experience is a mouse pad.
A lot of people forego the idea of using a mouse pad at all. Often, people think it is just going to consume space on their desk that could be used for other purposes.
However, the truth is, a mouse pad can greatly enhance your productivity especially if you buy the right one according to your needs.
Today, we will discuss what you should look for in terms of the features in the right mouse pad for yourself. We will also see the top 9 reasons to use a mouse pad.
So, let's get started!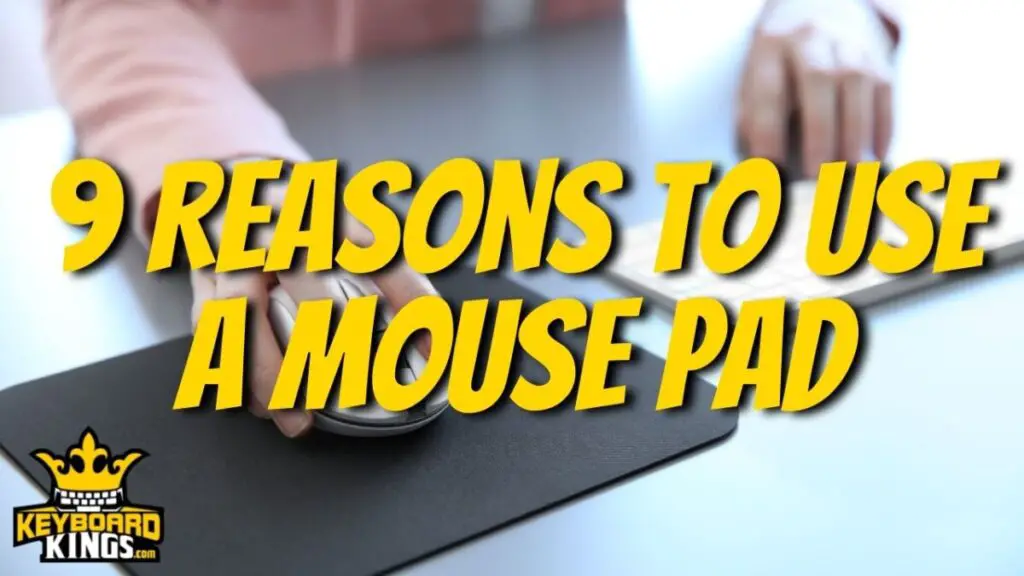 Why Is a Mouse Pad Required?
A mouse pad is a layer of fabric material that allows exceptional mouse tracking on your computer desk. It also serves to enhance the look of your computer setup and offers comfort to your wrist and arm on the computer desk. Hence, it's something that helps you keep using the computer for a long time without any problems.
With time, mouse pads are becoming much more advanced and the modern ones are focusing very heavily on ergonomics. That's why it is quite important that you get a high-quality mouse pad for yourself to make sure you have a wonderful computing experience.
What to Look for in the Ideal Mouse Pad
There are many types of mouse pads now available on the market. In addition to longevity, high quality, and ease of use, there are many other features that you need to take into account.
Let's take a look at some of the major features to consider when buying a new mouse pad for yourself.
Size – One of the most important factors when buying a mouse pad is its size. Make sure you realize what your requirement is so that you can get an aptly sized mouse pad and choose between small, medium, large, and extended mouse pad sizes.
Material – Another very important element you need to consider while getting a mouse pad is the material it is made of. The texture of the mouse pad, as well as the durability, the flexibility, the maintenance procedures, and a lot of other things, depend on the material. Most people, especially gamers, prefer soft fabric mouse pads that are not only easy to wash but also offer great features.
Thickness – If we talk about the important factors to consider in a mouse pad and don't include thickness, we're not on the right track. The thickness of a mouse pad is directly proportional to its capability of sticking to the table and offering you the decent experience that it needs. It needs to be just the right thickness for achieving these goals.
Ergonomics – Ergonomics is the primary aspect of any computer peripheral nowadays. Accessories like the mouse pad also come with many ergonomic features making them perfect for a comfortable and easy experience using your computer. You need to make sure you get a mouse pad that advertises ergonomics and proves it as well.
Design – The design of the mouse pad is also very crucial. Depending upon what kind of computer setup you have, whether you want RGB or not, and the design and color theme choices you're going for, you can choose between tons of different kinds of mouse pads that compliment your computer setup perfectly. So, make sure you pick the right decision.
9 Reasons to Use a Mouse Pad
Mouse pads offer tons of benefits. That's why you need to have high-quality mouse pads in order to have a wonderful experience. If you're still not sold on getting a decent mouse pad for yourself, here are 9 of the best reasons why you should own and use a mouse pad in your computer setup.
1. Increase Visual Aesthetics
The first and foremost reason for you to get a mouse pad is that modern mouse pads offer incredibly amazing visual aesthetic boosts. The design of the mouse pad you're getting will play a huge role in determining how good your computer setup's overall design looks.
The design patterns on a mouse pad can differ in quite a few ways. One of the major ways the design patterns can differ is in the shape and structure depending upon the manufacturer and their own logos. Another design type includes different patterns from popular games and whatnot.
You can also choose between a ton of color options as well. Using neatly designed mouse pads, you can increase the visual aesthetics of your computer setup by a mile. So, that's why you should get one.
2. Provide Comfort to Your Arms
The second reason why you should use a mouse pad along with your computer setup is the fact that the right mouse pad can provide a lot of comfort and ease to your arms when you're using your computer.
Usually, when you're using a mouse for long periods of time for working and gaming, you're going to start feeling strain and discomfort in your wrists on the table.
To eliminate this feeling, you can use a high-quality thick mouse pad. It will cushion your arm and help you easily work and game on your computer for hours and hours.
You're not going to experience any kind of pain or discomfort with a mouse pad and your computer usage sessions will go perfectly comfortably. That's definitely one of the best reasons to get this accessory.
3. Your Mouse Will Stay Clean
Cleanliness is quite important if you want to keep your peripherals and computer system well-maintained and at the same time, you want them to last a longer time than they would without maintenance.
If you're not using a mouse pad, you're going to have to put your mouse on the surface of your table. Your table might not be very clean all the time and dust might get into the tracker of your mouse.
To avoid this and to make sure that your mouse remains clean and well-maintained, you're going to have to get a high-quality mouse pad and your mouse will stay clean all the time. Moreover, it won't get damaged because of any kind of dust or debris particles getting into the mouse due to being in direct contact with the table surface.
4. Keeps Your Desk Safe
Not only will your mouse stay clean and safe from debris and dust with a mouse pad, your computer desk is also going to benefit from the mouse pad, especially, if you're using an extended one.
By placing a mouse pad on your desk, you're going to limit the direct contact of dust and debris with the surface of the table which will ultimately help your desk stay clean most of the time.
Then we also have the possibility of drinks and food spilling on the table. If you want to keep your desk safe from all kinds of spills and problems, you should choose to get a high-quality mouse pad. This will help you maintain your desk along with all of the peripherals there.
5. Improves Your Gaming Performance
You might think that your mouse pad can't actually improve your gaming performance, but the truth is much different from that. You may be asking yourself, how exactly does a mouse pad improve your gaming performance? Well, the answer is quite simple.
The gaming performance you give depends simply on how comfortable and how calm you are while gaming. When you're playing a game that requires extensive use of your palm and wrist moving on the mouse, then, a soft and thick mouse pad will definitely provide you comfort.
This way you're going to be able to play for a longer period of time and you'll be able to play at your best, ultimately helping you get to the peak of your gaming performance in all of them. So, this makes another reason why you should use a high-quality mouse pad.
6. Helps You Work for a Longer Period
Comfort and increased ergonomics can add tons of layers of calmness and capability to your overall computer usage experience. Not only with gaming but you can also work for a decently long amount of time.
Picture this: you're in your office space with no mouse pad underneath your device, and you have to place your hand on the desk when you're using your mouse. After an hour, your wrist will start hurting, and after a few more hours, you're going to stop feeling your hand completely.
Well, if you get a high-quality mouse pad under your hand, you're going to be able to work for a longer period of time without experiencing any kind of stress or strain at all. That's why getting a decent mouse pad is one of the most essential things to do when you have a computer setup.
7. Add to your Room's Lighting
One of the most fun inclusions in modern mouse pads is RGB lighting. Most of the mouse pads that come with this feature come equipped with lighting on the outer edge of the mouse pad. And the best part of this is that the lighting is completely customizable as you want it with the help of some proprietary software.
Although it adds a tiny layer of RGB lighting to the overall setup, you can definitely change up and add to your room's lighting with this cool feature that modern mouse pads come with. They also need power from the computer, but it's very little power and the results are definitely worth the value. So, make sure you get a mouse pad with RGB lighting if you want to have a cool thing to show your friends.
8. Take Advantage of Mouse Pad Wireless Charging
Another extremely cool reason that you need to have a mouse pad of the modern-day is the very amazing wireless charging support that some mouse pads come with nowadays. Especially, if you've got a wireless mouse that is compatible with such mouse pads, these innovations make working more convenient.
Mouse pads like the Corsair MM100 and Logitech G Powerplay Wireless Charging System are the marvel of mouse pad technology and can charge your wireless mice even as they're sitting and being moved on top of their surfaces. This is a wonderful feature that definitely needs to be explored by every mouse lover. This is another advantage for which you're going to want to use a high-quality full of features mouse pad.
9. Enhance Your Overall Computer Usage Experience
Lastly but truly the essence of each of the reasons I've given you on why you should use a mouse pad, having a mouse pad just enhances your overall computer usage experience by a mile. There are multiple reasons for that actually.
The thing is that without using a high-quality mouse pad, you're going to face a lot of problems including pain in your wrist and palm and even bigger problems that stretch over periodic use of a mouse without a mouse pad. So, getting one is definitely essential.
But, that's not the only reason. Getting a mouse pad will also make your computer setup better, visually and aesthetically as well, as provide you tons of comfort and calmness when you're using the computer. So, if you want to well and truly have a comforting computer usage experience, getting a good mouse pad is what you need to do.
Conclusion
Mouse pads are incredibly essential for your computer setup. To gain the aforementioned benefits, you're definitely going to have to get a high-quality mouse pad for your desk. It doesn't matter whether it is a small one or an extended one, you're going to enjoy using it.
As you might have seen, there are many benefits of getting a mouse pad. So, if you don't have one in your computer setup yet, get it now and see how it improves your overall experience. Best of luck!