When it comes to keycap profiles, the obvious two choices and the most popular profiles are the OEM keycap and Cherry keycap profiles. But finding out which one would be better for your requirement can be quite difficult.
If you're wondering, which one is the best keycap profile between OEM and Cherry Profiles? Then you're in the right place because that's precisely what I'm here to tell you.
In this article, I will talk about keycap profiles, OEM and Cherry keycap profiles, their pros and cons, and an overall comparison between the two profiles to find out the winner between them. So, if you're thinking of getting a new keycap profile, make sure you read it till the end. Then, without wasting any further time, let's get started.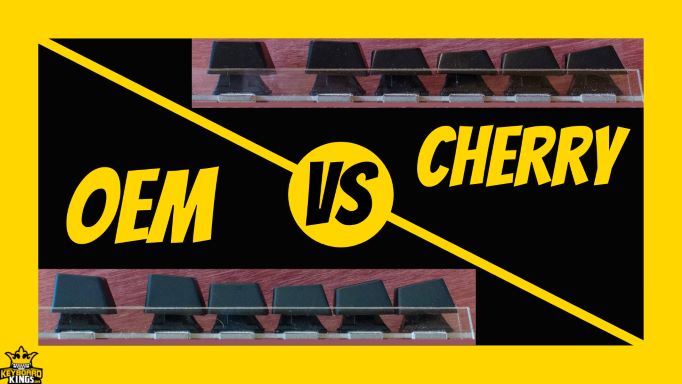 What are Keycap Profiles?
Keycap profiles are basically the overall look and structure of a keycap. Different keycap profiles have different heights for each row of keycaps, different roundness, different edges, and an overall different feel.
Unlike keycap materials, layout, etc., keycap profiles bring only a subtle difference in the overall keyboarding experience that only experienced keyboard enthusiasts can differentiate.
Many versatile styles of keycap profiles have come out and gone over the years, but at this point, there are 5 main keycap profiles in use in the market. So let's take a look at them.
OEM Profile
SA Profile
DSA Profile
Cherry Profile
XDA Profile
The most common and popular keycap profiles are actually OEM and Cherry profiles. However, a lot of people use these keycap profiles even without knowing. That's why I want to ensure all the keyboard enthusiasts know what they're using and how good the particular profile feels to their experience.
OEM Keycap Profile
The most common keycap profile and the chosen standard profile whose keycaps are used in keyboards is the OEM profile. OEM stands for Original Equipment Manufacturer, which basically defines the standard manufacturer quality of these keycaps.
So whether you're a Logitech user or a Razer peripheral enthusiast, you'll find OEM keycaps commonly used in their keyboards. The thing about OEM keycaps is that they're straight yet ergonomically angled from top to bottom. 
The look of the OEM profile keycaps is different for each keycap row, and there is no roundness on the surface other than the spacebar key. So let's take a look at the difference between each keycap row in the OEM profile.
R1 – Row 1 keycaps are angled downward and come with a completely straight surface.
R2 – Row 2 keycaps are angled slightly upward from front to back.
R3 – Row 3 keycaps are angled higher upward than the R2 keycaps.
R4 – Row 4 keycaps are the highest upward angled keycaps in the OEM profile.
The surface of OEM keycaps feels neat on every keypress. This is precisely why these keycaps are used more often for keyboards that are all-purpose and not simply meant for gaming or typing. So you should definitely try them out and see for yourself.
Pros and Cons of OEM Keycaps
If you're thinking of getting the OEM profile keycaps for your keyboard, here are some of the advantages and disadvantages you should know about before you get them.
| Pros | Cons |
| --- | --- |
| Height – In terms of height, the standard OEM keycap profile offers a taller keycap than others. The height of each row of keycaps is tall, making it easier for you to reach the keycaps and press them, which is pretty amazing if you compare them to other keycap profiles. | Common Material – Keycap material isn't something we usually talk about. Still, if you see OEM keycaps on standard full-sized keyboards, you're going to notice that most of the keycaps are ABS plastic because of low expenses. Unfortunately, this shows that OEM keycaps usually come in ABS plastic material which isn't very durable. |
| Commonality – One of the advantages of having OEM keycaps on your keyboard is that they're super common. Almost all keyboard manufacturers use OEM keycaps as standard, which is why replacing them in case of any problem is very easy and great for people with small budgets. | Sound – Usually, the sound of a keypress depends upon the switch being used, but in the case of the keycap profile, the surface can affect the sound as well. Unfortunately, in OEM keycaps, the keycap sound is more clicky and direct, which isn't the best thing you'd want in a calm and noiseless environment. |
| Price Range – Well, if you don't have a replacement available for your OEM profile keycaps, you're still good because you can find a bunch of cool OEM keycaps from the internet and the market for a comparatively very small price than other keycaps. This is a very good benefit of having OEM keycaps. | |
Cherry Keycap Profile
Cherry Keycap profile comes with keycaps that are inclined upward in all the rows, and the roundness of these keycaps is negligible as they're also straight, just like OEM keycaps. These keycaps, however, are not as common as OEM keycaps simply because they're not the standard choice of keycaps. This is because they require a different mold and can be bought standalone.
Only a select few vendors manufacture keyboards that come with Cherry keycap profile as standard, but since the cost of production is expensive, they're often retailed on their own. Nevertheless, a lot of premium keyboard enthusiasts and gamers with high budgets get the Cherry profile keycaps because mostly PBT material keycaps follow this particular keycap profile.
Each row of the keycaps in Cherry profile also has different angles. The only round keycap is the spacebar, just like the OEM profile. Let's take a look at the angling and height of the rows of Cherry keycaps.
R1 – There is no inclination on the first row of keycaps, and the keycap surface is straight.
R2 – This row of keycaps has a heavy inclination upwards.
R3 – The third row of keycaps is slightly less inclined upwards than the R2.
R4 – The R4 is the heaviest in terms of inclination upwards.
The feel of Cherry Profile keycaps is pretty amazing. If you're wondering how good they really are, I would suggest that you check them out for yourself and find your answer.
Pros and Cons of Cherry Keycaps
Before you end up going for the Cherry profile keycaps, it is essential that you take a look at some of the major pros and cons that come with this particular profile. Here you go:
| Pros | Cons |
| --- | --- |
| Common Material – Cherry Profile keycaps are manufactured with the intent of being retailed as standalone usually. This is why making them from ABS plastic isn't a very profitable choice. Thus, companies tend to commonly use PBT plastic for better quality in Cherry profile keycaps you can find around the market. | Height – The height of Cherry profile keycaps is a cause for concern. The keycaps are inclined upwards, but the height of each row of keycaps is actually short, which means that you'd have to reach further to get to the keycaps. This is quite a bummer but might be insignificant to some. |
| Sound – If you're sensitive about the clicky sound of a keypress, then you're in luck. The design of the Cherry profile keycaps is such that it actually reduces the click sound and offers a bass-heavy keypress. This is much better for low-sound professional as well as personal environments. | Price range – Another big blow comes in terms of pricing. Since the Cherry profile keycaps are usually designed to be sold as standalone, they're actually much more expensive and less easy to find to replace if you've broken your own. As a result, the price of Cherry profile keycaps is very expensive. |
| Premium Keyboards – As we said, manufacturers look at costs and profits before using a particular keycap profile in their keyboards. According to statistics, more premium and high-end keyboards tend to have Cherry profile keycaps installed in them as default. This is because the Cherry Profile Keycaps themselves are very premium in quality as well. | |
OEM vs Cherry Profile: Which One is Better?
So, you're still confused about which particular keycap profile you should choose between OEM and Cherry? Well, there's no better way than to simply compare the OEM and Cherry profiles over a series of considerations to find out the true winner between them. So, let's take a look at both of these keycap profiles.
| Comparison | Winner |
| --- | --- |
| Price | OEM |
| Comfort and Feel | Depends |
| Availability | OEM |
| Height | Depends |
| Overall Structure | Cherry |
Price Comparison
In the case of prices, OEM keycaps are definitely in an advantageous position. This is simply because of the fact that OEM keycaps are considered the default choice of keycaps in most keyboards, and that's why you can even replace them quite easily because you might have a keyboard lying around somewhere.
On the other hand, as we talked about before, Cherry profile keycaps are designed for premium keyboards and collection purposes, and that's why they're made of premium equipment and sell for higher prices. So, as a budget keyboard user, you should go for OEM keycaps.
Comfort and Feel
Comfort and feel are subjective, in my opinion. If you're a fan of low-profile keycaps with a dim bass-filled sound, then going for Cherry profile keycaps would be good, especially if you're in an environment where you don't want to make a lot of noise.
However, going for OEM keycaps would be good if you're a fan of taller keycaps that are easier to reach and have an intense keycap sound. On the other hand, this would be more suitable for a personal setup. So, you can choose whichever you like in terms of keypress feel depending upon your requirements.
Availability
Availability is another very important factor that needs to be considered when talking about keycap profiles. But, if we look at OEM keycaps, they're much easier in terms of finding and can be replaced for a relatively low price and sometimes even without spending any money.
However, premium Cherry profile keycaps are available in sets for a comparatively much higher price than OEM keycaps. They're not very easy to find since they're not placed by default in keyboards, and that's why you should prefer OEM keycaps if you can't afford a pack of Cherry keycaps yourself.
Height Difference
Although the height difference between OEM and Cherry profile keycaps is very small, for some people, this small difference can make or break the keycaps. OEM keycaps are generally taller in comparison to other profiles because of their intense inclination.
On the other hand, Cherry profile keycaps are lower in height and classify as low-profile keycaps. They're more difficult to reach while OEM keycaps are taller, and they're easier to reach and press. So, depending on your height requirement, you can either choose Cherry or OEM keycaps. Personally, I prefer OEM keycaps in terms of height.
Overall Structure
Finally, let's compare the overall structure of both OEM keycaps and Cherry profile keycaps. If we take a look at the OEM keycaps, they have a dual inclination design over the rows of the keycaps, but there is no roundness on the surface.
On the other hand, Cherry profile keycaps have a single inclination angled upwards while the surface of the keycaps is straight, just like the OEM profile actually. Due to the one-sided inclination, a more ergonomic approach, and premium quality, Cherry profile keycaps are better in structure. Still, they're pretty expensive, so on average, OEM keycaps win this comparison.
Conclusion
If OEM and Cherry profile keycaps are to be compared, in terms of overall benefits, OEM keycaps are better, but if we talk about premium feel, Cherry Profile keycaps have no match. It might be possible that you like taller keys more than premium quality keys, and then you'd prefer OEM keycaps due to their excessive availability as well. I hope you learned a lot from this article and that you're going to use this knowledge to find the best keycap profile for yourself. Have a great time with your keyboarding experience.