Having a laptop is just not enough, especially, if you're a designer or a programmer and you need multiple screen support for effective progress and multi-tasking. Well, that's why I've brought you a review of the Intehill YTH156PXT Portable Laptop Touch Screen Monitor.
According to Intehill, their portable monitor can resolve all your single screen issues. You might be wondering, is the Intehill YTH156PXT monitor worth the hype? Well, if that's the case, then you're in the right place because that's exactly what we're going to be talking about today.
In this article, I'm going to talk about the Intehill Portable QLED Touchscreen Monitor model YTH156PXT, what it comes with, its features and specs, pros and cons, and everything in between to find out whether it is worth the hype or not, so you can make the right buying decision ultimately.
Without wasting any time at all, let's get started with this review.
In a hurry? Get the Intehill YTH156PXT Portable Touch Screen Monitor here!
Intehill Portable Touch Screen QLED Monitor: Laptop's Best Friend
Intehill has been producing some incredible portable monitors over the past few years, but their latest installment, the Intehill Portable Touch Screen Monitor YTH156PXT with QLED panel, is a high-quality portable screen that offers a ton of features, a solid display, perfect brightness, and just the right size.
With its USB-C connectivity, it is a quick-and-easy setup monitor that could very well be the new best friend of your laptop or a similar portable device. When it comes to productivity or even gaming in some cases, a larger portable screen that can hold its own weight can prove to be quite impressive.
There's a reason why these monitors are flying off the shelves and I wanted to explore it too. So, that's why I ended up getting the Intehill Portable Touch Screen Monitor Model YTH156PXT for myself to fully review it and see if it has the capabilities and pizzazz that reviewers are saying it does.
So, let's get to opening the box and going from there.
What's in the Box?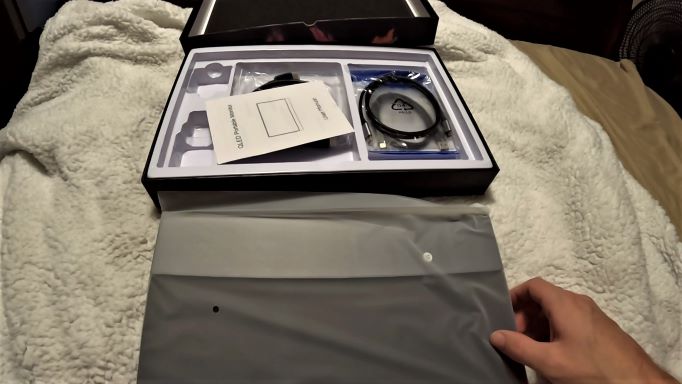 When the package arrived a few days ago, it was in exceptional condition and the design of the box seemed pretty sturdy as well, just like the product itself. Inside the box, there were more than a few accessories that were definitely above expectations at this price range.
Beyond the wrapping and plastic for safety, here are the things that I found within the box of the Intehill Portable Touch Screen Monitor Model YTH156PXT with QLED panel:
The Portable Monitor.
1 Smart Case for Easy Carriage of the Monitor.
1 USB-C Thunderbolt Cable for Data and Power.
1 USB type-c cable for Power.
1 HDMI Cable.
User Manual and Information Guide.
The connectivity options impressed me quite a bit. Other than that, the smart case seemed pretty decent too. So, I'd say I was pleasantly surprised by the contents of the box of the YTH156PXT portable monitor by Intehill.
Sleek Design and Build Quality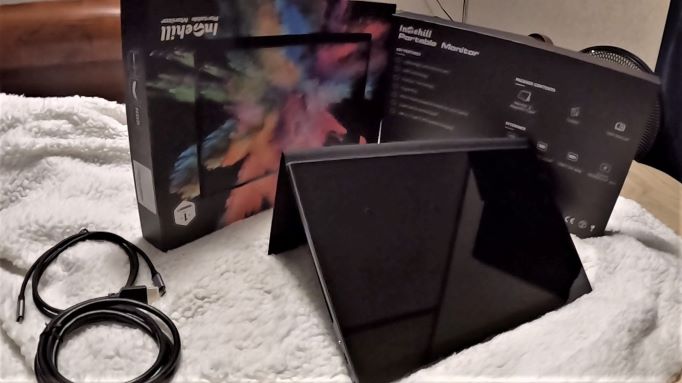 The first thing I noticed when I took the YTH156PXT out of its box was the design that it came with. The bezels on it were almost unnoticeable and the size of the screen was pretty big. But, at the same time, there was a lot of compactness and sleekness in the design, making it perfect for taking on business meetings, keeping in your briefcase, and moving around with it in your university bag if you have to.
Then, we've got the build quality to cover. And trust me when I say it, the build is very durable and very clean if we're talking about the value of the money spent on this machine. It is a touch screen monitor, but the aluminum frame makes it feel very sturdy and capable of taking a hit, despite being super-light in construction.
Intehill Portable Touch Screen Monitor YTH156PXT with QLED panel has the desired monitor design while also being portable for on-the-go users. So, when it comes to the overall design, we can say that it is definitely above expectations and proves quite a decent product actually.
Features and Specs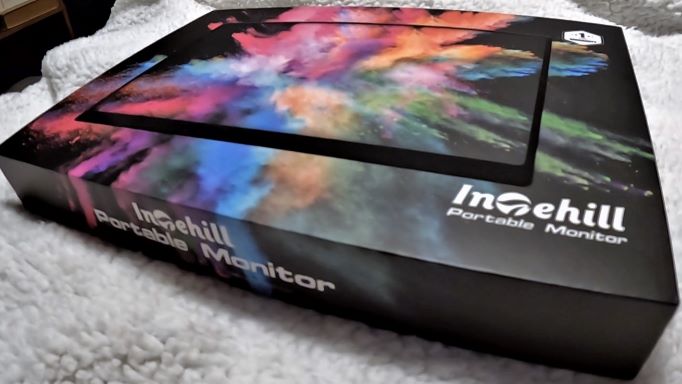 When it comes to features and specs of the Intehill Portable Touch Screen Monitor, it is packed with them. Let's take a look at some of the exciting features that this amazing portable monitor comes with, so you can have a better idea of what it is capable of and how much value it offers.
15.6" QLED Screen
The biggest selling point of this exceptional portable monitor is the screen that Intehill have used. The high-quality QLED display that offers amazing picture quality has thin bezels and a screen that is around 15.6 inches big, which is bigger than most laptop screens out there.
The Samsung Quantum Dot LED display truly lives up to its hype when it comes to the Intehill Portable Monitor YTH156PXT. It is an amazingly bright screen that just oozes perfection. So, we can safely say that the QLED screen gets two thumbs up and a cool pass.
Aluminum Enclosure Build
One of the best things about the Intehill Portable Touch Screen Monitor is the fact that it is so lightweight yet so durable. That is all thanks to the amazing design of this amazing monitor and the use of aluminum enclosure in the build.
The Aluminum on the frame of the Intehill Portable Touch Screen Monitor offers great sturdiness and durability while at the same time, maintaining its lightweight body.
It is definitely advisable for you to put some protector on it and on the back of it as well for aesthetic and durability purposes. Even if you don't, this is one strong machine.
Stunningly Beautiful Color
What truly sells this epic portable monitor is the DCI-P3 100% color accuracy alongside the QLED panel of course. A color depth of 10bits, as well as FreeSync technology, makes the Intehill Portable Touch Screen Monitor one of the best in the market right now.
The HDR 600 enabling definitely helps the color and the superb brightness too. All these impressive features combine to form a stunningly beautiful color representation on the screen, which is exactly what you're going to want for both productive and visual aesthetics reasons.
So, the color game of this portable monitor is definitely super strong I'd say.
High-Res Display
The QLED screen itself is quite impressive, but when we talk about the display, the HD quality is even better. With a resolution of 1080P, you can only expect great things from this portable monitor.
In fact, it even comes with HDR 600 enabled. So, pairing up with the high-resolution, and amazing picture quality, the result is even better than you'd expect it to be.
The high-resolution display of the Intehill Portable Touch Screen Monitor with a QLED panel definitely feels special. So, whether you're working on it or gaming, you're definitely going to have a wonderful experience doing so without the shadow of a doubt.
Quick Response Rate and Swift Framerate
If you're a gamer who wants to play professionally on your laptop, this monitor is going to be your new best friend simply because of the fact that it comes with a super quick response rate of around 2ms, which is fairly impressive.
Along with that, you're also going to get the HD quality display with constant 60 frames per second viewability, which many gaming monitors nowadays has. So, even in productivity and in gaming, the quick response rate and swift framerate of this portable monitor is going to prove quite helpful and nice to you.
Multiple Connectivity Options
Now, usually, portable monitors nowadays don't have much to offer when it comes to connectivity, but that's not the case with the Intehill Portable Touch Screen Monitor Model YTH156PXT. It comes with a bunch of different connectivity options for data sharing, power, and display.
With the USB-C Thunderbolt cable, you can draw power or share data if you want. You can also use the USB type-c cable if you have a compatible device, and there's also an HDMI cable to make sure the display is perfect. With all these connectivity options, it is safe to say that you're not going to run out of cables for this monitor.
Excessive Inclusions
If you think all of these things must be it, well, you've got much more coming your way with the Intehill Portable Touch Screen Monitor YTH156PXT model because it is known for offering some pretty impressive excessive inclusions.
Other than the fact that it comes with stylus support and a QLED touch panel, it also offers the capability of plugging in your headphones because of the headphone jack inclusion.
Additionally, another good thing about this monitor screen is that it comes with a built-in speaker, which might not have studio-like sound quality, but when it comes to having features, this monitor screen overdoes it and we love that it does that.
Pros and Cons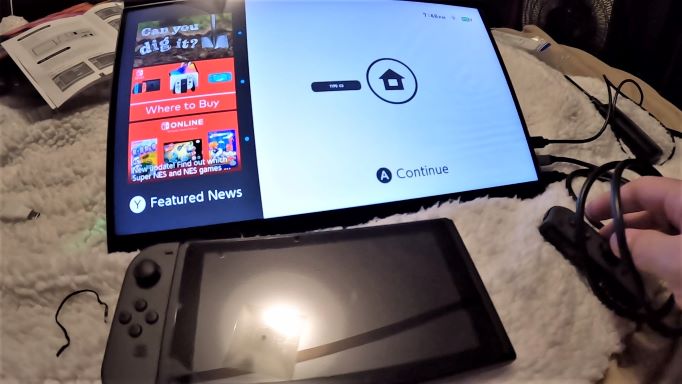 Thinking of buying the Intehill Portable Touch Screen Monitor with QLED Panel? Well, before you do, it is important that you take a look at some of the pros and cons that it offers, so you're absolutely sure of the buying decision you're making. Let's check them out right now!
| Pros | Cons |
| --- | --- |
| Compact and Lightweight – One of the best things about the Intehill Portable Touch Screen Monitor with QLED Panel is that, despite being a powerful system, it is quite compact in portability and lightweight as well, which is amazing. | HDR Compatibility Issues – The thing with modern HDR displays is that even though there is HDR enabled in this portable monitor, the incompatibility of modern Windows, and Mac OS does not let it work to its best, which can be problematic. |
| Support for Capacitive Stylus – Another great thing about the YTH156PXT monitor screen is that alongside its touch panel, it also offers support for capacitive styluses, which can come in incredibly handy if you want to use it for graphic design or similar artistic work. | Sound Quality is Sub-Par – The Intehill Portable Touch Screen does have a speaker built into it, but when it comes to sound quality, well, let's just say, the sound quality isn't a strong suit of this monitor to put it bluntly. |
| Low Power Requirement – On its own, the monitor doesn't require much power. Even though it requires very little power to work with, it is still definitely a very powerful and full of features machine that can perform a variety of work. | |
| Great Value – Finally, the overall value of the Intehill Portable Touch Screen Monitor with QLED panel is amazing. It comes for quite a decent price for a large-screened QLED display, but it offers touch capability, super-fast data transfer, and much more with it. | |
Is It Worth the Price?
The final question worth asking: "is the Intehill Portable Touch Screen Monitor YTH156PXT worth the price and the hype for it?" Well, I believe yes, it most certainly is. It offers a ton of features, great specs, high durability, compact design, and a lot more for a relatively decent price.
Furthermore, I think that the response rate along with the thunderbolt connectivity just tops it all up like a cherry on a cake. So, it is definitely worth the price when it comes to overall value. If you have the need for a second portable screen for your laptop or mobile device, then this portable monitor should definitely be your go-to.
In a hurry? Get the Intehill YTH156PXT Portable Touch Screen Monitor here!
Conclusion
The Intehill Portable Touch Screen comes with just the perfect combination of specs with unique elements, features, high-quality display, durability, and productive freedom to make it worth more than what it costs. That's why getting one for your laptop or PC should be a great decision for you.
You can expect it to raise the level of productivity you have for your digital hobbies and professional work. So, get one as soon as you can!