Looking for a decent gaming mouse at an affordable price? Well, Pictek's gaming mouse seems to be a very promising option, but there are rumors that it is quite heavy.
Are these rumors actually true? And even if it is heavy, does it affect your overall gaming experience?
In this article, we are going to talk about the design and build quality of Pictek gaming mouse, its features and specs, pros and cons, and everything in between. After reading the article, you will be able to decide if the mouse is heavy and whether or not you should buy it for a better gaming experience.
So, let's get started!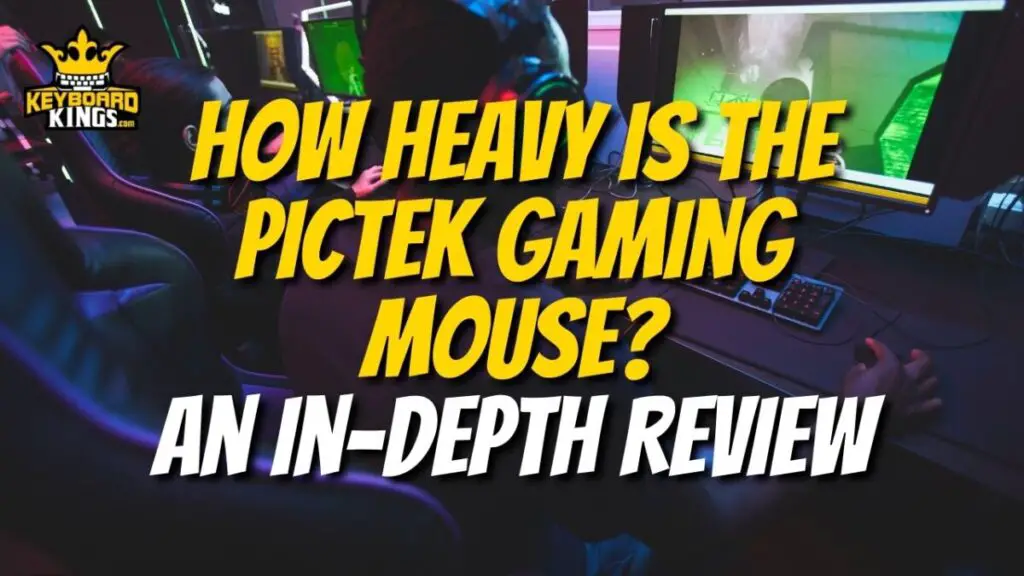 In a hurry? Get the Pictek Gaming Mouse at amazon.com!
The Pictek Gaming Mouse
The Pictek Gaming Mouse is an all-inclusive high-quality gaming mouse with RGB lighting, customizability, and much more on offer for a price that makes it unbelievably affordable.
Over the past few weeks, this mouse is getting a lot of deserved attention and they're selling out like hotcakes, so naturally, I got my own mouse ordered as well so I can review it for you and help all the gamers and computer lovers out there.
What's in the Box?
The Pictek Gaming Mouse I ordered came about a couple of days ago. The design of the box it was kept in was surprisingly great. It looked pretty neat and solid as well.
Inside the box, there was a reasonable amount of plastic wrapping. Here are the contents that I found inside the box of the Pictek Gaming Mouse if you're interested to know:
The Pictek Gaming Mouse
Instructional Manuals
Pretty bare bone inclusions in the box of the Pictek Gaming Mouse. However, at this price, I'd be very surprised to see a good mouse along with a bunch of add-ons as well. So, let's all be hopeful about the internals of the mouse and how it fares in terms of performance.
High-Quality Design and Build
First of all, the thing I was very happy to see was the build of this gaming mouse. It has a very unique, contoured shape and design, that looks pretty neat and has quite a gaming feel with RGB strips all around.
The body is made of plastic, but it is in no way cheap or low-quality plastic. It is quite a durable mouse that offers true potential and would be great for long term use.
The mouse also has quite a neat feel to it, which means that its surface is quite skin-friendly and ergonomic. So, you're going to have a pretty good time using it and playing games with it as well.
Amazing RGB Lighting
Another great thing about the Pictek Gaming Mouse was the RGB lighting in it. There are several neat-looking RGB strips all over the Pictek Gaming Mouse, which make it look quite amazing.
If you're thinking that these lights can't be customized, you're going to be surprised. This mouse comes with its own proprietary customization software that is capable of changing the colors and the combinations of the RGB lighting strips with relative ease. So, you can customize the RGB according to your computer setup's aesthetic.
Wired Connectivity
The Pictek Gaming Mouse comes with wired connectivity, which isn't a problem, but there is a downside to the wired nature of this gaming mouse because it isn't actually braided.
The quality of the wire isn't very good. It can dangle and cause problems sometimes if you're gaming professionally unless you have taped the wire down for dealing with this issue.
Customization Software
One of the best things about this gaming mouse is its customization software. At this price, expecting software is insane in itself, but the Pictek delivers. This software is also very user friendly and easy to use.
Moreover, it comes with different settings like programming each of the buttons on the mouse as well as setting macros if you want to. You can also change up the RGB lighting of the mouse.
If you want, you can adjust the DPI buttons up to a max of 7200DPI and also change the colors of the indicators of each DPI setting, which is pretty impressive as well. Overall, it might not be Razer Synapse, but at this price, the value is definitely better than the former.
Is the Pictek Gaming Mouse Heavy?
The frame of the Pictek Gaming Mouse is actually quite solid and durable but if you're thinking that it is a heavy gaming mouse, that's not the case. It is relatively good in offering a nice grip than other gaming mice and weighs a decent amount, but it isn't heavy and doesn't feel uncomfortable over longer periods of usage.
So, we can safely say that the Pictek Gaming Mouse isn't heavy as the rumors suggest. In fact, I used it for quite a while playing some games and doing some productivity work, and I found it to be lighter than some of the gaming mice I've used in the past.
Features and Specs of the Pictek Gaming Mouse
What does this mouse have to offer though? You might be wondering. Well, there are a lot of amazing features and specs in the Pictek Gaming Mouse that you'd love to explore. Let's take a look at some of them and see how good they'll make our computer usage experience.
7200 DPI – The best thing about the Pictek Gaming Mouse is the high DPI sensitivity that it offers despite its very affordable price. The mouse comes with two DPI adjustment buttons under the scroll wheel that can switch between different settings ranging to a maximum of 7200DPI. You can play games, do work, and do a lot of other stuff with this range which makes this mouse pretty great.
Chroma RGB Lighting – The Pictek Gaming Mouse comes with its own version of Chroma RGB lighting. The colors can be changed using the DPI settings as well as different patterns can be used with the help of the customization software. You can choose your preferred colors from an array of 16.7 million colors available in the palette of the customization software of the Pictek Gaming Mouse, which is pretty great.
8 Programmable Buttons – If you think that's all, you've got another thing coming at you. The Pictek Gaming Mouse also comes with an array of buttons, 8 to be exact. These buttons include the left and right clicks, DPI buttons, side buttons, and more as well. So, if you're looking for a customized gaming experience, you can reprogram them as you'd like, which is great.
Customizability – Another great feature of the Pictek Gaming Mouse is its customization capability. From the RGB to the buttons, everything is completely customizable. With the help of its proprietary software tool, customization becomes super easy and intuitive with the Pictek Gaming Mouse. All you need to do is have a preference and you'll be able to set it with this software. This is a great inclusion in an already amazing mouse.
Macro Programmability – This mouse also comes with macro functionality. This means that you can assign a combination of different buttons and actions to a single button of the mouse if you want effective and efficient usage of the Pictek Gaming Mouse for your office and productivity reasons, which is pretty impressive. It adds a new layer of capability to the Pictek Gaming Mouse itself, which is good for all computer users.
Skin-friendly Design – Lastly, but definitely not the least, is the feature that adds to the comfort and ergonomics of the Pictek Gaming Mouse. It is the skin-friendly design of the mouse, making it easy to grip and handle even if you're sweating after a long period of gaming or work. So, you're going to feel comfortable and good while holding this mouse even for longer periods than usual.
Pros and Cons
Before you actually end up buying the Pictek Gaming Mouse, you should take a look at some of the pros and cons it comes with. Let's check them out and see what we're getting.
Pros and Cons
| Pros | Cons |
| --- | --- |
| Affordable – When it comes to the overall price of the Pictek Gaming Mouse, it is actually really affordable in comparison to some of the more expensive options available in the market under the guise of gaming mice. | Rattle Sound – One of the problems that I personally faced was this rattling sound from within the mouse when I moved it very fast, which might be nothing or could be recurring. |
| Ergonomic – One of the best things about the Pictek Gaming Mouse is the fact that it comes with a very sleek and comfortable build that isn't going to feel problematic if you're on the computer for more than a few hours. | Sub-par Cable – The cable that comes with the Pictek Gaming Mouse is not very high-quality, which can be a problem for some avid gaming computer users. |
| Durable – The build of the Pictek Gaming Mouse is made of plastic, but it is really high-quality plastic. That's why it is one of the more durable mouse options available on the market right now. | |
| Great Value – Since the price of the mouse is quite low and the features are actually really great, we can safely say that the overall value of the mouse is pretty amazing too. | |
| Ease of Customization – If we talk about customization, the software that comes with the Pictek Gaming mouse is capable of much more than you can think of and all of the customizations is quite easy to do. | |
Is the Pictek Gaming Mouse Worth It?
Finally, the million-dollar question: Is the Pictek Gaming Mouse actually worth the hype it is getting? Well, most certainly it is worth the hype and more than worth the price that it comes for. At a very affordable price, it offers some features that even more expensive mice aren't able to deliver.
With complete customizability along with a really nice design, RGB lighting, macro-support, programmability, good DPI, extra buttons, and whatnot, the Pictek Gaming Mouse should be in your top priorities if you're thinking of getting a new mouse for your computer setup.
In a hurry? Get the Pictek Gaming Mouse at amazon.com!
Conclusion
The Pictek gaming mouse is definitely one of the great options that you can get in terms of gaming mice on the market right now. With the right features and specs, it can definitely help you achieve better performance and enhance your gaming experience.
I hope you learned a lot from this article and are now in a position to decide if it's the right mouse for you. All the best!