Have you ever been in a situation where you lost your USB receiver for your mouse, keyboard, or any other device and felt helpless, wondering how I could replace it? 
For many people, the USB receivers for wireless mice and keyboards are often misplaced as these are tiny devices. Well, if that's the case with you as well, then this article has you covered! You're not the only one in this situation, trust me. 
In this article, we are going to find out what to do if you lose or break your peripheral USB receiver device. We will also look at the things you need to consider before you get a new one and exactly how you can find a new USB receiver for your wireless mouse or keyboard.
So, without wasting any further time, let's dive right into it.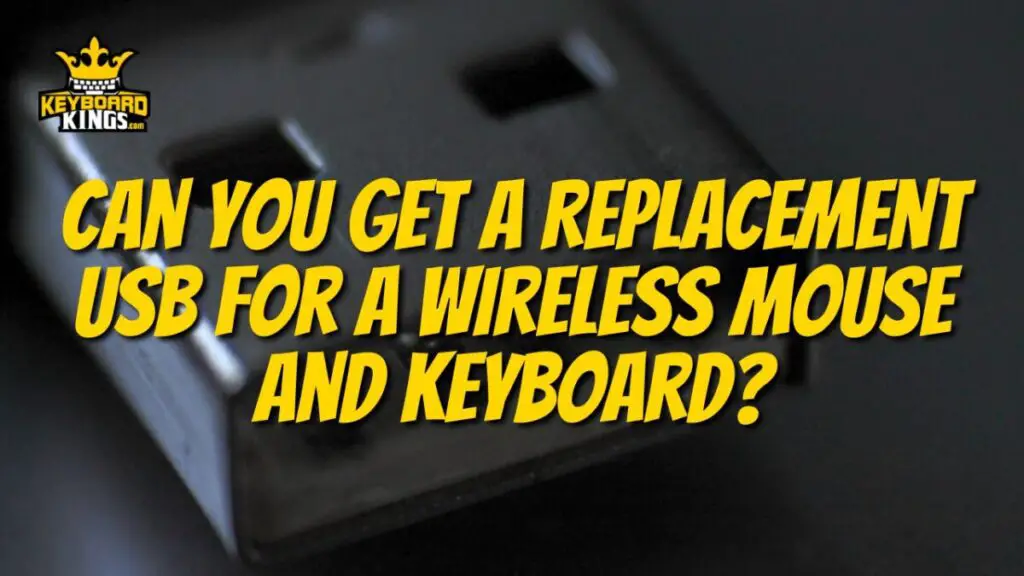 What is a USB Receiver?
Before we move on to the real deal of this article, it is essential to understand what precisely a USB receiver device is? Well, it is a very convenient device that allows you to link your devices to a computer. These devices can be anything, such as a mouse or a keyboard. 
USB stands for 'Universal Serial Bus', and they are about the size of a USB flash drive. They protrude from the side of a laptop or PC's USB port. This can be a little inconvenient as plugging it in and removing it after use can be time-consuming. 
However, it does wirelessly connect your mouse and keyboard to your computer, which gives you the ability to use them without having to connect them or stay bound in a particular area physically. 
With a USB receiver used to connect your devices to your computer, you do not have to worry about arranging the wires, and everything remains de-cluttered. Since a USB receiver is relatively tiny, so it can be easy to lose. Be careful about placing it in its place, or even if you lose it. There is always a solution.
What to Do If You Lose or Break Your USB Receiver?
If you're an avid computer user and spend a lot of time playing games and working with wireless devices, then this is definitely a possibility. Every computer user goes through situations where they either lose or break something important. If your wireless mouse or keyboard's USB receiver breaks, you may be worried or confused while wondering if you can get a replacement.
Lucky for you, the good news is that you can easily find suitable replacements for the most common models of wireless mice and keyboards. These replacements can be found at several places, such as at your local electronics store or online. 
However, you need to keep a few things in mind before getting a replacement, for example, compatibility and price. It shouldn't be an issue after you have done your research. Once you have done a good amount of research, you should be able to find a suitable replacement USB receiver for your wireless mouse or keyboard.
To make sure that you don't have to put in that research, I'm going to guide you through everything you need to consider before you get one.
Things to Consider Before Getting a Replacement
Making a purchase blindly without research is not the smartest thing you can do. You will have to do some amount of research to see what exactly is your requirement.
This way, you will be making a mindful and helpful purchase that will not go to waste. Let's look at some things you should consider before getting your USB replacement.
Compatibility
You should, of course, know the type of device you are purchasing. You need to consider the features and requirements of your keyboard or mouse and see which replacement option would be compatible with that. 
Every device has some particular features that need to match with the USB receiver. You need to ensure that the USB receiver you purchase is compatible with the device you are buying it for. You can also use a generic USB receiver that works with most devices.
Price
Another essential factor you need to consider is your budget! Getting something very cheap might not last long or introduce more issues. Whereas more expensive options might be out of your budget. Try to find a balance and a suitable receiver that works for you. If your budget is high, then go for a more high-speed option for sure!
Especially if your device is a high-end expensive one, I would suggest you go for a pricier USB receiver as well to maintain the smooth working.
Buy from a Reliable Source
Make sure you make your purchase from a reliable source. Take into consideration the manufacturer. Is the manufacturer reliable? This would make sure you do not receive a defective product. Moreover, are you sure it is original and not a knockoff? 
Copies are illegal and are often of shallow quality so try to always go for original devices. Buying from a reliable source would make you free of such worries. Read up some reviews on the blog so you know you're purchasing from a reliable source.
How to Find a Replacement for Your USB Receiver?
You would now be familiar with exactly what your requirement is. Now the next step would be looking for a replacement. It wouldn't be challenging to get a replacement once you know exactly what your needs are. It would be best for you to make sure wherever you get the replacement from, is an authentic, reliable place. Here are some ways you can find a suitable replacement.
Check the manufacturer's website
Once you know what model you need, start looking at the manufacturer's website first. Often companies dedicate an entire page to replacement parts like USB receivers. 
Making your purchase directly from the manufacturer's website would be the safest option. This would ensure that the receiver is compatible with your device, the product is not defective, and often manufacturers have an exchange or refund policy, which makes everything easier.
Check online retailers
If you're finding it difficult to get in touch with the manufacturer or have trouble navigating their website, you can go to online retailers. Search for the exact device you need on Amazon, eBay or Shopify, and you might get lucky and find exactly what you need. 
Before making the purchase, do read the reviews of the seller and make sure to read all the specifications. This way, you will get the product that serves your requirements.
Ask around
If you still can't find a replacement USB receiver, try asking friends or family members if they have any spare wireless mice or keyboards lying around that you could use the receiver. There can be instances where someone you know has an extra USB receiver lying around that might come to our use.
How Do You Not Lose Your USB Receiver?
Prevention is better than cure, right? It's better to keep your USB receiver safe in the first place instead of going through the struggle of replacing it later on. There are some tips that might prevent you from losing your USB receiver in the first place. Try to keep it in its proper place instead of placing it at random places. As it is tiny, it can be very easy to misplace.
Another thing that might help is to attach some sort of charm or keychain to it. It would make it more prominent and easier to spot for you. Leaving it in your laptop might keep it secure as it would remain in one place instead of finding a place for it constantly. 
However, as it does plunge out of the laptop or PC from the side, it might get stuck into something and break, or it may even fall somewhere without you realizing it. 
So, it's better always to unplug it and keep it in a safe place where you know it won't get lost. Keep it in your laptop bag if you're going around somewhere, or store it in a specific drawer at its particular place. Please do not leave it around as you won't even realize where it went.
Concluding Remarks
All your confusion regarding replacing your USB receiver might have disappeared after reading this article. I can assure you that now you know everything that is essential in order to replace your USB receiver. Just make sure to get it from a reliable source, know exactly what you need, and know your budget. 
There are a number of options from where you can purchase it, as mentioned in the article. Although getting it from the manufacturer would be the best option. However, if you cannot get it anywhere, you can always ask people you know.
And finally, it's always best to prevent losing your USB receiver so you don't have to go through all this hassle in the first place. All the best!