Whether you're a professional office worker or a PC gamer, there can be a lot of situations when you require more than a few clicks in a short time for effective performance. Well, that's where drag click comes into play. But, drag clicking requires skill and a good mouse.
You might be wondering whether any mouse can drag click or if you need a special mouse for drag clicking. Well, if that's the case, then you're in the right place because that's what I'm here to tell you.
In this article, I'm going to talk about drag clicking, how it works, whether you can drag click with any mouse or not, along with providing you with a complete guide on drag clicking.
So, let's get started.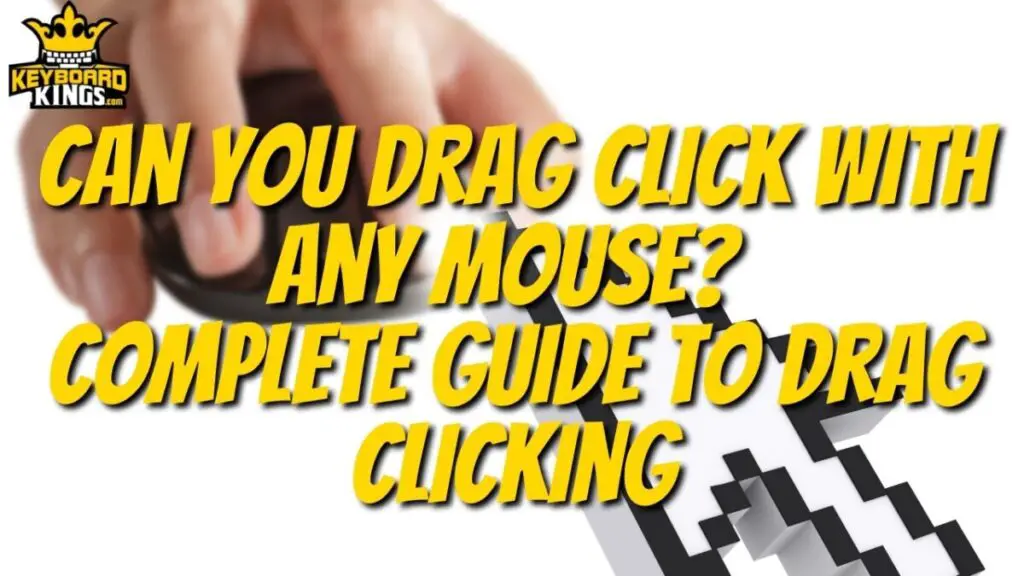 What is Drag Clicking?
Drag Clicking, as the name suggests, is a technique that allows you to click the mouse left and right buttons several times while dragging your finger across them for added effectiveness and efficiency in different computer tasks.
This, along with several other mouse skill tricks has been invented quite recently and videogame streamers along with productivity workers often utilize them to get a better experience with what they're doing.
How drag clicking works basically is that many modern mice come with switches that while your fingers are dragging smoothly across the buttons, gravity pushes the button down which then gets back into its initial position and the process repeats until the drag is completed.
It's done by the friction created between your fingers and the mouse you're holding which converts a single click into 10s or even 20s of clicks. This can be extremely useful in need of continuous button presses. So, learning drag clicking can definitely enhance your overall computer usage experience.
Purpose of Drag Clicking
Well, you might be thinking, "I get it, we get more clicks from drag clicking efficiently, but what's the need for that?" That's a fair question. But, here's the answer to it.
The purpose or the reason for drag clicking is mostly related to video games. If you've assigned an important action to the left and right buttons and you need more clicks for efficient building or speed-running, then drag clicking can increase your clicks per second from 7 to 30 CPS (Characters Per Second).
Similarly, if you're playing a competitive multiplayer FPS game and you've got a gun that shoots a single round at a time, then drag clicking can help you shoot faster and quicker, helping you win for your team through sheer class and mouse skills.
Any kind of activity you can think up can require drag clicking. As long as the requirement for efficient and fast single-clicking exists and you're in need of more clicks per second, drag clicking will help. So, when we say that drag clicking is here to stay, we surely mean it. With some practice, you can become a drag clicking master if you want.
Can You Drag Click With Any Mouse?
Not all computer mice available on the market are equipped with a frame and a switch design that supports drag clicking efficiently. Although people do claim that you can drag click on practically any mouse, it isn't actually the case and the results aren't great with some.
That doesn't mean that you can't try. If you've already got a mouse and you're not sure whether it is built for drag clicking, you can try it out and see if it was built for it or not. At times, people tend to use different techniques like placing tons of tape pieces on the buttons and stuff, but they're only complicated.
So, ideally getting the right mouse is important if you want to drag click like a pro. There aren't any proper drag clicking advertised mice available in the market but there are a few pointers that you can check out when you're getting one. As long a mouse comes with high-quality switches, you can expect it to drag click.
How to Drag Click Effectively?
Learning to drag click isn't that difficult, but if you want to have the best drag clicking experience and learn fast enough to dominate the competition, you're going to have to learn the right way. Here's a step-by-step guide that shows you the art of drag clicking from preparations to finger movement and the final result as well. So, let's check it out.
Step 1: Clean Your Mouse
If you're got a brand-new mouse for drag clicking, then, this won't be necessary. But, before you actually get to drag clicking and learn how to do it, the initial step needs to be to thoroughly clean the mouse to make sure the switches don't mess up when you're trying to drag click on them.
For that, you're going to have to firstly clean the mouse from the outside, and then, you are supposed to open the buttons up and see if there is any dust or debris under there. Make sure you remove them and thoroughly clean the mouse before you start drag clicking.
Step 2: Clean Your Fingers
Cleaning your mouse isn't enough if you want to effectively drag a click on it. You're going to have to clean your fingers as well. If you've been eating something oily with your mouse fingers and you end up trying to drag click on it, you're not going to get any traction between the surface and your fingertips, which will result in a bad drag click.
So, make sure you wash and clean your mouse fingers before you actually think of moving anywhere forward with the drag clicking process to keep it real and the mouse clean as well.
Step 3: Take the Drag Click Hand Position
The next step is essentially the most important one. Once you're done with the cleaning steps, you're going to take the actual drag clicking position on the mouse now. What you're going to have to do is basically put your palm on the mouse as you would normally.
Then, you're going to raise your two left and right button fingers on the mouse, bring them to the back of the buttons, and then, gently place them there without pressing the mouse buttons so that you can do the drag click the right way without any error.
Step 4: Start Dragging Your Fingers Along the Mouse
Now, it is time to get to drag clicking on your mouse. Well, basically what you're going to want to do is slowly press and slide your dry fingers towards the front end of the left and right-click buttons on the mouse you're using.
If the mouse you have supports drag clicking and there isn't any kind of problem with your mouse or fingers, you're going to feel resistance and friction between the mouse and the fingers, which will result in the buttons being pressed and released several times.
Otherwise, the click will only be a single one and the movement will be quite smooth in which case it seems that the drag clicking process didn't work as we intended it to.
Step 5: Witness the Drag Clicking Results
If things go according to plan, you're going to see results. With each drag click, you can actually produce up to 30 CPS instead of just 6-7 CPS which you might have been getting without drag clicking, which is a great advantage to have over your opponents in any game.
That's the fruit of the labor you had to do to get drag clicking on your mouse. But, if things don't go so well, you can always try and find a solution so drag clicking works better on your mouse.
Step 6: Repeat the Process and Learn
Once you've successfully learned how to drag click, you're going to be on top of your game. But the learning process takes time because, at the start, you're going to have to be careful that your fingers are in the right position and you're making the right movements.
With the right kind of practice and within good learning time, you'll be able to repeatedly use drag clicking the right way whenever you want to, making sure you're having the best experience possible with it.
Which Mice Are the Best for Drag Clicking?
Looking for a high-quality mouse that offers the best drag clicking? Well, there are 3 amazing mouse choices that have a lot to offer along with a great drag clicking experience. Let's take a look at these mice and what they have to offer briefly.
1. Razer DeathAdder Elite Mouse
Without a doubt, the best available mouse in the market right now for drag clicking and having a premium experience with it is the Razer DeathAdder Elite Mouse.
The DeathAdder Elite comes with a maximum DPI setting of 16000, which is quite neat and an ambidextrous design that makes sure that you're getting the perfect experience no matter which hand you use the mouse with.
You've also got the Razer Chroma RGB lighting along with a total of 7 programmable buttons that you can change around according to your liking with the Razer Synapse software tool.
The mechanical switches are incredibly durable which can only prove better for your drag clicking experience ultimately. Pairing that with the rubberized scroll wheel and you've got a perfect gaming mouse that offers the most premium experience at a premium price. So, you should definitely think of checking this out if you're looking for a drag clicking mouse.
2. Logitech G502 Hero Mouse
When it comes to high-quality performance, a great design, amazing features, and a contoured shape that works great for drag clicking, the Logitech G502 Hero Mouse definitely needs to be talked about.
This mouse comes with 11 programmable buttons, including the amazing left and right-click buttons, and it offers a superb Hero sensor that comes with a max DPI of 25000.
It also features RGB lighting and Lightsync technology which allows you to sync the RGB to different applications and games being used on the PC as long as they're compatible.
You can also change the weight of the mouse with the weight adjustability mechanism and the durability of this mouse is pretty amazing as well. So, overall, it is quite a decent package and you should surely consider it for a good drag clicking and mouse usage experience overall.
3. ROCCAT Kone Pure Owl-Eye Mouse
Another amazing option in this lineup for drag clicking mice is the ROCCAT Kone Pure Owl-Eye Mouse. It comes with a very stylish design, RGB lighting, and much more to offer at a very affordable price.
There is a unique button duplicator available in this mouse which duplicates any button up to 17 button functions. Also, it supports drag clicking really effectively.
It is also a very light gaming mouse with a total weight of only 88g. The RGB lighting paired with the 12000 DPI capability of the ROCCAT Kone Pure Owl-Eye Mouse truly makes it a very formidable mouse.
Plus, the fact that this mouse comes for such a decent price, if you're looking for a drag clicking mouse, then getting this mouse is surely going to be a good decision for you.
Conclusion
Drag clicking is an incredibly useful technique and learning it will surely make your mouse using skills much better. All you need to do is make sure you're using the right mouse to enhance your drag clicking experience, and then, you're going to be on top of your game.
That's why you need to pick the right mouse for drag clicking. In this post, we not only looked at why drag clicking is useful but also discussed a few mice that offer the best drag clicking feature. Best of luck with your mouse hunt!